How Much Does Rubber Roofing Cost?
The average cost of EPDM or regular rubber roofing is £720 to £960 for a 12m2 roof, while rubber roof membrane typically costs around £220 to £900 for the same size roof.
As for firestone rubber roofing, the cost would land around £156 to £600 for a 12m2 flat roof.
The cost of installing rubber roofing is normally around £200 per day, although this will vary based on factors such as ease of access, the size of the roof, type of rubber roof materials, and the location of your property.
The reason that property location is a cost factor is due to labour rates varying throughout the UK.
Rubber Roof Prices
| Type | Price Per Square Metre |
| --- | --- |
| EPDM | £60 - £80 |
| Firestone Rubber Roof | £13 to £50 |
| Rubber Roof Membrane | £15 - £75 |
Supply Costs
In this section, we'll look at the material costs specifically, so excluding the labour costs. We'll also look at the cost per square metre for different types of rubber roofing, which is particularly relevant if you plan to fit EPDM by yourself.
The average supply cost of EPDM or regular rubber roofing ranges from £60 to £80 per square metre.
The supply cost per square metre for firestone typically lands around 13 to £50.
For rubber roofing membrane, you should expect to pay about £15 to £75 for materials.
In the case of liquid rubber roofing, the cost per square metre is just £1.20 to £2.
Additional Costs
There are plenty of additional jobs you may choose to pay for on top of the rubber roof cost. Let's take a look at some potential examples.
Hiring Scaffolding
You may need to hire scaffolding as part of the job. Any work that takes place six above a level below should involve the use of scaffolding for reasons of safety and practicality.
Scaffolding involves assembling sections of scaffold to create a structure that can be ascended for working at a height.
A narrow scaffold tower tends to cost between £1300 and £2700. It usually costs £800 to £2500 for a standard scaffold tower, £1500 to £3500 for a double scaffold tower, but just £200 to £280 for a trestle/access platform.
Cleaning a Roof
One of the most common ways of cleaning a roof involves the use of a pressure washer. Pressure washing, though is not suitable for every roof and of course, there are other methods but this is the main approach used if you hire a professional.
However, assuming that this method is used, expect to pay £400 to £500 if you have a terraced home or if you have a semi-detached house with a gable roof.
If you have a detached house with a gable roof, expect to pay around £500 to £600. As for a hip roof, the price would likely end up between £550 and £650 for a semi-detached property or £800 to £900 for a detached house.
Cost Breakdown Calculator
Individual costs of hiring a roofer to install EPDM rubber roofing on a 12m2 semi-detached roof - Total Cost: £1360
Labour Costs and Time Frames
A roofer charges roughly £20 to £30 per hour or approximately £200 per day. With the average rubber roofing job taking between one and two days, the labour cost is usually somewhere between £200 and £400 altogether.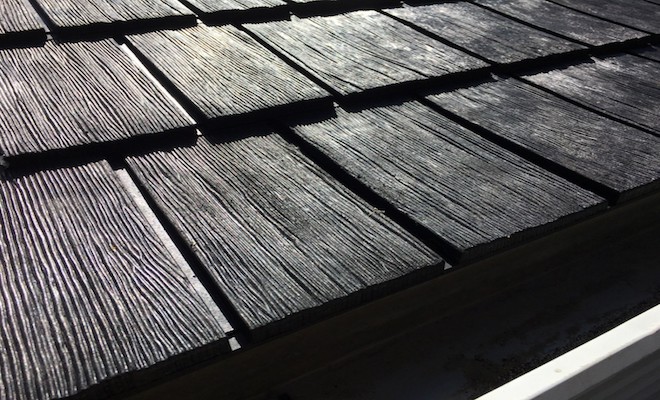 The labour is part of the total cost, alongside the supply costs and any waste removal expenses. The setup should take an hour or less but the work itself can take several days depending on the scale of the job.
In most cases, the clean up will take an hour or less. Both the labour costs and time frames are shaped by ease of access and the state of the work area.
Cost Affecting Factors of Installing a Rubber Roof
There are a variety of factors that will shape the cost of installing rubber roofing. Let's break down some examples.
Size of Roof
To start with, the size of the roof is relevant to the cost, primarily due to how it would impact on the cost of supplies.
Beyond that, the larger the roof, the longer the work will likely take and in turn this will probably mean a higher labour cost.
Type of Rubber
As discussed, the type of rubber roofing used is an important cost factor. For instance, while regular EPDM usually costs between £60 and £80 per m2, liquid rubber roofing generally costs just £1.20 to £2 per m2.
Type of Roof
Roof type is also relevant as the design and layout of the roof is linked to both the size of the roof and the complexity of the roof.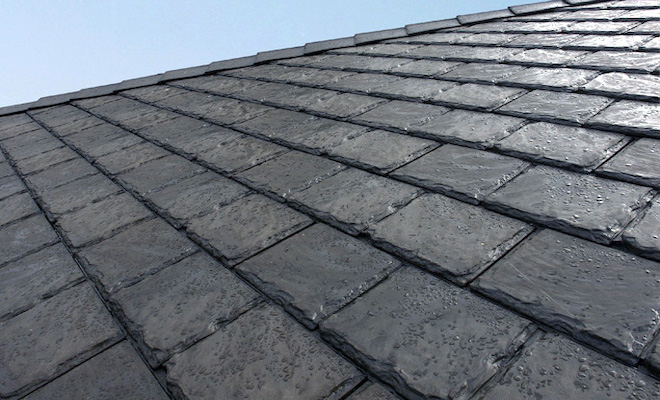 The more complex the roof is in its design, the more difficult the installation will be and therefore the labour costs are likely to end up higher.
Scaffolding Needed or Not
If scaffolding is required, this could add several hundred or more likely, several thousand pounds to your overall bill.
Of course, how much exactly you'd end up spending of scaffolding if it's needed will vary depending on the type of scaffolding used and how tall it is.
Location of Property
As for property location, this is relevant since roofers charge different rates in different parts of the nation.
For instance, the highest labour prices are usually found in the southeast and London especially but in the north of England, Northern Ireland, and Scotland, labour rates are usually below the national average.
Ease of Access
How easy the roofing area can be accessed by the contractor(s) your hire will likely play a role in shaping the cost of rubber roofing.
Again, this is because of how this cost factor can relate to how long the work will take and therefore this can influence the overall labour cost.
What Does Installing a Rubber Roof Entail?
We'll now take a look at the steps involved in installing rubber roofing.
1. Hiring a Professional
Unless you wish to install rubber roofing DIY, you'll first need to choose the right contractor/company for you. It is best to get three quotes before making a decision and you should also ask for some references.
2. Preparation
The first practical step involves ensuring that the roof area is clean, dry and free of any dirt, dust or other loose material.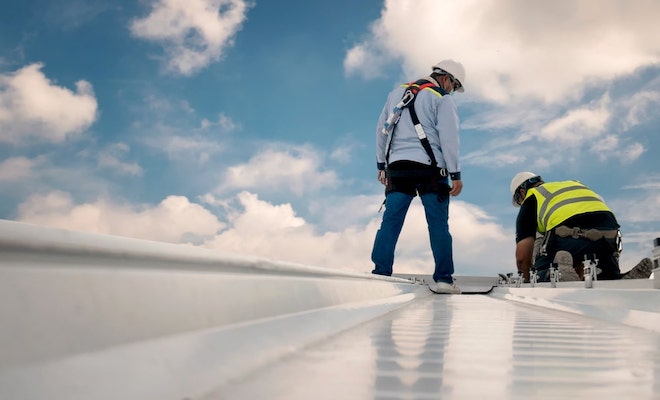 It's important the existing roof is in the right condition for the installation of rubber roofing. Of course, the exact instalment process will vary depending on the type of rubber roofing used.
3. Initial Work
At this point, the roofer will install drip batten by the gutter before adding drip back drip trim. Then, they may chase out brick mortar joint with a mortar chiseler or angle grinder.
A rubber membrane, if applicable, should be laid across the roofing area and given 30 minutes to sit. Next, the membrane should be folded in half.
Lastly for this phase of the job, a nine inch paint roller should be used to add deck adhesive.
4. Installing the Rubber Roof
The EPDM should then be applied/installed. Next, contact adhesive should be added to the roof perimeter. As soon as this adhesive dries, a penny roller can be used as a final touch.
The roof membrane, again, if applicable, can then be folded on a roof corner. Next the trim corner should be installed before adding an appropriate water deflection product.
Then, the joint clips should be fitted before a gutter trim may be installed. Lastly, any excess rubber membrane should be removed.
DIY Rubber Roofing
It is possible to install rubber roofing DIY but you should only undertake this work by yourself if you're absolutely sure of what's involved, have the appropriate skills and know all of the safety precautions necessary. If in doubt, it's best to hire a professional.
As with any DIY work, there are risks and hazards to consider. For instance, you could fall if working at a height or you could injure yourself using the tools and equipment needed for the job. Generally speaking, these are the tools you'll need:
Paint Roller
Mini Roller
Paint Brush
Scissors
Of course other tools and equipment may also be required and it will depend on the job.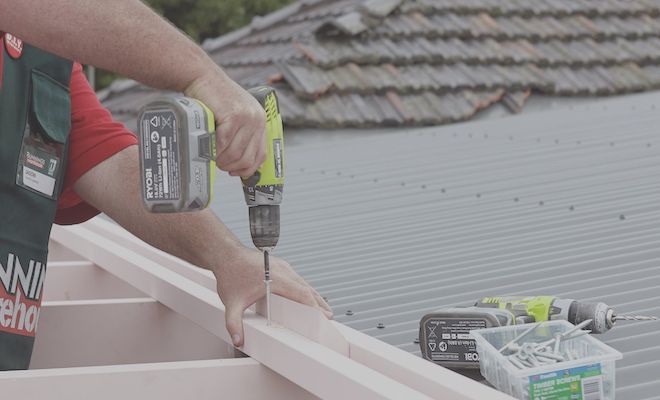 As for safety equipment, you'll need:
Safety harness
Protective gloves
Protective shoes
Scaffolding may also be required but even if it's not a legal requirement, it's worth considering either way. You'd most likely save around £200 to £500 in total if you undertake the work DIY.
If building regulations approval is required, then a building control officer would need to inspect and sign off your work.
Choosing Rubber Roofing
We'll now look a little closer at the various types of rubber roofing. The following subsections will also consider how much they cost and what their pros & cons are.
EPDM Roofing Cost
Ethylene propylene diene monomer or EPDM rubber is a form of synthetic rubber that in the context of roofing is used to cover a roof as an external/surface layer. EPDM or regular rubber roofing costs about £60 to £80 per m2.
Pros:
✔ Fairly eco-friendly
✔Relatively straightforward to apply
Cons:
Rubber Membrane Roofing Cost
Rubber roofing membranes are sold as rolled up products. Membranes are fairly easy to lay out and install. On average, a rubber roofing membrane costs around £15 to £75 per square metre.
Pros:
Cons:
✖ Not too expensive in terms of rubber roofing cost
Firestone Roofing Cost
As for firestone, this is a type of rubber roofing that is specifically meant to provide waterproof qualities to small flat roofs of no more than 100m2 in area.
For instance, firestone rubber roofing may be used on the roof of a garage, extension, dormer or shed. Cost-wise, firestone rubber roofing usually lands between £13 and £50 per m2.
Pros:
✔ Tends to be inexpensive
✔ Well-suited to small flat roofs
✔ Great for waterproofing
Cons:
✖ Not suitable for all roofs
Rubber Liquid Roofing Cost
Alternatively, you could purchase rubber roofing in a liquid form with a cost of around £1 to £1.20 per m2.
This product, however, can prove a little messier than other options. Liquid rubber roofing also generally comes with fire-resistant properties. Installing liquid rubber roofing can also be more challenging.
Pros:
Cons:
✖ Can be messier
✖ May be more difficult to install
Benefits of a Rubber Roof
Regardless of what type of rubber roofing you choose, there are advantages either way with this category of roofing. Let's take a closer look at some of the benefits.
Long Lasting
To start with, rubber roofing is a durable and lasting option. With fewer seams, rubber roofs are less prone to water damage.
Further, rubber roofs tend to be resistant to UV and can generally manage hail and heavy winds. More than likely a rubber roof will last for three decades or longer.
Relatively Inexpensive
One significant advantage of rubber roofing is that it's a relatively inexpensive choice, particularly if you go with an option like liquid rubber roofing.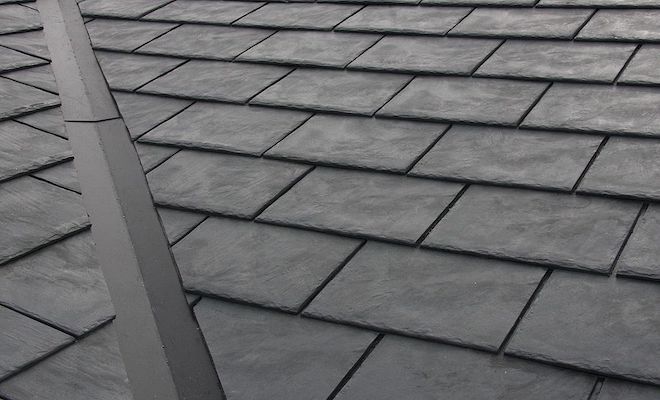 Low-Maintenance
Given the strength and durability of EPDM, these roofs tend to require little maintenance over the years. In most cases, you'd only need to repaint a rubber roof once every decade using acrylic paint.
Fire Resistant
One notable quality of rubber roofing is its fire resistance. Sometimes, insurance companies will also provide discounts for homes with rubber roofing for this reason.
Eco-Friendly
Given that rubber roofs are made from recyclable materials, rubber roofing is one of the more environmentally-friendly choices for installing a new roof.
Building Regulations for Rubber Roofing
More than likely, building regulations approval will be required, unless you are simply replacing part of an existing rubber roof.
As for the specific regulation, for instance, you may need to upgrade the thermal element of the roofing. More information is available on Planning Portal.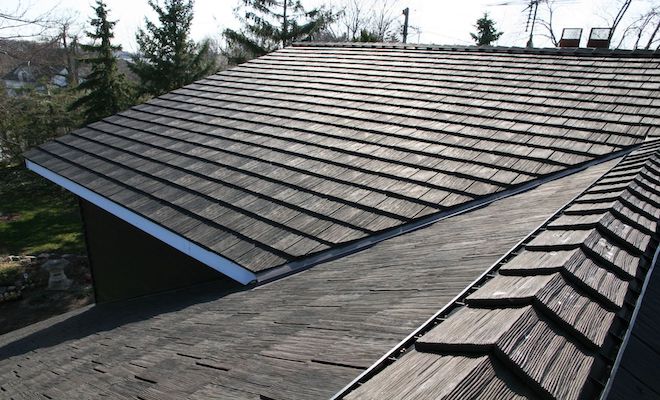 It should be noted that these regulations are specific to England and Wales and therefore the rules may differ for Scotland and Northern Ireland. If you are unsure about anything, it is best to contact your local council.
Between the cost of submitting a building regulations application and having a survey undertaken, you'd end up paying about £300 to £500 altogether.
Planning Permission for Rubber Roofing
All homeowners have permitted development rights which essentially mean that you do not need to apply for planning permission in those specific circumstances.
However, roofing work is not considered permitted development if:
Permission to use your home as a dwellinghouse is only granted under Class M, N, P or Q of Part 3 of the schedule (i.e. change of use)
The changes to your roof will go beyond .15 metres ahead of the plane of the original roof slope (this applies when measuring the roof perpendicular to the external surface of the original dwelling roof)
The highest part of the alteration would end up higher than the tallest part of the existing roof or the alteration would include the instalment, alteration, or replacement of a flue, soil and vent pipe, or chimney, or the instalment, alteration, or replacement of solar thermal equipment or solar photovoltaics
There are also other conditions relevant to permitted development that relate Class C. Additional information can also be found via Planning Portal.
Applying for planning permission usually costs somewhere in the range of £200 to £500.
Rubber Roof Maintenance
The first and most important form of maintenance to consider is simply cleaning the roof every so often. It's important to sweep or rinse off debris and grime every so often.
A roof cleaner can also be used to mop the surface of the rubber roofing. It's best to avoid using too much water during the process.
Roof repairs generally cost somewhere in the range of £300 to £1100, depending on the extent of the repair work required.
If the damage is particularly extensive, you may instead wish to have the roof replaced. This would likely cost you somewhere in the range of £30 to £80 per m2.
Removing Rubber Roofing
The process of removing rubber roofing will depend on the nature of the EPDM. Preferably, it should be removed in warm weather conditions as it will then be easiest.
Assuming you have a rubber membrane, the membrane should be cut into small sections with a utility knife before the membrane can be removed.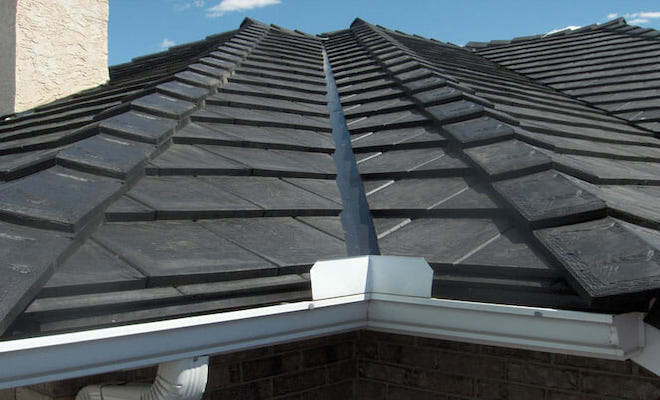 A homeowner may choose to remove rubber roofing because they wish to install a new type of roofing such as asphalt roof shingles.
This job can be done DIY but if you are unsure about any aspects of the job, you should hire a professional.
FAQs
How to Find & Hire a Rubber Roof Specialist
Though it is possible to install rubber roofing DIY, it's generally preferable to hire a professional. Roofers charge about £200 per day on average.
When hiring a roofer, you should find one with experience and accreditation. Ideally they should also have insurance.
They may or may not have qualifications such as Level 2 NVQ Diploma, although this is not necessary.
If you'd like to inquire about this sort of information, you can always ask a roofer or their company for more information regarding their qualifications and certifications, if applicable.
Sources
https://www.rubber4roofs.co.uk/how-to-install-an-epdm-rubber-roof-video-and-installation-guide
https://www.roofingsuperstore.co.uk/browse/flat-roofing/epdm-rubber-roofing.html
https://www.roofinglines.co.uk/blog/the-pros-and-cons-of-using-epdm
https://www.liquidrubberroofing.com/pros-and-cons-of-a-liquid-rubber-roof.html