How Much to Repoint a Chimney?
Repointing a large chimney stack in the centre of a roof is the most expensive, typically costing around £1200.
So what needs to be considered in terms of costs?
This average price can vary greatly depending on location, amount of scaffolding, type of chimney, and whether the chimney is at the end or middle of the roof, as well as if it's at eaves or ridge height.
A roofer will often charge around £150 per day in labour costs and will likely work in pairs to repoint a chimney due to safety reasons, so expect to pay around £200-£250 for two workers.
The time to complete the work will depend on the size of the chimney and where the chimney is located.
A small chimney will take up to one day, whereas a larger chimney will take on average 2-3 days.
Chimney Repointing Prices
| Chimney Type | Scaffold Type | Avg. Cost |
| --- | --- | --- |
| Bungalow | None | £250 |
| Side of a Semi-Detached House | Scaffold Tower | £600 |
| Middle of a Semi-Detached House | Scaffold Over Ridge | £1,000 |
| Detached Home | Scaffold Tower | £700 |
Additional Costs
Scaffold hire is the main additional cost on top of the tradesmen required to repoint your chimney. So, it's important to know what you're likely to pay for scaffold hire, depending on what type of scaffold structure you'll need.
The actual cost will depend on how large of a scaffold you need, how long you'll need it for and, of course, the location in the UK. A good rule of thumb to work by is £250 per day, for a tower in one place of your house.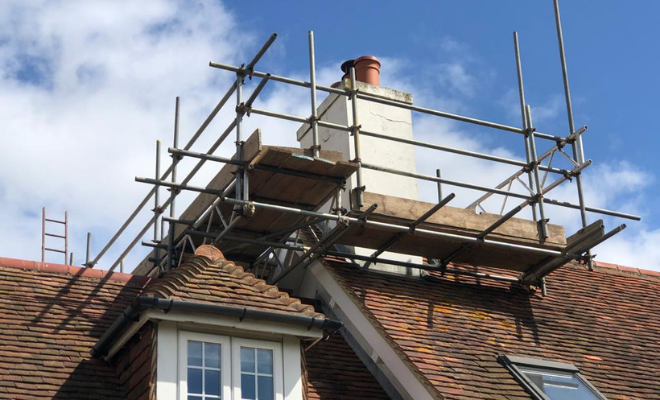 This price increases if you need more than one side covered, if you need the tower to be taller than your home, or if you need a bridge over your home. Take a look at this article to discover scaffold hire prices in more detail and get a more accurate view of how much your scaffolding is likely to cost.
Cost Breakdown Calculator
Individual costs for hiring a roofer to repoint a chimney on the gable side of a semi-detached house - Total Cost: £600
Labour Costs and Time Frames
The cost of labour to repoint a chimney is typically around £150-£250 per day, but can change depending on how long the job takes, what type of roof and house you own and how badly state of the chimney is in.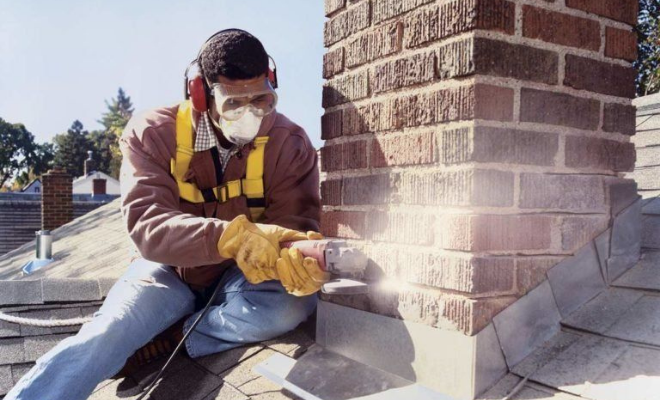 What Is Repointing?
Repointing is the method of renewing the exterior part of mortar joints, usually between bricks, to counteract the natural weathering of the 'pointing' over time. As water invades the pointing, it can cause further damage to the structural integrity of the brickwork, especially during colder months.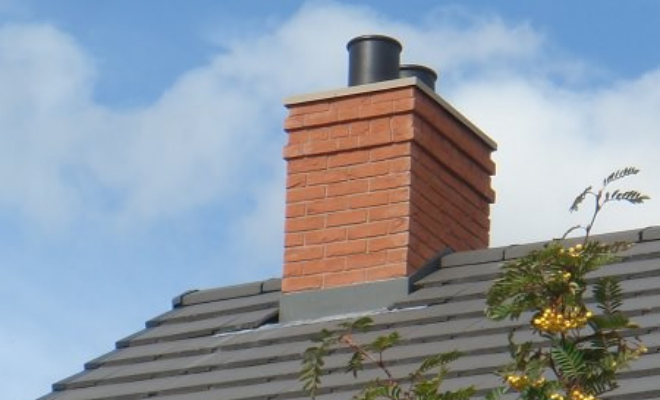 Chimneys are amongst the most critical structures to have repointed as a chimney with damaged or crumbling pointing, presents a severe health risk for your family and anyone passing by your house.
If pointing on your chimney becomes too worn or damaged, the entire structure could fall from your home, sending heavy bricks and mortar crashing down on rooves, cars and people. This is why it's integral to ensure that your chimney is repointed.
What Does Repointing a Chimney Entail?
If you are considering having your chimney repointed, you probably have a leak and are hoping that repointing will solve the problem. However, you should also inspect (and replace if necessary) the chimney pot and flaunching, the lead around the chimney base and tiles around the chimney and under the flashing.
If you need scaffold erecting to do the pointing (most houses will), it may be worth considering any other jobs which may need doing in the near future which could make use of the scaffold such as any fascia, soffit or guttering work.
The most difficult part of repointing a chimney is gaining safe access to the chimney and working at height. This will almost always involve hiring a scaffolding company to provide safe access. Once you have access, you should also inspect the flaunching on top of the chimney and remove/replace if in poor condition.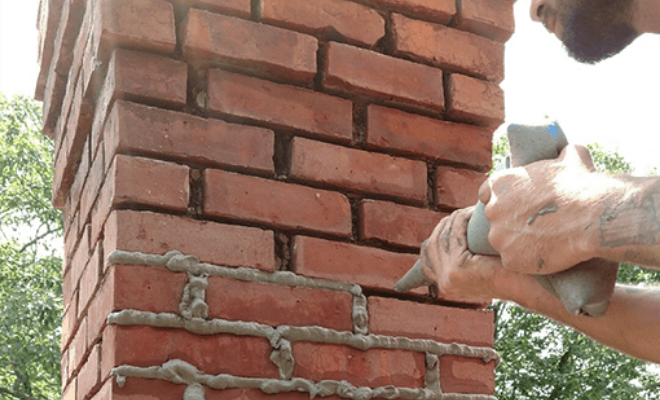 Then the old pointing should be raked out and any loose dust removed with a brush. Do not be tempted to just have a thin layer of cement applied over the top of the old pointing, this is a false economy and will not last, peeling off after just a few months.
For a job to last and stand up to the British weather, it is paramount that the old cement is raked out to around an inch deep or more. Then the new cement can then be pointed into the brick course.
Repointing can be done as a DIY project as long as you are comfortable working at height and have the necessary, safe access using a scaffold or access tower. No planning permission is required.
What are the Benefits of Repointing a Chimney?
We are often told, from a whole host of places, what needs to be done on our homes, but we are rarely told why. So, here are just some of the benefits to be had from repointing your chimney.
Safety
An obvious one to start with, but probably the most important on the list. The finished cement between the bricks of our chimney, or the pointing between bricks, keeps the chimney structurally sound and stops water from seeping through.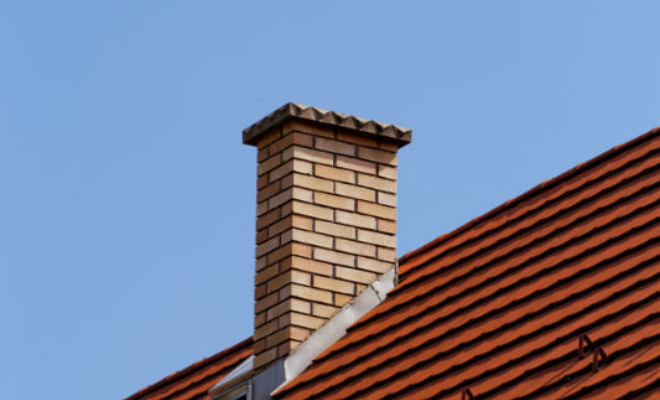 But, when this starts to corrode and breakdown naturally over time, it becomes less sturdy and allows more water into the joints, furthering the damage to the structure.
Inevitably, it's only a matter of time before this becomes too damaged to serve its purpose and then a mere gust of wind is enough to send the chimney crashing down, or at least whatever parts of it that are no longer supported by the cement.
Waterproofing
We mentioned waterproofing in the previous point, but water doesn't only damage the structure of the chimney. Any water that seeps in from any part of your roof will allow water into the walls and ceilings of your home.
This will generate more problems relating to damp within your home, which can be very costly and time-consuming to be rid of, often needing industrial heaters to dry out the walls and ceilings of your home. Damp can also be very harmful to the health of your household, with its nasty spores creating many health problems.
Aesthetics
Crumbling and unkempt mortar can be very unsightly and can make your home look a little neglected. If your home has a specific style depending on its age, you'll want to preserve every aspect of this, and it's tough to replace a niche chimney once it has gone past the point of saving.
Does My Chimney Need Repointing?
An easy way to find out whether your chimney needs repointing will be during your annual roofing inspection. During this inspection, the inspector should take a careful look at the repointing, checking for damage and for any abnormalities in the mortar.
Small flaws soon grow into big issues, and if there are any failing mortar joints, they should be repaired as soon as possible, if they are left too long, they may not be repairable and instead you may need a full chimney refit, which is significantly more costly than a repointing.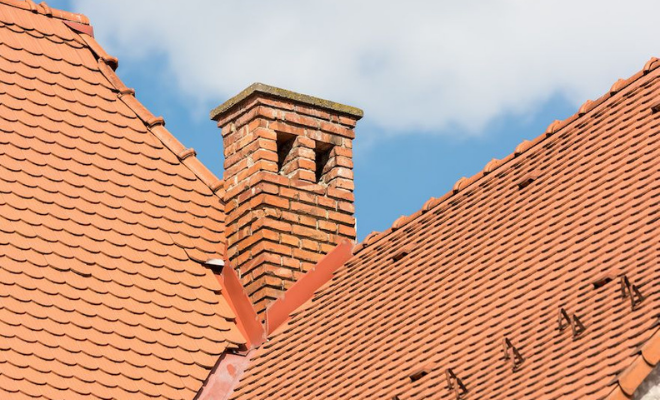 You can also keep an eye on the ground around your home throughout the year. If you are noticing little bits of cement and mortar on the ground, it could be coming from the chimney, and this will need investigating as a matter of urgency.
The discolouration is also another tell-tall sign that your chimney needs repointing. Any change in colour around your chimney is usually caused by heat affecting areas it shouldn't be or from water damage. Each needs to be investigated further to ensure your chimney doesn't pose a danger to you or anyone else.
Cost of Removing a Chimney
Often a chimney stack is what needs replacing when people talk about a 'chimney replacement'. If your chimney has reached the point where it is no longer structurally sound and safe, and can't be repaired with repointing, you'll need chimney stack removal.
The average cost for this is usually around the £900-£1,200 range, which is all dependant on a variety of factors including the size of the chimney. Roofers usually work in pairs and charge around £250-£300 per day, but the job shouldn't take much longer than a day.
To find out more about a chimney removal, and to get more specific pricing information, check out our article on chimney stack removal.
Cost Affecting Factors of Repointing a Chimney
Trying to provide an accurate quote for the general repointing of a chimney is nigh on impossible due to the affecting factors that exist. Here are the key factors to consider:
Location
As is common with the majority of trades, costs in big cities are often higher than those outside of them. There is also a big North/South disparity when it comes to cost too, with the south tending to favour higher rates for work due to the cost of living. So, bare this in mind when you're looking for price comparisons online for chimney repointing.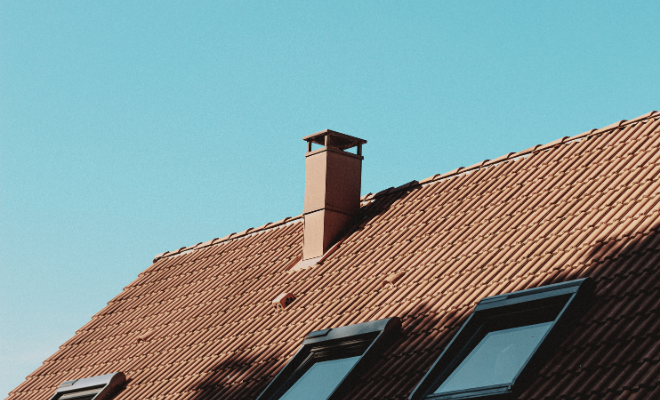 Ease of Access
Chimneys are located in different places on different houses, which has an impact on how easy they are to work on. The ease of access to your chimney relates to how many people need to work on it and whether they'll need scaffolding too. This all adds to the overall cost of your chimney repointing.
Scaffolding
If you live in anything taller than a bungalow, it's likely that the tradesmen working on your chimney will need scaffolding to complete the work safely. They may also need different variations of scaffolding depending on the location of the chimney on your roof. More complex scaffold structures are more expensive, and this cost is added to your quote.
DIY Repointing a Chimney
DIY has become increasingly more popular in recent years as access to information has significantly increased on how to complete a whole host of tasks around your home. There are a lot of tasks that we'd encourage a confident DIY practitioner to tackle, but chimney repointing may be out of those realms.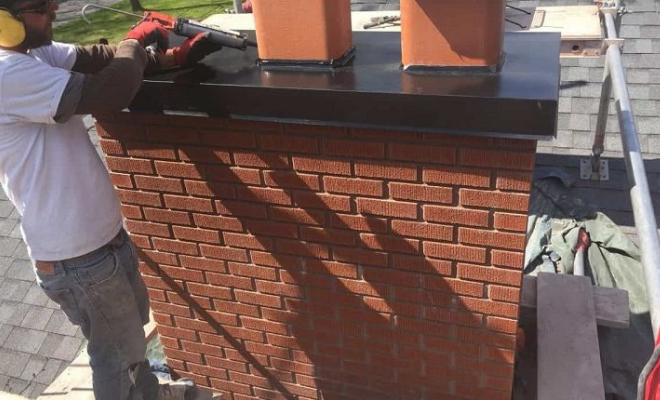 There are a lot of dangers involved in this kind of work, especially the working at height aspect. Tradesmen are skilled and qualified to work confidently at height, with the correct safety apparatus on hand, but this is likely not available in your home. It's also a danger to work with a structure like a chimney, especially if you believe it to be damaged in any way.
A professional tradesman will be able to complete this job safely, to a high standard and much quicker than a DIY practitioner, so we would encourage you to steer away from any DIY methods and instead find a trusted tradesman to carry out the work for you.
FAQs
How to Find & Hire a Contractor to Repoint Chimney
When hiring a tradesman to complete any work for you, you should consider their experience and credentials in dealing with the work you need. If someone hasn't had much prior experience with chimneys, it may be best to keep searching. A sole trader is likely to be marginally more inexpensive than a larger firm, but that's not to say they aren't as capable, larger firms just generally charge more for work.
You should ensure that the tradesman has all the necessary insurance to work on your home, to avoid any problems should any damage be incurred during the work. There are a variety of websites that allow you to find and check tradesman, often with reviews from people that have used them previously.
Sources
https://www.familyeducation.com/life/fire-prevention/keep-your-chimney-clean
https://www.roofadvisor.co.uk/how-much-does-a-chimney-repair-cost-in-the-uk/
https://www.ajdonald.co.uk/signs-its-time-for-a-chimney-repair/
https://www.souththamesroofing.co.uk/repoint-chimney-to-keep-roof-healthy/#:~:text=As%20the%20above%20scenario%20shows,in%20high%20winds%20or%20storms.