Cost of Capping Fascia Boards
The average cost of capping fascia and soffit boards is usually in the range of £600-£1200 depending upon the condition of the current fascias and soffits, whether the roofline has easy access, and whether your house is detached, semi or terraced.
Most roofline workers operate in pairs and will usually charge around £200-£300 per day with the majority of capping jobs taking just a single day to complete.
Here are a few more example costs for capping fascia and soffit boards:
| House Type | House Size | Avg. Cost | Duration |
| --- | --- | --- | --- |
| Detached | Bungalow | £800 | 1 day |
| Semi-Detached | Bungalow | £700 | 1 day |
| Detached | 2-storey | £850 | 1.5 days |
| Semi-Detached | 2-storey | £750 | 1 day |
| Terraced | 2-storey | £600 | 1 day |
Cost Breakdown Calculator
Individual costs for a semi-detached house of average size - Total Cost: £750
What capping fascia & soffit boards entails
The fascia and soffit boards on many homes are still made of timber and will need repainting regularly to look their best. Fascia boards with peeling paint can make a home which is otherwise well cared for, look simply awful! Plus rotting fascia boards can eventually lead to rotten roof rafters over time if not taken care of properly.
Capping fascia boards (sometimes called overcapping) is an incredibly easy and quick way to improve the exterior appearance of a house and eliminate the need for painting, this means you simply nail new fascia boards on top of the old ones. The work involved is a lot less when compared to completely replacing the fascia and soffit boards, therefore the job is much less expensive.
Capping fascia boards will involve the removal of all the rainwater goods (guttering and downpipes) so it makes sense to replace these at the same time. In addition this is a perfect time to examine the condition of the roof and joists for any rot or damage. Minor repairs to rotten timbers and damaged or loose tiles can be carried out during the fascia job by any competent roofer or tradesman.
Potential problems you may face
But when considering capping rather than replacing, remember that timber will rot over time if it is exposed to moisture via broken roof tiles, splashing gutters or condensation. Cowboy roofers often do not tell the home-owner about any rot discovered during the job, they simply cap over it to finish the job and get paid. Once the fascia has been capped, any existing rot is hidden and it will spread over time unseen. This is why any guarantee offered with any fascia capping does not cover the old fascia that the new plastic is nailed to.
In addition, capping over the existing boards places the guttering further away from the roof tiles, which can cause water to run behind the gutter rather than directly into it. This issue is made even worse on really old fascia boards that have warped and buckled. Finally, in some cases it has even been known for capping fascias to block the opening of upstairs windows by reducing the clearance between the window and the existing fascia. If the window can't fully open then this is a safety issue as upstairs windows are often needed as a fire escape in an emergency.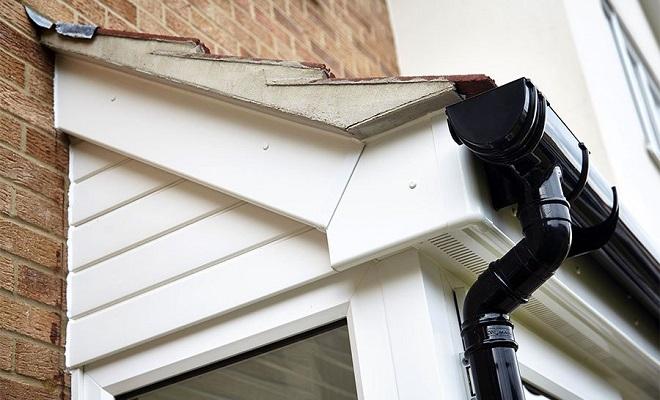 Hence it's often best to just remove and replace all fascia and soffit boards and then fix directly to a solid roof structure, taking care of any minor wood rot or pointing problems as part of professional job. In fact you will find that most professional roofline installers or roofers will refuse to cap existing fascia as they cannot give any meaningful guarantee on the work!
If the existing fascia boards are completely rotten, then attempting to fix new boards onto the existing boards will be a complete waste of time and money. If attempted you will often find that the existing boards simply disintegrate when attempting to fix the new ones and there also may be damage to the underlying brickwork/pointing which is being hidden by the old fascia. A good contractor will warn you about these potential problems and will probably advice against capping the boards in the first place.
Access to the edge of the roof is another factor to consider, if the existing boards cannot be capped using ladders due to an obstruction (for example a conservatory), then the costs will greatly increase and it will not make financial sense to spend all that money on capping the existing boards, you may as well replace all the fascias and soffits if you are paying for scaffolding anyway.
When to replace fascia boards
Some householders will be tempted to leave it too late to maintain their fascia and soffit boards in the belief they can save money, but this is often not the case. Rotten timbers around the roofline will eventually lead to rotten roofs which are much more expensive to replace! But if you decide to take action while the timber roofline is still in decent condition, you can actually save money by simply capping the timber fascia and soffit boards with uPVC roofline products. Capping or over-capping simply means fitting a PVC fascia board on top of the original timber, this not only looks much better, but it also protects the timber and is much cheaper than completely replacing all the timber with plastic products.
A good installer will not cap over rotten timbers in any case, as they will not be able to offer any kind of guarantee on the work. But if the timber is in good condition, then the installer should be able to offer a 10-year guarantee on the job. Be wary of anyone that offers to cap fascia board without examining the roof properly first (you cannot do this by looking at it from the ground!) If in doubt, it is best to do a complete replacement of your fascias and soffits instead of over capping.
Maintaining your roof timbers
To avoid the expense of replacing or capping the roofline products you need to carry out regular maintenance on the roof timbers. This maintenance will involve regularly cleaning and painting them to protect against the elements. But even with good maintenance, eventually the UK weather will win and some additional work will be required.
Once the PVC boards are in place, the existing wooden fascia and soffit boards are shielded from the weather, which means they will last much longer before needing replacement. Capping when the roof timbers are sound is a time and cost-effective way of protecting your roof from the elements. Replacement is more time consuming and therefore costly job, however, a full replacement is the only option if the existing roofline timbers are rotten and can also help uncover rotten batons or roofing felt that would otherwise have gone unseen and caused more expensive problems.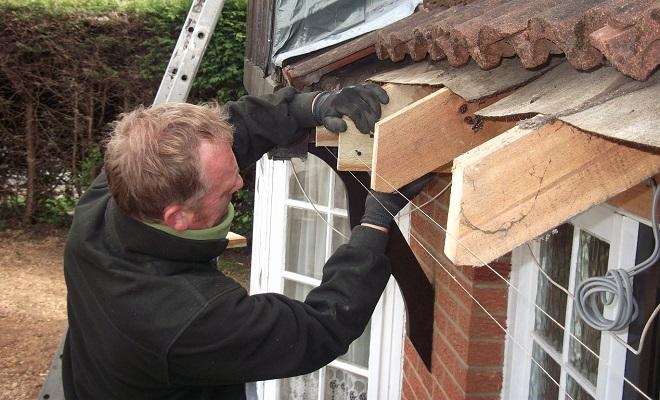 UPVC vs wood fascias
If your fascia boards are beginning to look tired and are starting to rot, then you have to choose between new wooden ones or UPVC plastic boards as a replacement or as capping. Both have their benefits, but which option is right for you?
The initial reason many change their fascia boards is because of their appearance, there is no doubt that dirty, peeling and rotten cladding makes a house look awful. But of course, beauty is in the eye of the beholder, many love the look of traditional wood whereas others love the clean modern lines of plastic!
The advantages of using plastic include:
Lack of maintenance required
No need to paint every couple of years
No sanding down
No wood filler
Simple to clean if it looks dirty
Should last at least 20 years with virtually no maintenance
So, although wooden cladding offers a more traditional look and perhaps will suit older properties a little better, the benefits of using uPVC far outweigh any benefits of using wood for most homeowners.
FAQ's