How Much Does a Bungalow Extension Cost?
The cost of a bungalow extension will depend on the type of extension that is built. It may be a side or rear extension or a dormer loft conversion. The type that you decide on will have an impact on the final cost.
A medium-sized extension of approximately 25 square metres to the side of the property will cost in the region of £30,000-£40,000. However, this will also depend on the finish and quality of materials.
For a rear bungalow extension, the cost for a similar size of around 25 square metres will be £35,000-£45,000, again depending on the specifications of the build and the purpose to which the extension is being put. Rear extensions are typically used for kitchen/diners, and the cost to fit this out will increase the overall price.
A dormer loft conversion in a bungalow has the potential to almost double the habitable space in the property. For a 40 square metre loft conversion, the average cost is somewhere in the region of £30,000-£45,000 depending on the final finish.
Other factors will have a consequence on bungalow extension prices. The ease of access to the site can have an impact on the cost of things like scaffolding, material deliveries, skip location and even parking for the tradespeople who will be working on the job.
Unlike a loft conversion a side and rear extension will also have the added expense of the groundworks for the foundations of the extension. The cost for groundworks will be approximately 5% of the total cost of the project.
Depending on what the bungalow extension is going to be used for the cost will be reflected by this fact. For example, if the new space is to be a kitchen/diner then there will be additional costs for a new kitchen suite which could be in the region of £5,000-£15,000 depending on size and finish.
Or the extension may be used as additional living space meaning that it may only need to be fitted with furniture such as sofas, lighting, and storage.
Finally, the new extension will have to be decorated and this will add to the overall cost. The quality of materials used and whether or not the decorating is done by a contractor or as a DIY project will have an impact on the price.
Bungalow Extension Prices
Below are some bungalow extension costs based on the size of the build and the type of extension.
| Size | Side Extension | Rear Extension | Dormer Loft |
| --- | --- | --- | --- |
| 15 sqm | £20,000-£25,000 | £20,000-£25,000 | N/A |
| 25 sqm | £30,000-£40,000 | £35,000-£45,000 | N/A |
| 40 sqm | £50,000-£65,000 | £55,000-£70,000 | £30,000-£45,000 |
| 50 sqm | N/A | N/A | £40,000-£60,000 |
Supply Costs
The following are average supply costs for various fittings that may be used for a bungalow extension depending on the use of the newly built rooms.
Bungalow Extension Bathroom
There is a huge range of bathroom sinks available in various styles and sizes so the price to purchase one will depend on these factors. From full to semi-pedestal, stand mounted to wall mounted, counter top to inset there is a whole array of choice and an equally wide range of costs.
Prices can range from £35 for a budget but functional sink up to £600 for a top end bathroom sink. However, an average for a good quality sink is around £175.
Toilets can be either wall mounted, floor mounted, with concealed cisterns or retro high level cisterns, close coupled or traditional. With such a wide choice of styles it is not surprising that the costs can vary widely too. A modern stylish toilet will average around £250 but a simpler style can be purchased for around £50 or a more extravagant model could set you back £800.
There are many different types of showers available, such as mixer, electric, digital, smart or tower showers. The type you choose may depend on water pressure, style, or budget. A basic shower can be purchased for around £50 or you could go for a top of the range model for well in excess of £1,000. A reasonable average for a good quality shower will be in the region of £550.
Baths come in many shapes and sizes. There are straight or shower baths, single ended, double-ended, left, or right hand, rounded or square. The prices can range from around £100-£850 but an average cost for a quality bath will be approximately £375. To fit out a new bathroom in a bungalow extension, excluding labour, would therefore cost on average around £1,350.
Bungalow Extension Kitchen
One of the most popular bungalow rear extension ideas is to fit a kitchen/diner. However, installing a new kitchen in your bungalow extension is a major undertaking and will involve a lot of tradespeople from carpenters, plumbers, electricians, plasterers, tilers, and decorators. On top of all that labour you will need to purchase your new kitchen suite.
The two types of cabinet typically fitted in a new kitchen will be base units and wall units. These come in two standard widths of 500mm or 1000mm and will vary in style, design, and finish. Basic 500mm units cost on average £20-£50 while premium 500mm units can be £70-£140 each.
The 1000mm wide basic units will typically be priced around £30-£70 and for premium 1000mm units prices will be more like £100-£200 each.
Probably the costliest items to go in a new kitchen will be the appliances that you install. There are so many brands, designs, and styles of cooker on the market that it is difficult to pin down prices but typically people spend £300-£1,000 on a new cooker.
Of course, you may prefer a separate hob and oven and these will vary widely too. A new built in oven will cost on average £120-£1,400 depending on make and features. The cost of a fitted hob will depend on the type that you want. A solid plate hob can be purchased for around £120 while an induction hob can cost well over £2,000.
An extractor hood costs on average £50-£150 and a new microwave will set you back anywhere between £50-£600. A new fridge-freezer can cost between £150-£2,000, a dishwasher between £150-£1,500, and a washing machine between £180-£1,700.
Of course, you may have existing appliances that are perfectly functional but most people prefer to install new items in a new kitchen.
Perhaps one of the most important choices for a new kitchen is the type of worktop that you fit. This choice can be based on practicality, style or what is currently trendy and there are a lot to choose from. The type of material that the worktop is made from will be the greatest determining factor in the price that you pay.
Granite will cost between £250-£400 per square metre, quartz £200-£500 per square metre and marble £300-£500 per square metre. These are all very durable and high quality materials and will give a prestigious feel to any kitchen. For a more modest budget, worktops made from wood typically cost between £50-£150 per square metre and laminate £20-£50 per square metre.
Bungalow Extension Doors
The type of bungalow extension that you are building will determine the kind of doors what you will fit. For example, a side extension may require a new 'front' door, a rear extension may need patio doors while a dormer extension will only require internal doors.
Front doors come in a vast array of designs, styles, and materials. While timber doors are always popular they are expensive, typically costing £300 - £1,800 and do require regular maintenance to preserve their looks.
On the other hand, composite front doors can mimic the look of timber, are more durable and practically maintenance free. An average price range for composite front doors would be £700-£2,500. A low cost and low maintenance option would be a uPVC front door costing between £250 - £450 on average.
For a bungalow rear extension, the choices are even more extensive as you can choose from typical French doors, sliding doors or full width bi-fold doors depending on the design and your budget.
French doors are available in uPVC, timber, composite material, and aluminium. Aluminium are the most expensive at around £1,850-£2,200 as it is a lightweight and durable material which is practically maintenance free. Solid timber French doors will cost on average £1,100-£1,350 and composite are around the same price at between £900-£1,200.
By far the most widely used material for French doors is uPVC as it is durable, low maintenance and relatively inexpensive costing around £500-£600 for a standard set of French doors.
For larger openings sliding and bi-fold doors are more practical although they will be more expensive. Sliding doors are available in uPVC and aluminium and cost on average £500-£1,500. Bi-fold doors similarly come in uPVC and aluminium but also in timber and will cost on average £1,000-£4,000 depending on size and material.
For a dormer bungalow extension, the choice of internal doors is extensive but you will probably want to match with your existing doors. You will have the choice of softwood, hardwood, composite, or uPVC and prices will vary according to size, style, and material. The average cost of a standard internal timber door is £75-£200.
Bungalow Extension Windows
Of course, you will need windows in your new bungalow extension and this will mean choosing between uPVC, timber, or aluminium frames. You will probably want to match your new window frames with your existing but you may decide to upgrade from double glazing to triple glazing.
Double glazed windows come in various frame materials such as uPVC, timber, and aluminium. uPVC is the most common frame material as it is long lasting and relatively inexpensive. The average cost of uPVC double glazed windows is £250-£400 although this can vary for different finishes such as woodgrain effect.
Timber framed double glazing is more expensive and on average these windows will cost £400-£1,500 each depending on size and style. Aluminium windows are popular as the frames can be slimmer allowing more glazing and therefore more light into your bungalow extension and typically costs £400- £1,000 per window.
You may wish to include triple glazing in your bungalow extension plans and these windows are also available in uPVC, timber, and aluminium frames. For uPVC frames expect to pay between £250-£600 per window, for timber between £350-£700 and for aluminium frames an average of £300-£650 each.
For a dormer bungalow extension, you may need to install skylight windows in the roof. The average cost of a medium sized centre-pivot roof window is £500. A top hung model will cost more and there are various electric control models which will be substantially more expensive.
Bungalow Extension Flooring
Your bungalow extension costs will need to include the price of flooring whether that is tiles, carpet, or wooden flooring.
Floors can be tiled with either ceramic or porcelain tiles and the overall cost will depend on the size of the room and which of these materials you choose. As a more durable material porcelain tiles are more expensive and an average of £5-£10 per square metre more expensive than ceramic. A mid-range floor tile will cost approximately £25 per square metre.
Wooden flooring is very popular and there are many different types to choose from including laminate, solid and engineered wooden flooring as well as parquet. Laminate wooden flooring is the cheapest type and will cost around £10-£50 per square metre.
Both solid and engineered wooden flooring will cost around £20-£100 per square metre, both are durable and look good. Parquet flooring looks beautiful but is the most expensive costing on average £25-£200 per square metre.
Carpet has fallen slightly out of favour in recent times and is seen as somewhat out dated in terms of floor covering. However, a good quality carpet in a bedroom is still desirable for many people.
Like any type of floor covering there are different grades and quality of carpet. The most expensive is woven carpet and this can cost around £60 per square metre. There is also tufted carpet which is cheaper and costs on average £10-£15 per square metre.
Bungalow Extension Walls
Whether you are building a bungalow rear extension, side extension or dormer the walls will need to be plastered and decorated. This will most likely be a skim coat over plasterboard but nevertheless should be undertaken by a professional plasterer as it is a highly skilled job.
Some plasterers charge by the metre, some by the hour or day and others may give you a price for the whole job. Typically, a plasterer will charge around £150-£200 per day.
Wallpapering and painting following the plastering of your walls can either be done by a professional decorator or you could save some money and do it yourself. To do it yourself you will need to buy some materials and tools.
The type of wallpaper and paint that you choose will depend on personal preference and budget but a typical cost for a good quality internal emulsion paint is £5-£10 per litre.
Wallpaper is harder to price as there are so many options on the market but a typical mid-range wallpaper will cost approximately £10-£25 per roll.
Additional Costs
Here are some additional costs you may need to consider:
Bungalow Extension Heating
It will most likely be necessary to add extra heating to the new bungalow extension and this usually involves installing more radiators. The size and type you choose will depend on the size of the area that needs to be heated, your existing heating system and personal preference.
A plumber is more than capable of installing a radiator but of course for gas boilers they must be Gas Safe registered. Plumbers will charge around £30-£70 per hour for most regions of the country but in London this may well be in excess of £100 per hour.
London heating engineers can charge between £100-£160 per hour while in other parts of the UK this is more like £30-£90 per hour. Standard traditional radiators will cost between £75-£150 on average depending on size.
Of course, adding more radiators to your heating system will inevitably put additional demand on your boiler. If the boiler is more than ten years old or already showing signs of wear it may be necessary to install a new boiler. This will cost on average between £2,000-£3,000.
Bungalow Extension Lighting
New rooms in your bungalow extension means that you will need to install a new lighting. The cost of an electrician in London is around £40-£60 per hour while in other parts of the country it will be less at approximately £30-£40 per hour.
The cost of the lighting will depend on the type that you choose with a huge variety of styles, fittings and designs available. For example, pendant lighting can cost anything between £25 to almost £1,000 while downlighters range from around £10-£75 so it does depend on personal choice as well as your budget.
Cost Breakdown Calculator
Individual costs for hiring a contractor to build a 25 square metre side bungalow extension – Total Cost: £35,000.
Labour Costs and Time Frames
When hiring a contractor to build a bungalow extension they should be able to supply all the trades that will be required for the entire project. This will include block layers, labourers, roofers, plasterers, electricians, plumbers, and carpenters.
For jobs such as decorating or tiling they may be able to recommend someone but it will not usually be included in the quotation for the work unless specifically requested.
The price for the labour should be included in the quotations that you receive from contractors as well as the projected cost of materials. Also included should be the cost of the inspections by a building control inspector.
The first labour cost that you are likely to incur will be for the services of an architect. Whilst it is perfectly possible to build a bungalow side extension, rear extension, or dormer bungalow extension without an architects involvement, it is not recommended. It is much better for your contractor to have a complete set of plans to work from.
You should also engage a structural engineer to produce calculations to ensure the structural integrity of the building is maintained. The cost of an architect and structural engineer may be included in the quotations of some contractors if they employ these professions in-house.
The average cost may be between 5%-15% of the total project cost. An hourly rate of approximately £60-£75 is usual for an architect and a structural engineer between £70-£90.
Timescales
Each stage of the build for a bungalow extension will have its own timescale although allowances should be made for delays due to bad weather or late delivery of materials.
Plans
Bungalow extension plans should take no more than a week or so but it will depend on how busy the architect is.
Foundations
Following the receipt of the completed plans, structural calculations, and Building Regulations the building contractor can begin to dig the foundations. Depending on the size of the extension and ease of access this should take no more than half a day.
Concrete
The building control inspector will need to come and assess the depth of the foundations before the concrete is poured. this visit should be scheduled as soon as the foundations have been excavated.
Once they are passed the concrete can be poured and left to 'go off' which means it hardens and this normally happens within 24 hours although temperatures can affect this timescale.
Walls
When the concrete footings are set the walls can be constructed, normally with an inner and outer skin of bricks or concrete blocks with insulation in the cavity. This part of the process is relatively quick and the walls should be up within a week at the most.
The hardcore and oversite layer of concrete is customarily laid when the walls are built and this should only take a day.
Steel Beams
Steel beams will need to be installed to support the extension roof and these will have been calculated for the load by a structural engineer. Some can be put in place by hand and bigger steels will have to be craned into place.
Depending on the size, access, and manpower this process should be completed in a few hours. The roof construction should take a week or so. Covering the roof with felt and tiles may take another week.
Removal of Walls
Many bungalow rear extension ideas involve opening up the back of the house to create an open plan living space. If there are walls of the original property that need to be removed this should take a day or two to do safely especially if there are windows or patio doors to be removed.
First Fix & Plastering
First fix electrics and plumbing may take a week or two and then the internal walls and ceilings can be plaster boarded or plastered which will take a few days.
Doors
Doors such as patio, French, bi-fold or sliding doors and windows can be fitted within a couple of days.
Internal Fitout
The internal fitout of a bungalow extension will generally take longer than the construction phase. Second fix electrics, plumbing, carpentry, floor coverings, tiling and decorating are all included in this stage. Timings will also depend on the intended use of the room.
If it is to be used as a kitchen/diner then a kitchen suite installation will need to be added to the overall timeframe. If the extension is to be used as purely living or sleeping space then the fit out should be done when all second fix electrics, carpentry and decorating are complete.
When your bungalow extension is going to include a kitchen, delivery of the units and appliances must be co-ordinated with your builders schedule of works. Otherwise you may find that the build grinds to a halt and you may be left without cooking facilities if your existing kitchen has been removed.
Timeframe for Dormer Extension
The timescales and labour costs will be similar for a dormer bungalow extension although there will be slightly different stages. For example, there are no foundations to be dug for a dormer extension but the roof will need to be stripped so the time frames will be along the same lines albeit for slightly different work.
Most other stages such as first fix, plastering, second fix, etc… will remain the same for a bungalow dormer extension as for a bungalow rear or side extension.
Always liaise with your contractor when you are ordering materials that are integral to the build and which may slow or halt progress if they do not arrive on time.
This can increase your labour costs if time has to be made up to keep to a schedule and may delay the proposed finished date of your bungalow extension.
Cost Affecting Factors of a Bungalow Extension
Here are some cost factors to consider when building a bungalow extension:
Type of Extension
The type of bungalow extension will affect the price that you pay for it. A bungalow dormer extension will rarely be used as a kitchen/diner and will therefore not need to be fitted out with units and appliances. It is more likely that a bungalow dormer extension will be for a bedroom or additional living space and as such will just need to be decorated and furnished.
This is potentially a quicker and less expensive project. A kitchen/diner is more likely to be fitted in a bungalow rear extension or a side extension thereby making it slightly more expensive.
Size
Bungalow extension prices will be mainly influenced by the size of the build. This will apply to the digging of foundations, to the amount of materials that will be needed and to the finish of the completed space. The bigger the extension the more money it will cost to build and fit out.
Proposed Use of Extension
Depending on the new bungalow extension ideas the room type will also affect the cost. As mentioned a kitchen or kitchen/diner will add a significant amount to the budget as it will include fitting base and wall units, extra electrics and plumbing as well as appliances.
There may need to be a new or additional consumer unit fitted to cope with the extra electrical demand of a new kitchen.
Fitting Out
If the bungalow extension plans include additional living or sleeping space then the costs will be less as once complete the new room will simply need to be furnished with either existing or new furniture depending on personal preference or budget.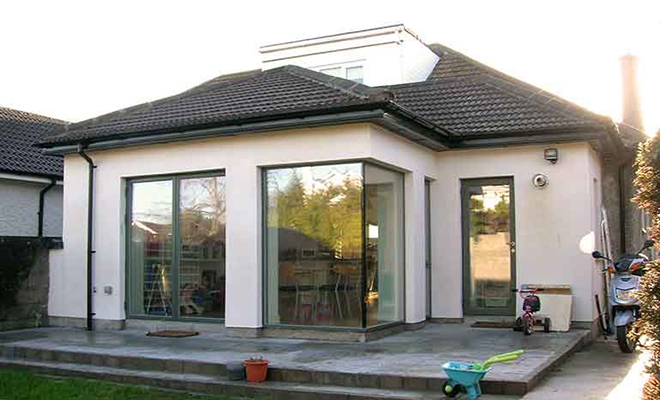 It is unlikely that furnishing a bedroom or living room will incur the same costs as fitting out a new kitchen.
Groundworks
The groundworks of a bungalow rear extension or side extension include the clearing of the site, digging of foundations and pouring of concrete.
For a bungalow side extension or rear extension this is a vital part of the process and getting it right is crucial to the stability and quality of the construction. This is a cost that is not necessary on a bungalow dormer extension.
Materials
The quality of materials used for a bungalow extension will affect the cost of the project. While the construction materials will all have to comply with the necessary Building Regulations the fitting out of the interior space of the bungalow extension is a matter of personal preference and budget.
This is where the difference between a low, medium, and high quality build will be most evident. For a kitchen or kitchen/diner the quality of the units, worktops and appliances will have a significant cost affecting impact. For a living room or bedroom, the furniture, floor covering and décor can be either budget or high end.
Decorating
The decorating costs for your bungalow extension will depend on the size, the use of the room and the look that you wish to achieve. Of course, you could do this as a DIY project or hire a professional decorator. The quality of the paint, wallpaper or floor covering will also affect the cost.
Location
Where you live in the UK will impact on the prices that you will pay for a bungalow extension with costs much higher in London, large cities, and the South East of the country. The location of property will affect the price that you pay the contractor, the cost of materials and the price of things like skips and scaffolding.
Access
Ease of access to your site may also have a cost impact. If you have no access to the site of the new bungalow extension for a mini digger then the job of digging out the foundations will have to be done manually.
This will affect the labour costs and will take considerably longer than using mechanical means. Issues with restricted access can also affect things like skip siting, material deliveries and even parking for tradespeople.
What Does a Bungalow Extension Entail?
The stages of a bungalow extension will be more or less the same for a side and rear extension but some features will obviously differ for a bungalow dormer extension. Some aspects such as the need to plan the build by engaging an architect and structural engineer will be applicable to all bungalow extensions.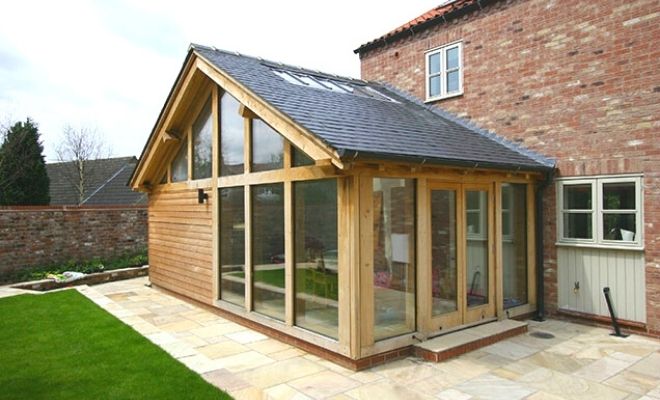 DIY Bungalow Extension
Whether you opt for a bungalow side extension, rear extension or dormer loft the scope of the work involved for each of these projects is beyond most DIY enthusiasts.
However, anyone who is a builder or carpenter by trade will be capable of carrying out such a project. For the majority of people nevertheless a build of this size is best left to the professionals.
One of the many reasons why a bungalow extension is not a job for even the most proficient DIYer is that there are inherent dangers involved which professional contractors are better equipped to deal with.
Working at Height
A bungalow dormer extension will involve working on the roof of the property and this in itself is dangerous. Working at height is one of the leading causes of death and injury within construction and professional loft fitters have had training and will wear safety harnesses to carry out their job.
Although a bungalow rear or side extension is one storey there will be an element of working at height when constructing the roof.
Other DIY Hazards
Aside from the risk of working at height, a number of injuries are also caused every year through the use of power tools which can inflict severe injury or death. There are also the dangers of crush injuries or contact with electricity.
Meeting Building Regulations
There are a lot of building regulations that need to be met with a bungalow extension and knowing what they are and at what stage to call the building control inspector may not be something most DIYers are aware of.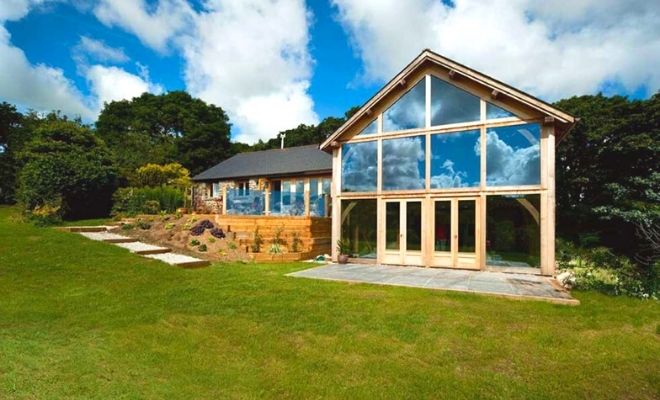 Failing to meet these requirements can have serious consequences for the project and is yet another reason why a professional building contractor should be hired.
DIY Jobs
While the majority of a bungalow side extension, rear extension or dormer extension is best left to a qualified professional some parts can be carried out DIY. Jobs such as painting, wallpapering, even tiling can be done by a competent DIYer.
This could save you up to £120-£160 per day. Laying floor coverings could also be done as a DIY job and may save you £150-£200 per day.
Equipment Needed for DIY Jobs
To carry out decorating such as painting you will simply need the paint, a roller and tray or paint sprayer and coverings to protect the floor. Safety equipment such as goggles should be worn to protect your eyes.
For laying flooring, it is a good idea to wear gloves to protect your hands and if you are cutting the flooring wear safety goggles while doing so.
Types of Bungalow Extension
There are a few bungalow extension ideas such as rear, side and dormer loft extensions. The one you choose will depend on the size and layout of the property, the available ground space, and your proposed use of the extension.
Bungalow Rear Extension Cost
A rear extension as the name indicates goes on the back of a property. For a detached bungalow, the rear extension can extend out by up to 8 metres and for semi-detached this is 6 metres. However, this is subject to prior approval by the local planning authority.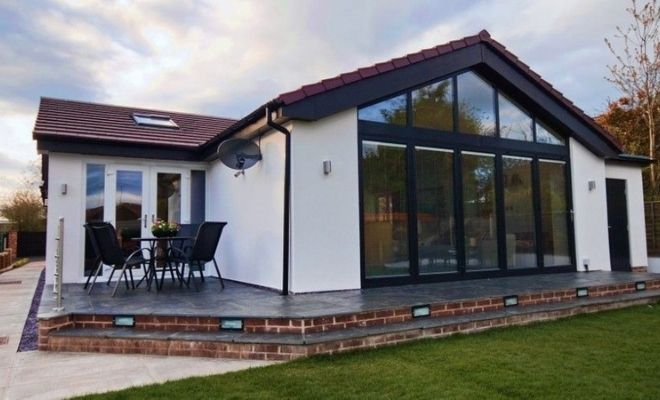 This is in contrast to a bungalow side extension which can only be up to half of the width of the original house.
The cost of a 25 square metre bungalow rear extension is on average £35,000-£45,000.
Pros of a bungalow rear extension:
✔ The amount of space allowed has increased for detached and semi-detached bungalow to eight and six metres, respectively.
✔ The extension can be blended into the original home to make it less obvious as a later addition.
✔ A rear extension allows for the addition of a large kitchen/diner, living area or even a bedroom.
Cons of a bungalow rear extension:
✖ You will be using up a lot of your available outdoor space.
✖ All materials used must match with the original property as much as possible leaving little room for modernising the exterior of the house.
✖ Bungalows that are not detached or semi-detached are only allowed to extend up to four metres from the rear of the original property.
Bungalow Side Extension Cost
The allowances for a bungalow side extension are up to half the width of the original property which may not be very much. You should ensure that what you are gaining in habitable space is worth the loss of outside areas.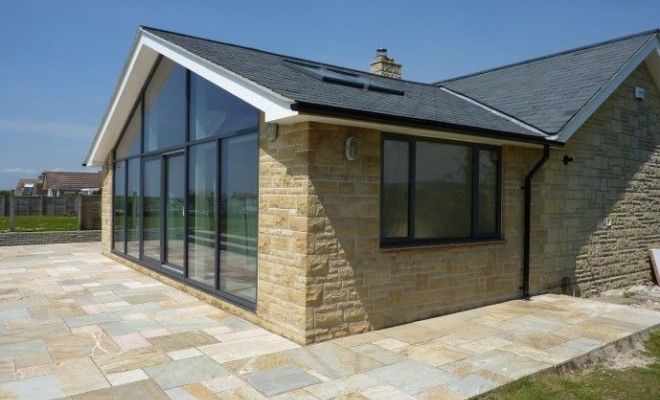 The cost of a 25 square metre bungalow side extension is between £30,000-£40,000.
Pros of a bungalow side extension:
✔ Can extend the living space of the property, add an extra bedroom or a new kitchen.
✔ You may retain your rear garden.
✔ Less expensive than a bungalow rear extension.
Cons of a bungalow side extension:
✖ Loss of any usable space at the side of the property e.g. parking for cars etc…
✖ Not as much space gained as a bungalow rear extension.
✖ Any additional rooms will potentially be smaller and may not be worth the loss of outdoor space.
Bungalow Dormer Extension Cost
Building a bungalow dormer extension will involve different choices about the use of rooms as opposed to a rear or side extension.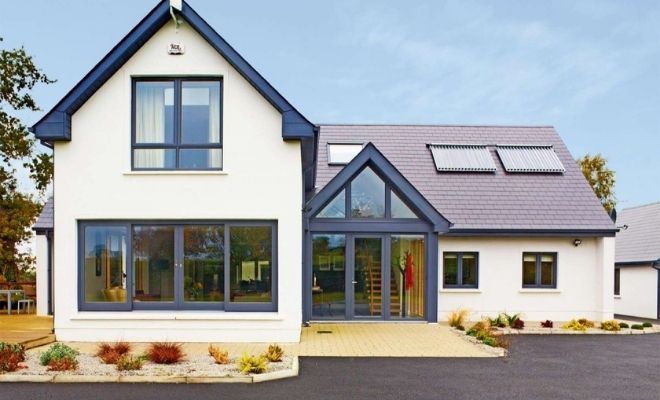 The cost of a 40 square metre bungalow dormer extension is £30,000-£45,000.
Pros of a bungalow dormer extension:
✔ There is no loss of outside space or garden.
✔ The unused space in the loft is often as big as the footprint of a bungalow allowing a considerable addition of space.
✔ You can add value to the property by increasing the habitable space and retaining the garden or outside area too.
Cons of a bungalow dormer extension:
✖ Limitations to what rooms can be added, kitchens are unlikely to be put into a dormer extension.
✖ A minimum head height of between 2.2 metres-2.4 metres is required and some bungalows have low pitched roofs.
✖ Poorly designed bungalow dormer extensions can detract from the aesthetics of the property.
Different Bungalow Extension Room Ideas
There are many bungalow extension ideas, designs, and options and the use of the new rooms will depend on your family's needs, the available space, and your budget.
Living Room
Being restricted to one storey there can often be strains on the space available for the occupants of a bungalow. It is understandable then that one desirable addition would be more living space. This could be in the form of a study for work or simply a larger room for the family to sit and relax in without feeling confined.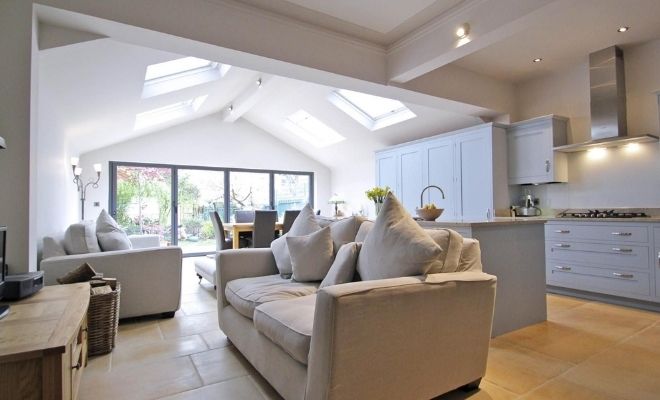 The cost of a new living space will usually only include additional furniture such as sofas, tables, and lighting.
Bathroom
An expanding family will put extra pressure on facilities such as bathrooms, shower rooms and toilets so this is a good use of a bungalow extension. It could be an expanded family bathroom or an ensuite to the main bedroom.
Either way all the occupants of the house will benefit from extra facilities. The fitting out of a new bathroom however will add to the cost of the new extension.
Kitchen/Diner
Large families also means more space needed to cook and eat meals. A bungalow rear or side extension is ideal for this kind of new room. By adding patio or bi-fold doors out to the garden the sense of space can be increased and provide a spacious and relaxing place to cook, dine and relax.
However, this is probably the most expensive room to put into your new extension as it will need to be fitted out with a new kitchen suite. A bungalow dormer conversion would not be suitable for this kind of room.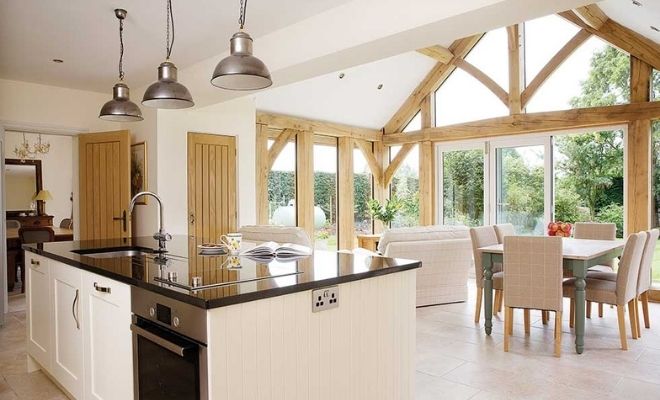 Bedroom
Extra bedrooms not only mean more space for family members but will invariably add value to your property. An additional 15%-25% can be added to the price of your home by including a bedroom in your extension. The cost to put a new bedroom in your bungalow extension will typically be for new furniture, floor covering and lighting.
Conservatory
Few people invest in conservatories these days as they tend to be not as functional as other room ideas. They also have a reputation for being cold in the winter and too hot in the summer and have fallen out of favour in recent times. They also do not add any value to a property so it is doubtful that the outlay for one would be recouped.
Building Regulations for a Bungalow Extension
Prior to any work being done on the bungalow extension a building notice will need to be served to the local authority detailing the work that is to be carried out. Full detailed plans do not need to be submitted although an application form and site location plan will be required.
This is to allow inspections of the build to be checked at critical stages to ensure it is complying with Building Regulations.
There are a lot of Building Regulations that apply to building extensions, some are specific to rear or side extensions but most apply to all extensions.
All Extensions
Extensions to your property are considered permitted development, and not requiring planning permission, as long as some limits and conditions are met:
Only half the land around the original house can be taken up by a new extension. The term 'original house' means as it was when it was built or as it stood on July 1st, 1948 if it was constructed before that date.
Extensions cannot be higher than the highest point of the existing roof or higher at the eaves than the existing eaves.
If the extension is within two metres of the boundary the height at the eaves cannot exceed three metres.
The extension cannot be built forward of the 'principal elevation' which means whichever side is facing the road, sometimes this is not the front of the property but the side.
No alteration to the roof of the existing house can be carried out and balconies, verandas, or other raised platforms are prohibited.
Chimneys, flues or soil and vent pipes cannot be included in the work and neither can satellite dishes or tv aerials.
Materials on the exterior of the extension must match the existing property.
Extensions on Article 2(3) designated land cannot have external cladding fitted. Designated land is classified as a conservation area, area of outstanding natural beauty (AONB), national parks, world heritage sites, the Broads, or any place that the Secretary of State specifies for protection.
Rear Extensions
All the above limitations apply to the building of a rear extension along with some which are specific to this type of extension.
Rear extensions cannot extend more than four metres beyond the rear wall of the original house if it is detached and no more than three metres for all other homes.
With prior approval and where the property is not on designated land these limits are increased to eight metres for a detached house and six metres for all others.
Single storey extensions cannot exceed four metres in height.
Side Extensions
The restrictions for all extensions also apply to side extensions but with some additions specific to this type of build.
The extension cannot exceed four metres in height.
Can only be single storey.
It cannot be more than half the width of the original house.
Dormer Extensions
Building regulations that apply to dormer extensions include:
Ensuring the structural strength of the new floor is sufficient.
The stability of the structure, including the roof, is not endangered.
Safe escape from fire.
The stairs to the new floor are safely designed.
That there is reasonable sound insulation between the conversion and the rooms below.
Building Control Checks
As well as the above building regulations that apply to extensions there are specific aspects of the build that a building control inspector will come to site to check. For a bungalow side extension or rear extension, the things that will be reviewed by the building inspector are:
Flooring- a floor will have to give structural support to the room/s and provide resistance to ground moisture and heat loss.
Foundations-requirements will vary from one project to another but fundamentally foundations are required to transmit the load of the building safely to the ground.
Walls below ground level- the substructure should be effective and resistant to frost and sulphates in the soil.
Ventilation- there should be adequate ventilation for health reasons. The type of ventilation will depend on the room.
Energy efficiency- this typically covers lighting, insulation, and radiators amongst other things.
Structural opening- these need to be supported by steel beams or lintels.
Building control inspections for a bungalow dormer inspection include:
Inspecting the steel beams installed and ensuring they are to specification.
Checking all insulation to make sure it means Building Regulation U values.
Final inspection and sign off.
For the building control inspector to be able to check each element that needs to meet Building Regulations he will have to be informed when the build is at the appropriate stage. This is usually done by your contractor contacting the inspector and alerting them that the work is ready to be inspected.
The cost for these checks should be included in the price that your building contractor has quoted to you. If you do need to pay them yourself you will need to get a price from your local authorities building control department or an independent building control inspector.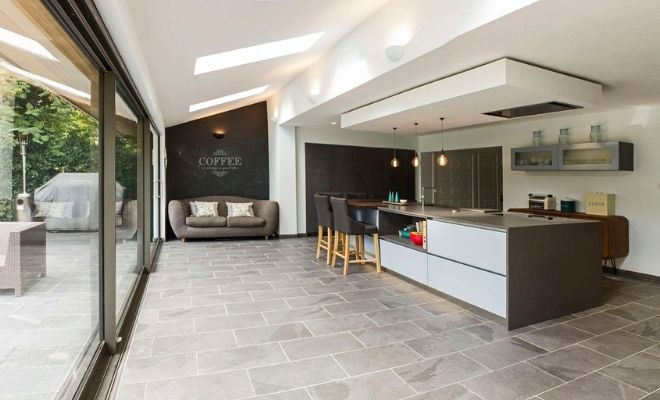 All extensions will need to be signed off by a building inspector who will then issue a completion certificate. This document is essential as the property cannot be sold in the future without it.
The information on all Building Regulations which apply to extensions can be found on the planning portal website.
Planning Permission for a Bungalow Extension
Most extensions will fall under permitted development rights and therefore will not require planning permission. There are however some exceptions:
Properties in conservation areas, areas of outstanding natural beauty (AONB), national parks, world heritage sites, the Broads, or any area that the Secretary of State specifies for protection.
If the planned extension exceeds the size that is allowed under permitted development.
If you wish to include balconies, verandas, or other raised platforms, chimneys, flues soil or vent pipes, satellite dishes or TV aerials.
You wish to use materials that do not match the existing property.
If you do need to apply for planning permission the cost in the UK is around £200 with slight variations between England, Wales, and Scotland.
Information on planning application fees can be found on your local authority's website or at their offices.
Removing a Bungalow Extension Cost
There are a few reasons why someone would want to remove a bungalow extension. It may be an old structure and in bad repair which may make it dangerous and in need of removal. The extension may no longer serve any useful purpose to the present occupants of the house or not be to their taste.
The most likely reason is that someone will buy the property and want to update it, making the most of the habitable space. Extensions such as conservatories were trendy at one time but have no real purpose in a modern home. Most people would prefer to use the space functionally while also increasing the value of the property.
A general builder can be used to demolish an existing extension and you should get two or three quotations for the work, as you would when building. While most general builders may charge £150-£200 per day it is probable that you would be given a fixed price to remove your bungalow extension.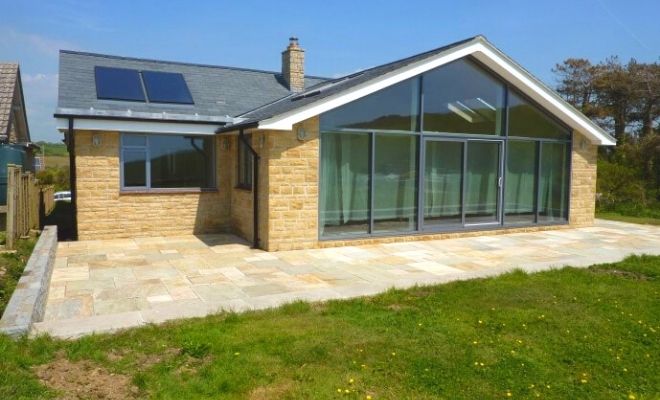 While it may be possible to remove an extension as a DIY project it is probably not advisable unless you happen to be an experienced builder. You may inadvertently undermine the structural integrity of the rest of the property so it is best left to the professionals.
Demolishing an extension will generate a lot of waste and rubble so you will need to hire a skip. You should get the biggest one that you can fit on your property or that the local authority will give you a permit for to put on the public highway. This is to avoid numerous skip exchanges which will not only cost money but will slow progress as you wait for a new empty skip to arrive.
The average cost to hire a skip is around £200-£300 per week although this will vary from one area to another.
FAQs
How to Find & Hire a Bungalow Extension Builder
If you want to build an extension to your bungalow then you will need to find a building contractor to carry out the work for you.
Cost
The average cost of hiring a contractor will depend on the area you live in, the size and type of extension and the quality of the materials used. A rough guide for an average build and fit out is approximately £1,200 per square metre. For a high end finish this cost will obviously be more.
What to Look For
When looking for a building contractor to construct your bungalow side extension, rear extension, or dormer extension there are several important things to consider. The first is to find a reputable contractor who is well established and has a portfolio of finished work to which they can refer you.
It is worth enquiring if you can visit some of their previous clients so you can see first-hand the quality of workmanship and speak to the client to get feedback on the process.
Qualifications
Most builders have completed training as an apprentice which mixes academic study with practical on the job experience. This leads to increased knowledge in their trade and as they progress they will be challenged to do more complex work. Once an apprentice has served their time and are ready to work unsupervised they will have accumulated years of training, knowledge and on the job experience.
Experience
For a large job such as a bungalow extension you will want a building contractor with plenty of experience doing similar work. It helps if they have done a variety of different extensions so that they can guide you to the most suitable for your property.
Accreditation
There are many accreditation schemes which a building contractor can be signed up to, for example TrustMark endorses quality building and consumer protection and is government supported. Other schemes such as the Federation of Master Builders (FMB) is a trade association who rigorously check their members and promote quality construction.
There are many such associations and schemes so you should ask each contractor that quotes for you where their accreditation comes from.
Insurance
All tradespeople need insurance and it is your right as a potential client to ask about a contractors insurance and to see proof. Most reputable building companies will be covered by public liability insurance, professional indemnity insurance or all risk insurance and should be happy to provide evidence of this.
Public liability insurance protects against injury or damage by the contractor to third parties. Professional indemnity insurance protects against claims of bad workmanship, failure to complete a job or similar situations. All risk insurance covers property damage and third party claims of injury or damage.
Checking Qualifications & Accreditation
Looking for a building contractor for a major project such as a bungalow extension can be a stressful process as you will be investing a lot of money and trust in someone you do not know. Therefore, if you can get a personal recommendation and view previous completed work it can relieve that stress slightly.
If this is not possible and you are relying on local reputation or online reviews it is essential that you check the contractor's qualifications, certifications, and insurance cover.
Sources
https://www.planningportal.co.uk/info/200130/common_projects/17/extensions
https://www.wickes.co.uk/Products/Bathrooms
https://www.planningportal.co.uk/info/200130/common_projects/17/extensions
https://www.practicalarchitecture.com/blog/how-to-detail-a-wallplate
https://www.homebuilding.co.uk/advice/floor-structure-guide
https://www.tradesmansaver.co.uk/contractors-all-risk-insurance