How Much Does It Cost to Fit an Outside Socket?
The average cost of fitting a single outside socket is £60 to £275, or for an outside double socket, £60 to £290. The cost would be about £115 to £255 for a socket with a timer or £55 to £285 for an RCD outdoor socket.
As for a double outdoor socket with junction boxes, an installation would cost around £160 to £570 with the price landing about £265 to £815 to have multiple outdoor sockets with junction boxes installed.
The cost of installing an outdoor socket will depend not only on the size and type of socket but also on ease of access, the materials used, and your property's location.
As for property location, this is a cost factor given that labour rates vary across the UK.
Outside Socket Prices
| Job Description | Total Cost |
| --- | --- |
| Single Outdoor Socket | £60 to £275 |
| Double Outdoor Socket | £60 to £290 |
| Socket with a Timer | £115 to £255 |
| Socket with an RCD | £55 to £285 |
| Double Outdoor Socket with Junction Boxes | £160 to £570 |
| Multiple Outdoor Sockets with Junction Boxes | £265 to £815 |
Supply Costs
We'll now discuss the supply costs specifically. These costs naturally exclude the labour/trades cost. On average, the single outdoor socket cost is £10 to £35, with the price of a double outdoor plug socket landing between £10 and £50.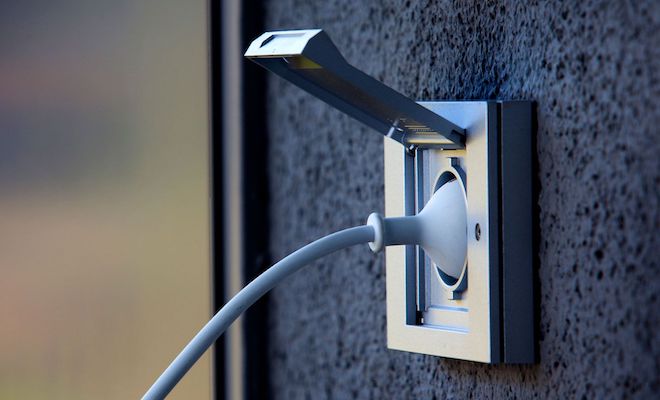 A socket with a timer tends to feature a price tag of £50 to £60, while you'd pay around £20 to £60 for a socket with an RCD.
To have a double outdoor socket with junction boxes installed is likely to cost £60 to £90, while multiple outdoor sockets with junction boxes will cost around £65 to £95.
Additional Costs
There are a range of added jobs you may wish to pay for when having an outside socket installed. Let's delve into some examples.
Outside Security Lights
There are a variety of security light options you may wish to have an electrician install. On average, to have a motion sensor light fitted would cost around £90 to £150.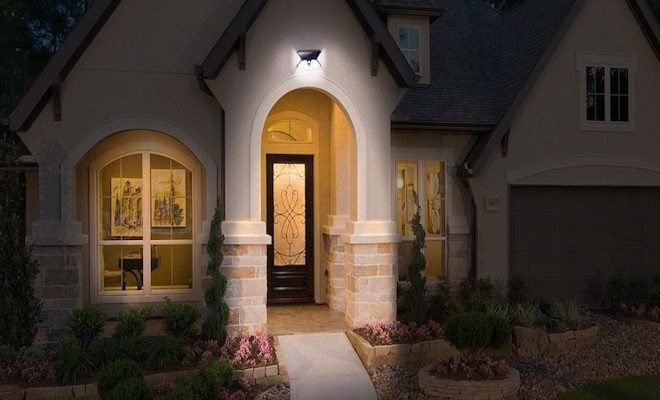 You'd pay about £80 to £180 for floodlights, anywhere from £80 to £1100 for landscape lights, or £80 to £500 for spotlights.
CCTV Installation Costs for 2020
There are also a wide range of CCTV cameras available. A dome camera may cost £60 to £80, while bullet or c-mount CCTV tends to cost about £100 to £140.
For a more sophisticated pan, tilt, & zoom camera, expect to pay roughly £150 to £190. Network CCTV usually costs between £140 and £180.
You'd likely pay £100 to £170 for wireless CCTV, £100 to £180 for infrared CCTV, or £130 to £180 for high definition CCTV.
Cost Breakdown Calculator
Individual costs of hiring an electrician to install a double outdoor socket – Total Cost: £175
Labour Costs and Time Frames
In this section, we'll discuss the labour costs. The labour cost is part of the total cost alongside that of the actual socket. It would land around £50 to £240 for a single or double outside socket installation, £65 to £195 for a socket with a timer, or £35 to £225 for a socket with an RCD.
The labour costs would be around £100 to £480 to install a double outside socket with junction boxes, or £200 to £720 to have multiple outside sockets with junction boxes installed.
The setup will take less than half an hour, while the work itself could take anywhere from one to six hours, depending on the job's specifics. In general, such as in the case of a single or double outside socket installation, it will take around an hour or two.
The labour price and timeframes can be influenced by the ease of access, the state of the work area, and of course, the type of installation.
Cost Affecting Factors of an Outside Socket
Various factors can shape the cost of fitting an outdoor socket. Let's break down some of the most important cost factors.
Type of Socket
The socket type is relevant given that the material cost, at least, will vary. Of course, the labour cost can sometimes also vary given that some sockets are particularly more challenging to install than others.
Size of Sockets
The larger the socket, the higher the material cost. For instance, double sockets cost twice as much as a single socket, or sometimes even more.
Electrical Work
The specifics of the electrical work is also relevant since this can directly impact how complex the job will be. The more difficult the work is, the more the labour cost will be if the work takes longer.
Ease of Access
As with the complexity or lack thereof of the electrics, ease of access is also important since labour costs are likely to be higher if it is difficult for the electrician to access the installation point.
Property Location
Where you live is another important cost factor. Electricians tend to charge higher rates in the southeast and London in particular, but lower rates than the national average in regions such as Scotland, the north of England, and Northern Ireland.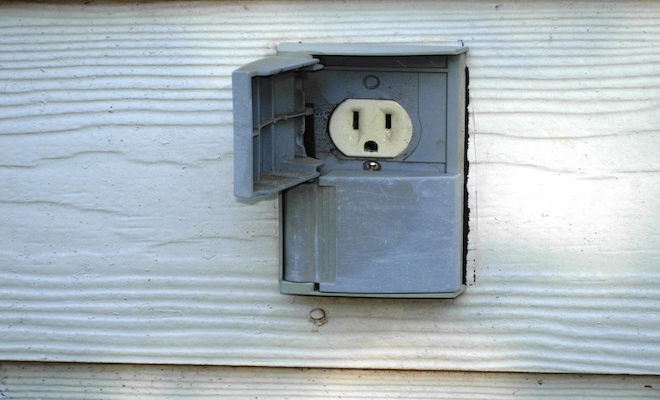 To give some examples, an electrician in Blackpool is likely to charge about £27 to £31 per hour, with electricians in Dundee or Exeter charging approximately £28 to £32 an hour, but an electrician in Leicester might charge £38 to £42 per hour.
You should expect to pay an increased labour rate in London, as tradespeople in the capital tend to cost around £46 to £50 per hour.
What Does Fitting an Outside Socket Entail?
We'll now look at the range of steps involved in installing an outside socket.
1. Hiring an Electrician
Firstly, you'll need to find a suitable electrician for the job. The best way to approach this is by seeking three quotes from different contractors/companies and possibly requesting some references.
At this point, you'll be able to narrow down your options to choose a given contractor.
2. Turn Off The Power
On the day of the installation, the electricity must be turned off to start with. The electrician may isolate a specific region of your home or turn off all the power.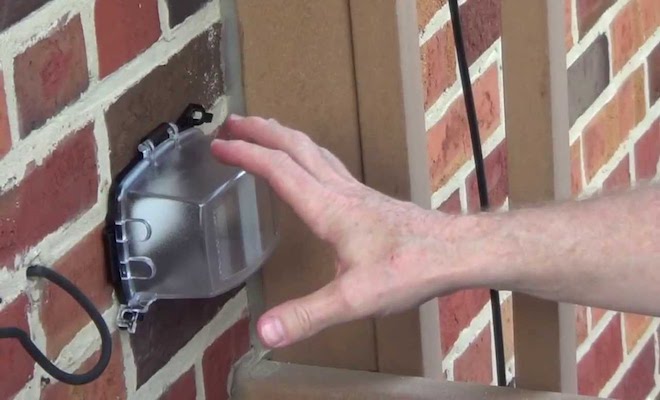 This will depend on the wiring in your property and where the outside socket is to be installed.
3. Installation
There are two methods that can be used for fitting an outdoor socket. The first method is fitting the socket to an existing electrical ring inside your property. Alternatively, it could receive its own electrical ring.
The distinction will come down to where the wiring begins. In some cases, a hole will be drilled near where the socket is needed. This can then connect the internal socket via the external socket. Next, a spur can be removed from the socket to power the outside socket.
Sometimes, it is best to run a cable straight from the consumer unit to the external socket for safety reasons. Of course, the cable would need to feed through in a way that keeps it out of harm's way. In some cases, the wire can be run through the walls. If not, it will need to be tacked on to the wall to keep it isolated.
4. Finalisation
As soon as the wiring is complete, it's time to fix the box to the wall. Then, the sockets can be wired in. Finally, when everything is installed and secure, the electrician will turn the power back on.
DIY Outdoor Socket Installation
Unfortunately, this is not a DIY job. Only a certified electrician should install an outside socket. This is important as electrical work can be very hazardous, so it's important that a professional contractor completes the task.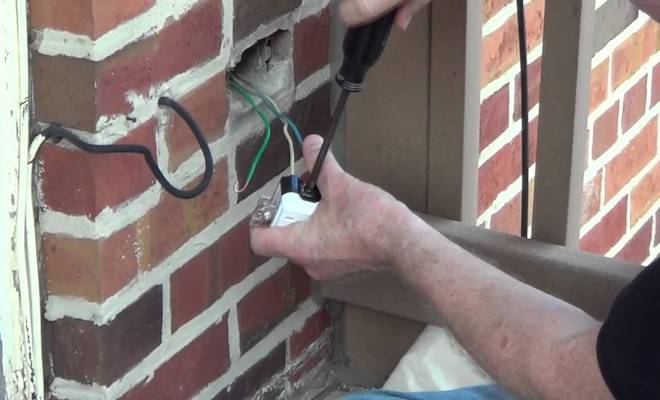 They may or may not use specific safety equipment such as protective electricity-resistant gloves. Building regulations may need to sign off. Let's look more closely that whether specific approvals will be needed.
Building Regulations for an Outdoor Socket
In regards to building regulations, any electrical work must follow the rules laid out in BS 7671. Further information can be found via the Planning Portal.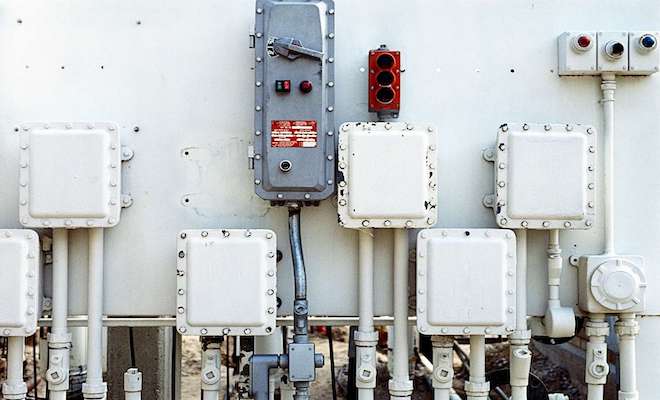 It should be noted that the Planning Portal is specific to England and Wales, so regulations could differ in Northern Ireland and Scotland.
Thankfully, this is not generally considered notifiable work and only under specific circumstances would you need to apply for building regulations approval. In that case, it could cost between £300 and £500.
Planning Permission for an Outdoor Socket
In terms of planning permission approval, this is generally not required to install an outdoor socket. If you live in a listed building, however, it may be necessary.
If you are unsure, you should contact your local planning authority. Again, Planning Portal provides further information.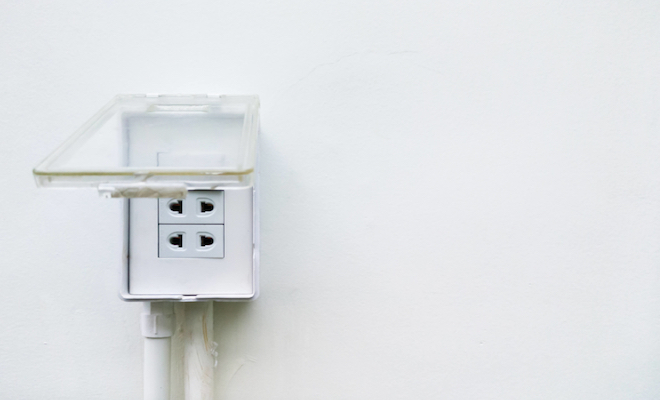 Where a planning permission application is needed, it tends to cost £200 to £500. You may be waiting two months or more to receive a response.
FAQs
How to Find & Hire an Outdoor Socket Installer
You should not install an outdoor socket DIY, and therefore it's important to hire a qualified and experienced electrician.
Ideally, you'll also want to find a contractor with insurance and accreditation. An electrician should have a level 3 qualification such as a Level 3 Diploma.
You can, of course, always ask the contractor/company about qualifications and certifications before hiring them.
Sources