How Much Does Installing an Air Conditioner Cost?
The cost of having air conditioner installed in your home varies according to multiple factors; the size and type of air conditioner unit you need, the brand chosen and the installation requirements.
A permanent air conditioner installation can cost as little as £550 for a floor mounted or wall mounted unit, sometimes known as a split duct air conditioner system, to upwards of £2000 depending on the model chosen.
Window air conditioner systems typically start at around £650 for materials and labour, but again can increase dramatically in price depending on the power and size of the unit you have installed.
Air Conditioner Prices
Below are some estimated prices for individual air conditioner installation, including materials and labour where appropriate.:
| SYSTEM TYPE | TIME | COST |
| --- | --- | --- |
| Freestanding or portable air conditioner | N/A | £150 – £350 |
| Window air conditioner | Up to 1 day | £650 – £1,200 |
| Floor/ wall mounted air conditioner | 3 – 5 hours | £550 – £2,100 |
The prices illustrated will increase in accordance with how many units you are having installed, though some tradespeople or air conditioner firms may offer a discount for the cost of units or labour if multiple are purchased – so it's always worth enquiring with different suppliers if you plan on having multiple installed.
Supply Costs
The table below illustrates the cost of purchasing different types of air conditioner units, without the cost of installation.
| SYSTEM TYPE | COST |
| --- | --- |
| Freestanding air conditioner / spot cooler | £150 - £350 |
| Window air conditioner | £500 - £1,000 |
| Floor / wall mounted air conditioner | £450 - £2,000 |
Additional Costs
In addition to the cost o having your air conditioner installed in your home, there are a number of other costs you may incur in the process, or work that may be well paired with an air conditioner installation.
Plastering Cost
As is the case with most home improvement work that requires modifications to be made to a wall, in all likelihood, no matter how careful your air con installation expert is, there is likely going to be a need to have some re-plastering work done around the installation site.
In most cases, you'll likely only need a small patch of your wall addressing and redecorating once set.
A professional plaster / decorator will likely charge in the region of £100 to complete the work, so a nice saving can be made if you are capable of completing it yourself.
Loft Insulation Cost
It's a well-known fact that good home insulation can reduce your heating costs in the winter – but the same can be said for your cooling costs in the summer.
Effective loft insulation can help reduce your AC running costs as it will help prevent the cooled air escaping through the roof.
Loft insulation prices start at roughly £2.50 p/m2.
Draught Proofing Cost
Ineffective window glazing can cause draughts to come through your home, which can have an affect in both hot and cold weather conditions.
If your home is prone to draughting then in all likelihood your air conditioning system will have to work harder to regulate desired temperatures – so you may need to assess whether your windows and doors need replacing to make the most of you new AC system and help you keep the running costs down.
New uPVC windows usually cost around £300 to purchase.
Cost Breakdown Calculator
The average cost of having air conditioning installed: £1,000
Labour Costs and Time Frames
The average cost to hire a gas-certified tradesperson is between £150 - £200 a day.
Depending on the size of the installation, they may work alone to install your air conditioner, or may work in pairs, which would see the price increase to around £300 a day.
Most wall-mounted air conditioning units take around 4 hours to install, so you should anticipate a labour charge of around £75 - £150.
For window air conditioner units, which will need to be suitably positioned and secured, expect the process to take up to a day.
Labour charges will vary across the UK and will be affected by factors such as ease of access to the site, geographical location and whether additional electrical work is required inside your home to accommodate the system.
What is an Air Conditioner?
Air conditioner, frequently referred to as "air-con" or "AC", is a central heating system that provides cool air to an interior space by removing heat and moisture and replacing it with air that has been cooled; much like how refrigerators function.
Air conditioning is a popular home addition where temperatures can become uncomfortable; for example, in bedrooms, conservatories or kitchens.
It offers an effective means of cooling spaces efficiently where traditional air circulation through open windows may not be as effective as desired.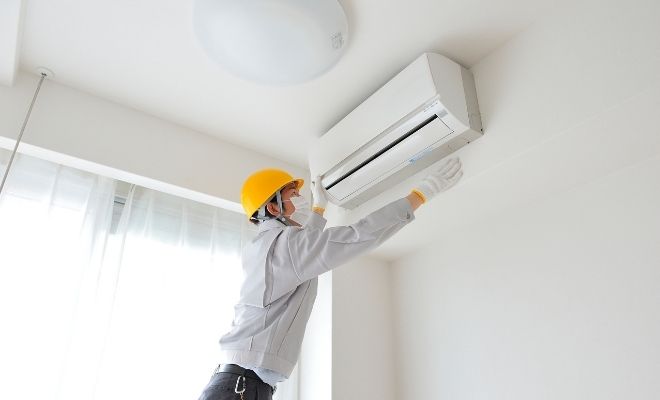 What Does Installing an Air Conditioner Entail?
Whether you are having window air conditioner installed, or have opted for a wall or floor mounted unit instead, the processes of installation are roughly as follows:
Window Air Conditioner Unit
Choose the window in which you would like your AC unit installed; ideally, for window units, this should be a sash or sliding window to accommodate the unit.
The majority of the air window conditioner unit will be outside of the house; you may be required to have brackets fitted to help support the weight of the unit and to add to it's stability for permanent AC solutions.
The unit is positioned in the window frame; window air conditioner units typically have a rail along the bottom which will fit in the recess of your window frame, and a bar on the top of the unit that will fit against the window when it is closed.
Once the unit is in position the windows are typically secured with locks to prevent the window from opening and releasing the AC unit
The side screens of the AC unit can now be adjusted into position to block off the window opening and secured into place.
Once secured, the air conditioner unit can be turned on and tested.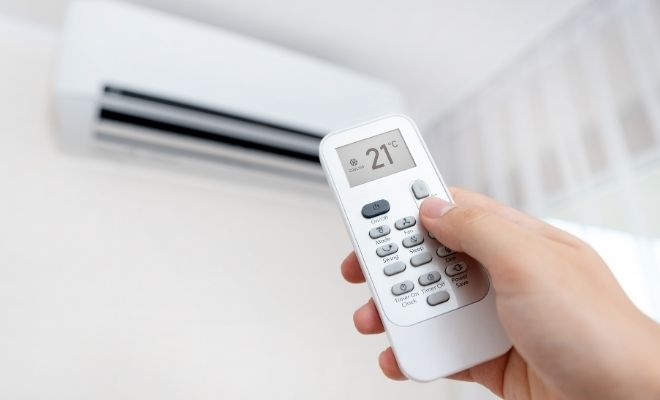 Wall or Floor Mounted Air Conditioner Unit
Wall mounted air conditioner units comprise of two components; the indoor air handler and outdoor condenser.
The two are connected by copper tubing which allows the refrigerant to circulate.
Choose the location of your AC unit; it should be an area free of obstructions that will allow the air conditioner to perform correctly without interference
The wall mounting bracket will be attached to the chosen wall location
A slightly angled hole will be put through the wall to allow for the copper tubing to connect the air handler with the condensation unit outside.
Typically, the hole is 2.5 – 3 inches in diameter.
The control wire will be inserted into the indoor unit before it is placed on the wall.
The other end of the control wire, refrigerant tube and condensation pipes will be tied together and fed through the hole.
The multi-conductor wire connections can now be completed in the internal unit and the unit fastened to the wall.
The outdoor heat condenser can now be positioned and mounted into position; it's location will depend on factors such as your home structure, the proximity to the internal conditioner unit and local authority guidance.
The outside connection can now be made; the copper piping, which will be used as the refrigerant line, will be connected first, followed by the drain hose.
You may opt to have your cables encased to hide their appearance; this will be installed at this point (now that the positioning of cables and units have been established)
The pipe join on the outer unit can now be connected to the copper line-set, followed by the multi-conductor wire.
Your installation expert will check that your system is completely sealed by performing a pressure check.
A vacuum pump will be used to remove air from the system and the refrigerant added to the system once the technician is satisfied with the condition of the pipework.
Your unit can now be connected to the power supply in your home; this typically requires a dedicated circuit on your consumer unit, run through an exterior mounted disconnect box.
The system is now ready to be tested for proper operation, and use.
Cost Affecting Factors of Installing an Air Conditioner
Depending on which air conditioner system you have installed, there are a number of factors that may affect the overall costing of the work involved.
The Type of Air Conditioning System
The type of air conditioner system you choose to have installed at your home will, of course, affect the overall costings.
Larger, more powerful systems will cost more than their smaller counterparts – but be mindful when choosing your system that you purchase an air conditioning unit that is powerful enough for your needs, otherwise your running costs will be affected as the AC will be required to work harder, for longer, to achieve desired temperatures.
Ease of Access to the Installation Site
Depending on where in your home you are having your air conditioner installed, you may find that access to the location site is hindered, which may in turn cause the installation to take longer.
Similarly, if the area the air con is being installed has not been cleared of clutter and furniture before your installer arrives, you will likely be paying for their time to remove items in addition to their work.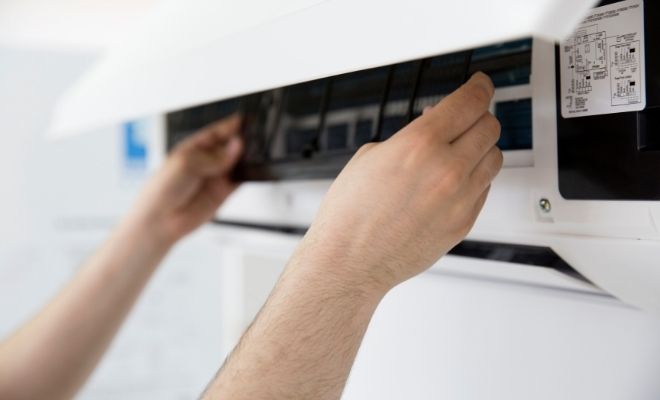 It's always advisable before a tradesperson arrives at your home to work that you make the space as clear as possible so that they can work as efficiently and quickly as possible.
Geographical Location of the Property
Depending on your geographical location, you may find that the average cost of tradespeople in your area is higher or lower than the national average.
London and the surrounding areas, in particular, are known to cost more than other areas across the country.
Your location in relation to your desired installer may also impact the price, particularly if you live outside of their usual catchment area and you are likely to incur an additional charge for mileage and to cover their costs of work that may be lost or postponed due to your location.
You should speak to your tradesperson before hiring them to enquire about additional charges based on location.
Electrical Works Required
Depending on the availability of electrical supply in your home, you may require extensive electrical work to be carried out in order to accommodate your new AC system; this may include adding an additional loop to your home circuit or modifying an existing one.
In order to comply with current IET wiring regulations, you may also need to have an RCD (residual current device) installed on your fuse box.
The Time of Year
You may find that the time of year affects the cost of purchasing and installing air conditioning appliances for your home; many air conditioner installation companies may offer a discount if your purchase is made during the 'off peak' season where business is not in high demand – so it's always worth asking your supplier if a discount can be offered on the off-chance.
Building Regulations For an Air Conditioner
The installation of an air conditioning unit comes under permitted developments in most cases and so does not require planning permission.
If you live in a conservation area or listed building, however, you should speak to your local authority before you go ahead with your installation to check whether it is permissible without approval.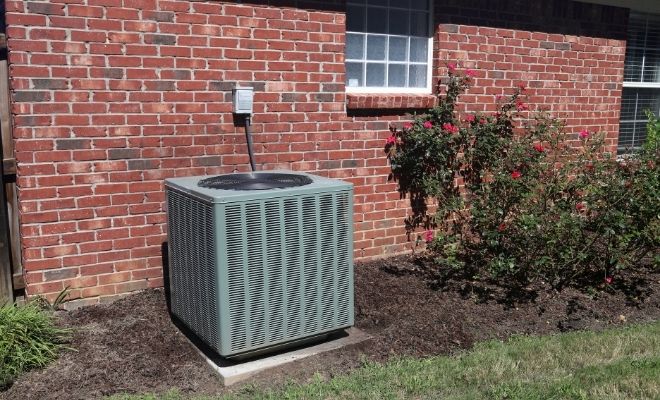 Building control will need to be notified of the work carried out at your home; if you hire a person that is a member of as competent person scheme they will be able to self-certify their work and building control will not need to conduct a site inspection once the work has been carried out.
Any electrical installation, including air conditioning, does need to comply with current IET wiring regulations.
For further information regarding building regulations and air conditioning, you can visit the planning portal and the government building regulations website.
DIY Air Conditioner
Due to the presence of refrigerant agents, installation of permanent and semi-permanent air conditioner units should be carried out by a registered gas engineer, gas-safe registered plumber, or a qualified air conditioner specialist, as these chemicals can be highly toxic and require specialist knowledge and is not suitable for DIY projects, though this will usually depend on the unit you have chosen.
In some cases, you may be able to partially install your air conditioner unit (such as mounting internal and external units and feeding pipe-works into the external space) and have a professional complete the work for you once in position, though you should only undertake partial installation if you are confident in your ability to do so correctly.
Failing to have a professional install (or at least check) test your aircon unit can result in serious risk of health and safety within your property, as well as invalidating your home insurance – so don't assume that you'll be okay to install it yourself.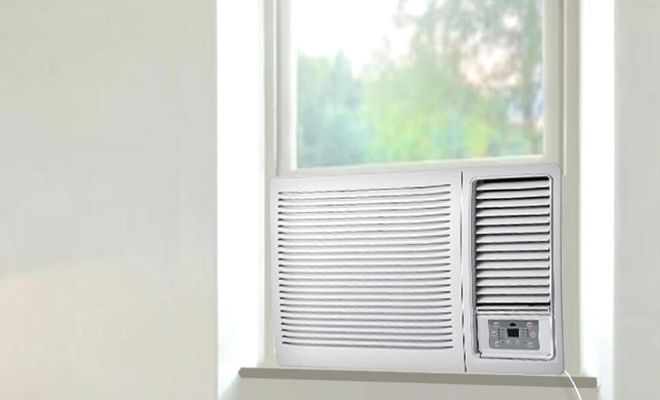 Some air conditioner units are advertised as DIY-friendly; it's advised that you read the installation manual carefully before you begin working and that you fully understand what is required during the process.
Air conditioning units can be quite heavy and you may require help with installing the units properly.
Make sure to follow the safety instructions provided with your air conditioner kit, including following guidelines regarding safety equipment such as wearing appropriate gloves and safety goggles and ensuring you are physically capable of completing the work yourself without risk.
To help your professional installation go smoothly, you should prepare the site of your air conditioner unit beforehand, clearing enough room so your installer can complete the job quickly and efficiently without interruption.
Choosing Air Conditioners
There are many options for home air conditioning, so consider your space, needs and budget when choosing the right style for your home.
Portable Air Conditioner and Spot Cooler Cost
Portable air conditioners, sometimes referred to as spot coolers, are typically used as a cheap alternative to a permanent home aircon installation where demand for air conditioning may not be frequent.
Portable air conditioner units start at a cost of around £150.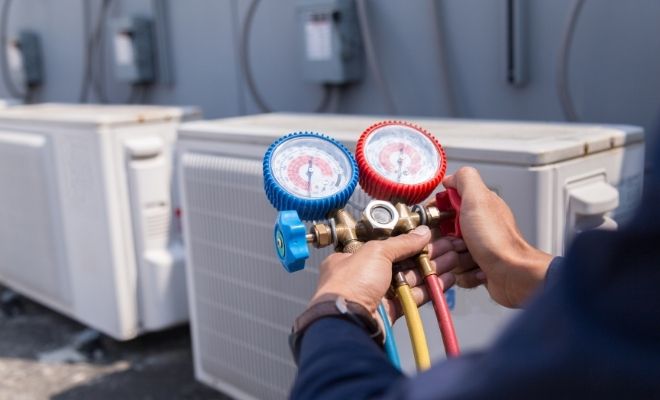 Pros
✔ Transportable, so can be moved from room to room
✔ Can be stored away when not in use
✔ Easy to set up (no installation required)
Cons
✖ Need to be positioned near a window for the extractor vent
✖ Less effective at cooling large rooms
✖ Less subtle in terms of appearance than other air conditioner types
Floor and Wall Mounted Air Conditioner Cost
Despite what the name suggests, floor mounted air conditioner units are actually still attached to the wall, but at a lower height (usually below window level).
Sometimes known as split systems, wall mounted air conditioners consist of two main parts; a compressor located outside the home and an air outlet unit, visible inside the home.
Prices for wall mounted air conditioners start from around £450 each to purchase, but can increase to around £2,000 depending on the size, style and functions required.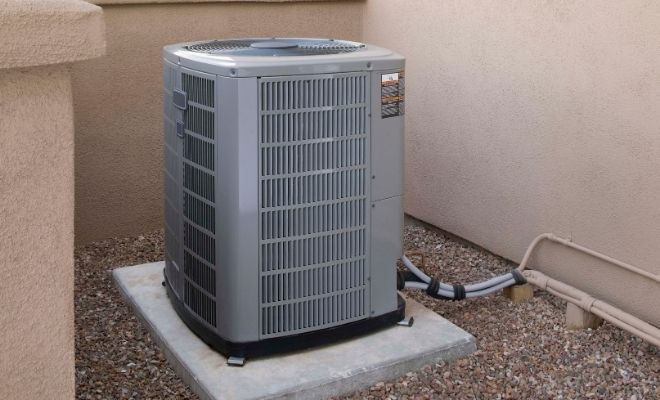 Pros
✔ Unlike portable and window AC systems, they are subtle in appearance and do not obstruct your view
✔ Generally, they are the most cost-effective AC systems to run
✔ System can be easily expanded to cover multiple rooms
Cons
✖ Require yearly maintenance
✖ Location within the room may be limited due to necessary pipework and functionality requirements
Window Air Conditioner Cost
Window air conditioners optimise airflow by exchanging internal warm air with external cooled air using a single all-in-one unit, in contrast to wall mounted aircon.
They are commonly used in older homes where planning permission may be an issue (such as a listed building), or in flats where installing an external compressor may be an issue.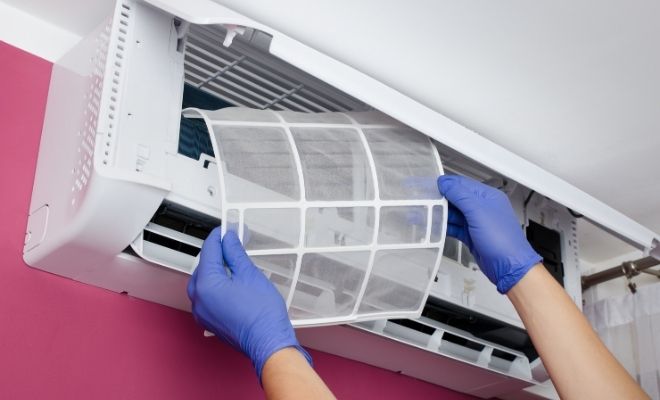 Pros
✔ Relatively low noise output when in use
✔ Can be located within a window opening or wall hole
✔ Some models are portable and do not require fixing into place
Cons
✖ Can obscure window views
✖ Requires a sash window
✖ May require support structures to be placed, such as brackets or reinforced framework – and may not be portable as a result.
May be considered a security risk, as your window will remain unlocked whilst the unit is in position
Benefits of an Air Conditioner
A good air conditioning system in the home offers a variety of benefits.
Home Climate Control
A well maintained and located air conditioner system can allow optimal control over home temperatures; ideal for rooms that are prone to overheating such as bedrooms, conservatories, living rooms and kitchens.
Air Filtration
As well as better climate control, air conditioner systems can rid your home of air pollutants, leading to cleaner healthier air in your home.
Less Insects in Your Home
Having air conditioning in a room minimises the need to have windows open to circulate air; meaning your home is less likely to be invaded by insects that are looking to escape the heat as well.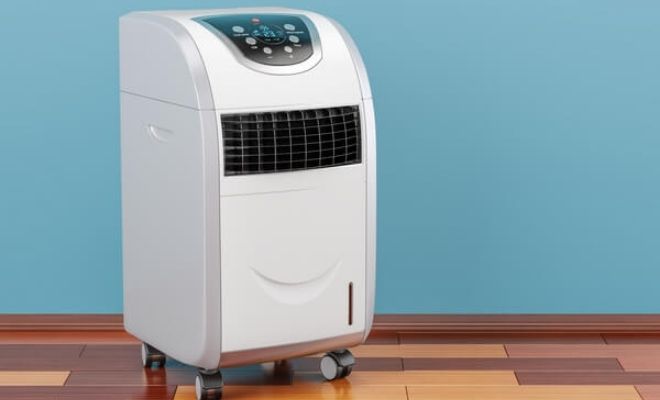 Better Sleep
Many people find it difficult to sleep in a warm room, and bedrooms are notorious for overheating during the hotter months. Air conditioning in bedrooms allows for a better nights' rest at reasonable temperatures.
Improved At-Home Work Performance
Many people struggle to work in warm environments, as concentration dwindles and all focus shifts to how uncomfortably warm it is. Installing air conditioning in an office space of your home can help boost productivity.
Cost of Removing an Air Conditioner
Whether you want to upgrade your current home air conditioning system or no longer require one in your home, there are costs relating to having an air conditioning system removed.
Due to the refrigerants present in air conditioner appliances, they will need to be removed by a certified F-Gas engineer.
Typical removal times vary from 30-minutes to upwards of 2 hours, depending on the complexity of the work involved and you should expect a minimum charge of £50 - £100 for their services.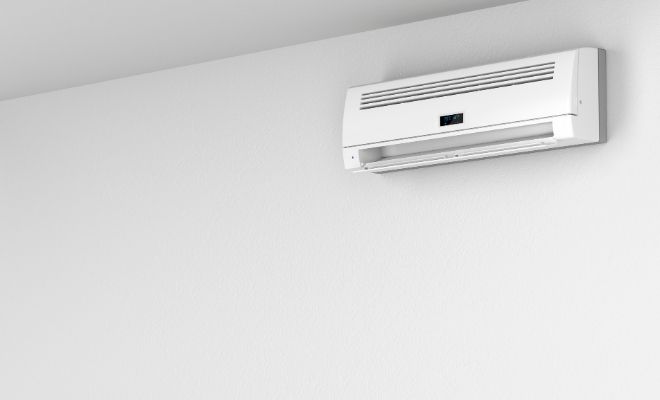 Some companies offer removal services to take hazardous items from your property once they are uninstalled; typically, for an air conditioner system, you can expect a charge of around £50 - £100 depending on the size and your location within the UK and dispose of them safely.
Alternatively, you may wish to dispose of your AC system yourself; you should contact your local sanitation.
FAQs
How to Find & Hire an Air Conditioner Installer
When choosing a suitable tradesperson, it's always recommended that you speak to family, friends and neighbours that have had similar work completed; they will give honest feedback regarding the tradesperson or company that they went through and may be able to offer insight into the process that you had otherwise not considered.
Ideally, your chosen tradesperson should have a portfolio of similar work completed; this will help illustrate their standard of work, as well as their experience completing similar projects.
Depending on the type of system you are having installed, you may require your installer to hold an "F" gas certificate, which demonstrates their ability to handle refrigerant agents and other hazardous chemicals that may be present in your system.
Your chosen tradesperson should hold suitable public liability insurance that, in the event of an accident or damage during the installation process, they will be liable to pay for damages caused.
When choosing a suitable air conditioning technician, you should aim to get a minimum of three quotes from traders in your area; this will not only help you find the best deal but will help you determine the expected cost of such a project in your area.
You can use this tool to get three free quotes from trusted, reliable traders in your area.
Sources
https://assets.publishing.service.gov.uk/government/uploads/system/uploads/attachment_data/file/468871/ADF_LOCKED.pdf