Gardener Jobs
Gardeners carry out a lot of varying jobs on different people's yards and garden spaces, and it isn't just someone looking to cut your grass! We're going to explore some of the specialist jobs that many people require that can be done by a gardening professional.
Supply and Fitting Artificial Grass
Artificial grass, in its infancy, was carpet like material that was covered in sand and was used primarily for school football fields.
As the years ticked on, the quality of artificial grass improved tenfold, being adopted by professional stadiums and then later being used for incredibly low-maintenance gardens.
While artificial grass itself needs very little maintenance, it does require the work of a professional to fit the grass to ensure that it beds in properly and doesn't lift, making it rather unsightly after a short amount of time.
A gardener will supply and fit artificial grass, and they can do so relatively quickly. Now, the pricing depends on the amount of surface area you have to cover. If you have a space measuring 25 metres squared, it will take a gardener about 2-3 days to fit the grass, at the cost of around £1,500.
Now, this may seem like a quite big outlay, but this grass will last well over a decade, saving you an immense amount of time and money on maintaining your grass through all seasons.
It's also perfect for the kids, allowing them to run and play on the grass as much as possible without any worry of damage or the need to re-lay turf. If you want to learn more about transforming your garden with artificial grass, check out our article here.
Garden Maintenance
Maintaining a garden is really difficult, mainly due to the time aspect that green fingers required. Retirees enjoy maintaining gardens, but that's usually down to the amount of free time they have to spare on their hobbies.
With this in mind, a lot of people are heading towards hiring a gardener to keep on top of their garden maintenance, in order to keep it in the best possible shape through the cold and wet months, ready to be used in the warmer months.
It couldn't be simpler to employ a gardener, simply find the right fit for your garden, work out a fee and ensure you know what is included in that price.
Usually, you can expect to pay around £35-£50 per visit which generally includes, weeding, lawn mowing and general clearing and cleaning up around the garden.
The average garden would only need a visit every 2-3 weeks, which means you're not breaking the bank to keep your garden spotless. We have previously written a full guide for Garden Maintenance and Clearance Costs, and you can check it out here.
Tree Removal
You may be surprised to hear that a very common problem people have when they move into a new home is that they have a tree in either their front or back garden.
It doesn't seem like such a significant problem at the start, but it soon becomes a real nagging annoyance, making maintaining the yard so much harder, allowing for less of a view and getting in the way of the kid's games.
A logical solution is to have the tree removed, but that in itself can be trickier than it sounds when it comes down to it.
So, the only option you have is to turn to a professional gardener or tree surgeon. Now, the timescale and cost for removing a tree change dramatically depending on how big the tree is.
A small tree, for example, would take around 4 hours to remove at the cost of between £150-£350. In comparison, a large tree could take three days and cost over £1,000.
This is due to the fact that it's dangerous to fell a tree, especially in a residential area. To find out a little more about tree removal, check out our article here.
Garden Renovations
Have you ever seen a spectacular garden space on TV or online and wished you had the same? It may be more attainable than you think.
Just because you have a basic garden at the moment, that doesn't mean some simple renovations can't be done to transform even the smallest spaces.
Even if you don't have a garden and you have a concrete yard, a gardener will be able to work to dig up the flags and lay turf, pathways, flower beds and anything else you can think of.
Laying turf is a really popular job for a gardener, and not always because there wasn't grass there before. Sometimes people want to start anew with fresh turf instead of working to sow grass seeds in unfavourable conditions.
There are a ton of different styles of turf, all suiting different budgets, but as a general rule of thumb, you should be able to lay fresh turf on a space around 15 square metres for less than £400, and that includes the turf and labour. For more information on laying fresh turf, check out this article – 'The Cost of Laying Turf'.
Lawn Fertilisation
Your lawn is technically a plant or flower that gets regularly pruned, sometimes as many as 20-times per year. Now, your lawn is durable, and it can take the regular cutting and pretty heavy use from the kids playing, to outdoor parties.
However, it's a good idea to keep your lawn fed with all the nutrients that it needs to continue to grow healthily and consistently, with that beautiful green colour that we all strive for.
For less than £100 a year for a small garden, you can have a regular garden fertilisation service from a professional gardener.
Now, fertiliser is a combination of different chemicals which could be dangerous if misused or applied by an amateur gardener, and some fertilisers are toxic for pets. To find out more about lawn fertilisation, take a look at our Lawn Fertilisation Guide here.
Gardener Hourly Rate
The hourly rate of tradespeople across the board differs greatly from region to region. A gardener's hourly rate in Windsor, for example, will charge far more than they would in Bradford.
That's not an insult to Bradford; it's merely that the cost of living in Windsor is so much higher, meaning tradesmen's rates increase in tandem.
You tend to find that tourist areas and big cities charge higher up on the scale, with small towns and villages, usually in the north, charge lower down the scale.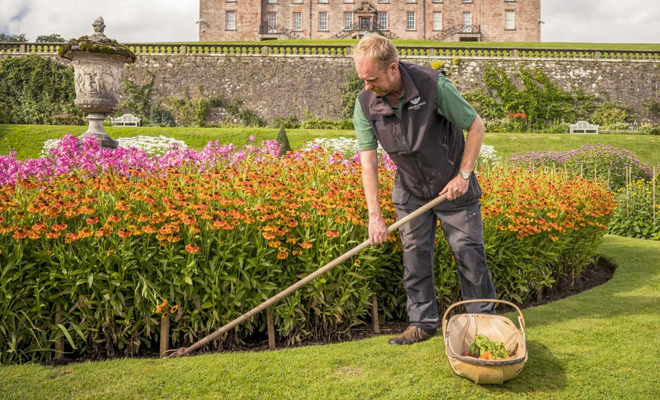 On average a gardener will charge around £40 per visit, but this can be as high as £50 in places like London and as low as £30 in small villages.
Of course, the hours that a gardener keeps is pretty much any time the sun is in the sky! Meaning shorter days in the winter, and longer days in the summer.
This works out pretty well, as in the winter work tends to slow down as the grass is slower to grow and the weather makes some days unworkable.
Gardener Daily Rate
For more general tasks like garden maintenance and lawn mowing, a gardener will charge you per hour, or per visit. But for larger projects, you will likely hire the gardener by day.
If you've recently moved into a house and find that the garden needs an entire overhaul, you're going to need the gardener in there for a few days to make it right.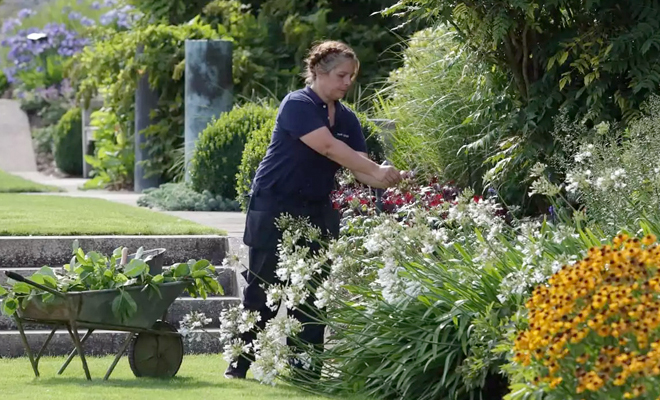 You do tend to get more hours for your money by employing a gardener by the day instead of the hour, as they save on travelling between jobs.
The day rate for a gardener is around £220 per day, again with the more affluent regions garnering higher rates of around £250 and quainter parts of the country enjoying lower rates of about £200.
Gardener Qualifications
Being a gardener is undoubtedly different from that of an electrician or plumber, just in terms of technical skills required.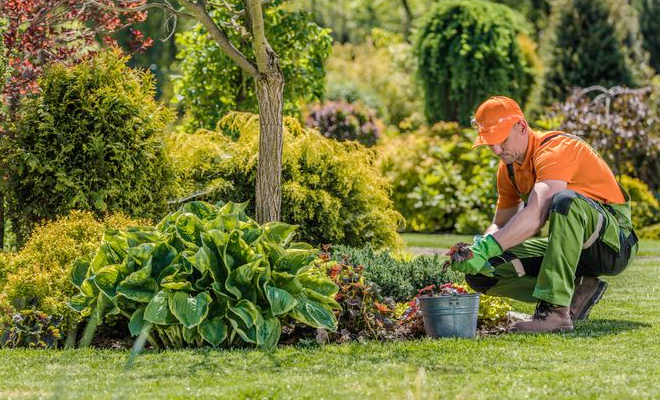 Gardening does, of course, require a great amount of skill, it's just not a skill that can be learned inside of a classroom, with gardeners tending to learn under an apprenticeship or experience program.
Some may have qualifications in horticulture and similar subjects, but on the whole, you should employ a gardener based on their reviews and portfolio, rather than their qualification list. We'll discuss how to find the best gardener to carry out work for you in a section a little further on in more detail.
Gardener Insurance
Any tradesmen working on your home, whether they be a gardener or a builder, should have the correct liability insurance to protect both you and them from any liability issues should any damage or injury occur whilst on the job.
The Citizens Advice Bureau suggest to all tradesmen and contractors not to carry out any work without the correct insurance, as this can cause business ending repercussions should things go astray.
Before you hire a gardener, you should ask whether they have the correct business liability insurance to be working on your home, just to be on the safe side should anything occur.
FAQs
How to Find and Hire a Gardener You Can Trust
Hiring contractors was once a challenging affair, with only the recommendations of friends to go by. But in the internet age, finding quality tradespeople has become a lot simpler and productive.
At the click of a button on any search engine, you can find heaps of sole-traders and businesses offering you their services.
You will easily be able to research them further through social media and business websites to discover more about the work they have completed in the past, the reviews they've received from past customers and the bodies they are affiliated with.
Of course, word of mouth still carries as much weight as it ever did, and if someone recommends a tradesperson to you, it's clear they must have left a lasting impression!
Sources
http://www.goldacregardenerwirral.co.uk/page1/index.html
http://www.britassoc.org.uk/landscaping.htm
https://www.growtivation.com/difference-landscape-designer-landscape-gardener-gardener