How Much Does Repointing Cost?
Let's start with the average cost of repointing brickwork.
You should expect to pay around £25 to £50 per square metre to repoint a brick wall.
How is brick repointing calculated?
The cost of repointing is normally calculated based on the size of the area that requires repointing.
The condition of the masonry is also an important cost factor, as significantly damaged brick will cost a lot more to fix.
The price also typically includes the clean-up cost.
Repointing Prices
Below are some estimated costs of pointing/repointing a brick wall:
| Job Description | Avg. Cost | Duration |
| --- | --- | --- |
| Repointing/Pointing a wall including clean up | £25 - £50 per m2 | 1-2 days |
| Pointing/Repointing front or side of a house | £1,500 - £2,000 | 5-7 days |
| Pointing/Repointing a semi-detached house | £2,500-£3,000 | 12-16 days |
| Pointing/Repointing a Victorian terraced property | £3,250 - £4,000 | 15-20 days |
| Scaffolding hire | £40 to £150 a day | 1 to 20 days |
Repointing Supply Costs
Want to save money?
If you're on a budget, you may want to repoint brickwork yourself. This can, of course, help you avoid labour costs as you will only need to purchase the materials.
What supplies do you need for repointing?
The following table sets out the cost of repointing materials and tools:
| Job Description | Cost |
| --- | --- |
| Lime | £0.40 - £0.50 per kg |
| Sand | £0.08 - £0.10 per kg |
| White cement | £0.40 - £0.50 per kg |
| Chisel | £5- £16 |
| Cement mixer | £100 - £400 |
| Pointing trowel | £5 - £10 |
| Mortar board | £30 - £70 |
| Soft brush | £1 - £16 |
| Wire brush | £1 - £14 |
Additional Costs
There are some related jobs that should be considered alongside repointing, including:
Repointing a Chimney
Another popular pointing job is repointing a chimney or tuckpointing.
What does chimney repointing involve?
Repointing a chimney is the process of renewing the external structure of a brick chimney.
Chimney repointing prices start from £250, although can cost up to £1000.
Scaffolding Hire
Do you need access brickwork on the roof?
When repointing an entire house, you may need to hire scaffolding to ensure you or the tradesperson are safe while fixing your brickwork.
The cost of skip hire ranges from £40 to £150 per day.
Fascia or Soffit Boards Replacement
If the fascias or soffit boards are beyond repair, you may need to invest in replacement fascia and soffit boards.
The cost of replacing soffits and fascias can cost anywhere from £1200 for a gable roof and up to £1750 for a detached home with a hip roof, or replacing fascia or soffit boards etc.
Cost Breakdown Calculator
Individual Costs for repointing an average-sized 3-bed semi-detached house - Total Cost: £3,000
Labour Costs and Time Frames
Now, we'll look at tradesperson costs and how long repointing takes.
The average bricklayer will usually charge around £155 to £325 per day in labour costs and will usually work by themselves or in pairs.
What about repointing timeframes?
The time it takes to complete the job will depend on how much repointing is required, in terms of the number of bricks and how badly they need repointing.
Here's some examples:
Repointing a front door and surrounding windows will take around 1 day to complete and could cost up to £250 for labour.
A typical semi-detached home will take around 6 days to repoint with a labour rate of around £1950.
What Does Repointing Brickwork Entail?
To help you understand what repointing involves, here's a breakdown:
The first step involves clearing the wall space of any plants, debris, and dust, then plastic sheets should be laid to prevent damage to the pathway or plants.
The wall will then be inspected for potential trouble spots, then a chisel and hammer will be used to clear old mortar from the joints working from top to bottom.
When doing this, extra care must be taken when chipping away the pointing around your windows and doors, as this can affect the way they open and close.
Once all the pointing is removed, only the edge of the wall material should be visible. This will provide space to replace and lay the mortar, although it should be dusted before any mortar is applied.
Next, mix the new mortar ensuring it is not too hard. The mortar will also be mixed evenly to keep the colour consistent. This will include building sand, white cement, and lime mortar.
Before the new mortar can be pressed into the joints the wall needs to be sprayed with water as dry walls can suck the moisture from the mortar causing cracking.
Now the repointing work can begin. This involves packing plenty of mortar into the joints and ensuring there are no gaps or air pockets.
Most professionals will work a few rows at a time and then smooth off the mortar with various tools depending on the type of finish required.
The mortar will be left to dry before two or three more courses are added.
Once everything is dry, the vertical joints can then be filled with mortar and then this is also left to dry for a couple of hours.
After everything is completely dry, a wire brush should be used to remove the excess material making sure that it is spread evenly and all pointing is removed from the face of the brick.
When Do You Need To Repoint?
Overtime, the mortar between bricks will begin to fail. This may seem like a trivial problem, but don't underestimate the importance of pointing.
Did you know?
Mortar can account for as much as 15 per cent of the overall surface area of the masonry. Therefore, this will massively affect the quality and safety of the wall.
The mortar also acts as the walls primary defence against water ingress and penetrating damp, so is a critical aspect of the property structure.
Mortar does not just hold the bricks together in a wall, it fills in any irregularities on the faces of the bricks and plays an important part in the house construction.
Being softer than bricks, the mortar will at some point begin to show signs of ageing due to the weathering. But this is actually supposed to happen by design, the mortar takes the brunt of weathering rather than the bricks, but this eroding means portions of the wall will need to be repointed at some point, which can be expensive.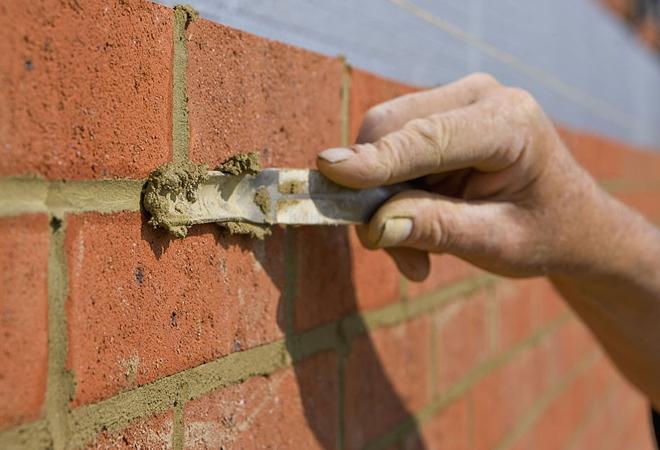 Here are some brick and mortar deterioration signs to look out for:
If your bricks are damaged, they will start to look unsightly and will, therefore, need to be removed and replaced.
You may notice damage early on if pointing has failed or it is unsuitable, which is typically the case when modern cement is used instead of traditional lime mortar.
If you find that your bricks are constantly wet, this may be due to damaged brickwork.
Another clear sign that your exterior walls need repointing is the appearance of efflorescence, which is caused through rising damp. This consists of a white substance that forms on the brickwork due to water and dissolved salts entering the walls.
While this does not permanently damage the brickwork, it does not offer a great aesthetic so repointing it could be the best way to resolve the problem.
What's the Difference Between Pointing and Repointing?
The main difference between pointing and repointing is that pointing is actually the initial building process which involves the construction of the joints between each brick.
The process of pointing is completed while building a brick wall, which involves measuring and layering mortar onto the bricks before construction. Once the bricks are piled up, a brick jointer is normally used to push the mortar into the newly-made joints.
On the other hand, repointing is the repairing procedure where the original pointing has worn down and requires removal and replacement.
Repointing is required when the original pointing has failed, so it simply involves a remove and replace job by getting rid of the old repointing from the brick wall joints and filling in the space with new mortar.
Can Pointing and Repointing Be a DIY job?
If you are sticking to a budget you may want to repoint your walls yourself, as this will help you avoid labour costs.
However...
When it comes to pointing a new wall, you may want to seek professional help to ensure that all the measurements are correct, because if not, you could find yourself with wonky walls as well as possible damp issues.
It is important to remember that repointing can be done as a DIY project as long as you have the time and patience to do the job properly. But safety is paramount, so do not attempt to carry out repointing using a ladder, as proper scaffolding or a working platform will be required when carrying out this type of work at height.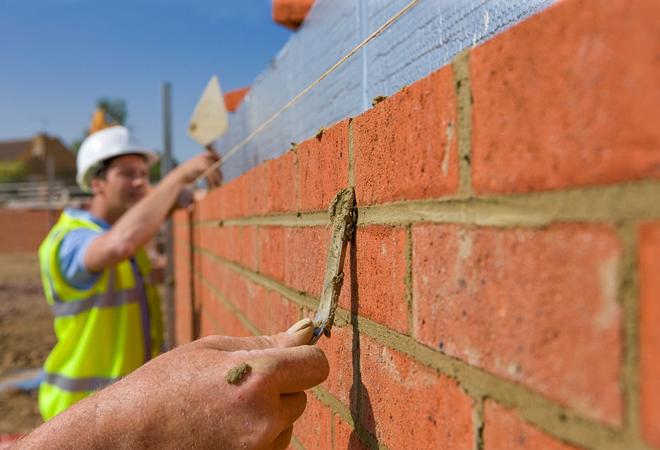 Also, it is crucial that the right type of mortar is used.
If you are unsure about any aspect of repointing you should always seek professional advice. Even if you are confident you can carry out the work, it is worth getting a surveyor in to assess the wall and offer advice on how much repointing is required, or even whether to remove the old mortar at all.
Some professionals will advise leaving the old mortar alone unless it is causing structural problems!.
Repointing Old Properties
Do you live in a old property?
If so, you should check your pointing. Some older properties may be incorrectly repointed using a cement mortar, which effectively smothers the building, rather than a traditional lime mortar that would allow it to breathe.
If your property is Edwardian, Victorian, Georgian Elizabethan or built before the 1930s, then it is essential that you or the professional you hire uses lime mortar instead of Portland cement to avoid cracks and additional damage.
Portland cement has various other disadvantages that make it less suitable for repointing older properties. For example, this type of mortar is impermeable to water, has no flexibility, and it is also harmful to the environment.
Lime mortar, in comparison, is eco-friendly, flexible, and can adapt to damage.
However, cement is cheaper than lime mortar, as the average cost starts at around £0.16 per kg, while lime mortar is usually priced at £0.50 per kg.
Keep in mind, older properties such as terraced homes tend to cost more to repoint, although it is definitely worth the extra money in the long run.
Difference Between Cement, Mortar and Concrete
Here are some of the most common pointing materials:
Cement
This repointing material consists of a fine powder that is typically combined with water. It is used as a binding agent when mixed with concrete and mortar and is usually referred to as Portland cement.
It is also known as hydraulic cement, as it is known to set and harden quickly when mixed with water.
This is usually made up of limestone, silica sand, clay and shells, although limestone is the most dominant material found in cement.
Cement typically costs around £0.16 to £1.64 per kg and is commonly used during the pointing or repointing process.
It is utilised to fill in the gaps between the bricks or stone, although only on properties built after the 1930s.
Mortar
Mortar contains cement, limestone and sand. It is typically used to secure bricks and stones together.
This type of repointing material is not as strong as concrete and so, therefore, is not used on its own, as it instead acts as a glue that holds other materials together.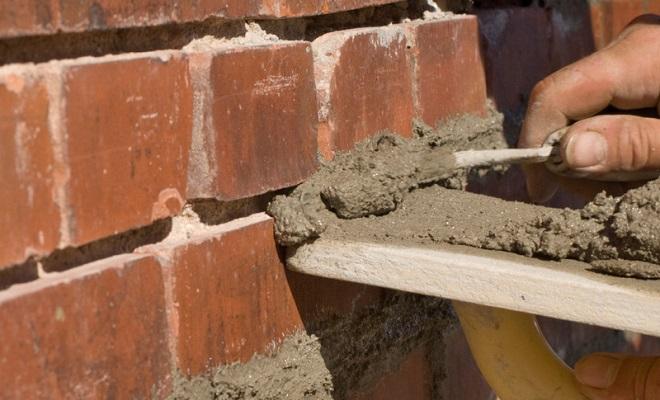 Mortar usually comes premixed, which again should be mixed with water.
The price for this is around £0.40 to £2.32 per kg. You can also buy the material separately and combine the materials with a cement mixer, although make sure you choose the right mortar before mixing.
Concrete
Concrete is a mixture of cement, stone and sand.
Concrete is a building material that is used to build most masonry structures, as it is one of the most flexible structural substances available.
This is because it starts off as a dry mixture which when combined with water becomes a semi-liquid which can form almost any shape and then hardens to create a hardened construction, especially when metal is added to the mixture.
You can purchase ready-made bags of cement for smaller projects, which can be activated by adding some water.
However, for larger projects, you can get premixed concrete delivered in large quantities or purchase bags of cement and then mix them with the right amount of sand and gravel for the perfect concrete material.
Premixed concrete usually costs around £0.24 to £2.83 per kg.
Choosing Pointing Mortar
To find out which pointing mortar is right for you, here is a breakdown of each material which cost around £0.40 to £2.32 per kg.
Lime mortar
This material is made up of hydraulic or non-hydraulic lime, water and an aggregate such as sand.
This is typically used to preserve older buildings, as Portland cement can cause damage to homes or buildings before the 19th century, especially if they are made from stone.
Type N
This is a common type of mortar that is made up of 6 parts sand, 1-part Portland cement and 1-part lime.
It has a strength of 750 pounds per square inch (psi) which is why it is typically used above ground, can carry heavy loads and is also ideal for structures that are exposed to severe weather conditions.
Type O
This is a less durable mortar mix with a strength of just 350 psi.
This is typically used in home interiors for non-load bearing walls, and is also commonly utilised for repointing, as it is a consistent material that is easy to apply.
Type S
This mortar mix has the second-highest psi at over 1,800, although it can be mixed up to a strength of 3,000.
This material is usually applied below ground due to its ability to withstand soil pressure, as well as adverse weather. It is normally used for the construction of manholes, sewers, retaining walls, and patios.
Type M
This contains the most Portland cement, therefore it is not suitable for historic properties, although is often used for building foundations, driveways and retaining walls.
Despite its 2,500 psi, it actually has poor adhesion qualities, so is not typically used for repointing or any other exposes structures.
Repointing Options
There are various repointing methods and finishes to choose from, including:
Flush Pointing
This pointing technique is where the mortar is pressed down hard into the joints and becomes flush with the edge of the brick, then the edges are trimmed.
The flush pointing method is used for durability rather than aesthetic reasons as the look of it is not always appealing, although it does last for a long time. This is because it does not provide space for dust or water and therefore is longer-lasting.
Recessed Pointing
With this method, the mortar is typically pressed back around 5mm or more away from the edges in a vertical fashion.
This is not as durable as flush pointing; however, it does offer a much better aesthetic.
Beaded Pointing
Another aesthetically-pleasing technique is beaded pointing which is constructed with a concave edge.
While this is great to look at, it can also damage very easily, so many not be the best option for your home.
Struck Pointing
This method is similar to flush pointing, however, struck pointing involves pressing the mortar into the upper edge by 10mm, which helps water drain more easily.
Tuck Pointing
This application involves pushing the mortar into the joint first, then it is fixed to become flush with the face.
The groove is then cut while the mortar is green making sure it has a width of 5mm and a depth of 3mm. This is then filled in with white cement putty and pushed forward at least 3mm past the face of the brick. This is done to create the illusion of finer joints to enhance the appeal.
Benefits of Repointing
If you are planning to repoint your brickwork, there are several ways you can benefit:
One of the main advantages is that you can improve the look of your home, as repointing will reinstate or enhance the aesthetic of your home's exterior.
This not only benefits you from a vanity standpoint but will also enable you to increase the value of your home, as buyers will be more interested in a well-looked after and aesthetically-pleasing property.
Repointing is also an ideal solution for conserving historic properties that have expired brickwork. By repointing the walls, you can rejuvenate an old property using lime mortar. This will also help to reduce the amount of maintenance that is required for both dated homes and modern properties.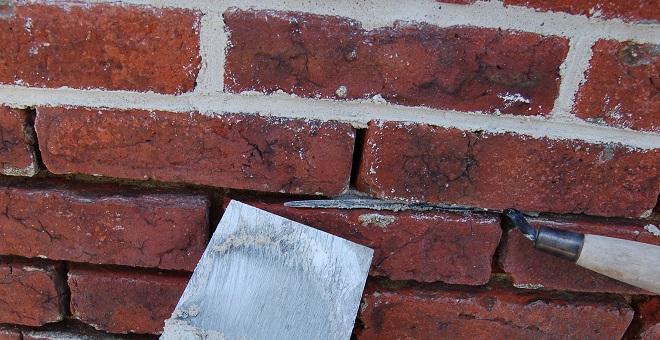 By repointing you can also make your walls more durable against adverse weather conditions, especially with new repointing methods which will enable you to weatherproof your walls.
Overall, repointing is necessary for avoiding significant damage to the foundational structure of your home, so it is extremely important that it is done right. This means the mortar used must be softer than the material it is replacing to make room for water to escape and evaporate.
If it does not provide room for this, then it can force the mortar to push through the brick and stone, causing cracking and spalling.
FAQs
How to Find & Hire a Bricklayer to Repoint
If you want your brick repointing done right, then the best thing to do is hire a professional bricklayer who will charge around £40 to £150 a day or more depending on how much repointing is required.
As bricklayers do not need official qualifications to complete the job, it is important that you shop around before deciding on a tradesperson who is fully insured and has extensive experience with repointing.
Sources
https://www.oldhouseguy.com/repointing-brick/
https://www.aboveallchimneys.com/the-importance-of-repointing-the-mortar-in-your-masonry-structures/
https://www.spab.org.uk/advice/tuck-pointing
https://theconstructor.org/building/pointing-brickwork-construction/11290/
https://www.thebalancesmb.com/recommended-guide-for-selection-of-mortar-mix-type-844821
https://www.thespruce.com/difference-between-cement-concrete-and-mortar-2130884
https://www.buildbright.co.uk/lime-mortar/lime-vs-cement-mortar