How Much to Fit a Gas Fire?
The prices displayed here for gas fire installation have been collated from a number of different sources, including manufacturers and retailers which offer installation services, plus local Gas Safe contractors and national companies.
Your location can affect the price considerably, however despite the installation cost and rising fuel prices, mains gas remains one of the cheapest ways to heat your home.
The average cost to install a gas fireplace for your home will depend on the price and model of the gas fire as well as any extra required pipework to install but is typically around £150-£300 for installation, this is without costs of buying a gas fire separately.
Gas fires are cheaper to run than electric heaters and also heat up much quicker, so it's no real surprise that they are very popular!
However, unlike some electrical heaters which can simply be plugged into a wall socket, mains gas appliances need to be connected by a Gas Safe registered engineer for important safety and legal reasons.
Connecting up a gas fire may seem relatively simple, but unless you are Gas Safe registered, it is also illegal (and possibly dangerous).
So, when buying a gas fire which needs a mains gas supply, you should remember to factor in the installation costs to your budget.
It's also important to note that many retailers will offer an installation service, but this is often not the cheapest option, though may be the easiest, you have to decide what is more important to you.
To help with these decisions, we have provided some typical prices for your information.
Gas Fire Prices
Below are some estimated costs of hiring a gas safe engineer to install a gas fire:
| JOB DESCRIPTION | AVG. COST | DURATION |
| --- | --- | --- |
| Install gas fire - fit only | £150 - £300 | 1-2 hours |
| Remove gas fire & install new wall hung flueless gas fire | £200 - £400 | 2-4 hours |
| Carry out an annual service | £60 - £100 | 1-2 hours |
The below table shows the prices and installation times based on different fire types.
| FIRE TYPE | AVG. COST | DURATION |
| --- | --- | --- |
| Remove gas fire and cap off gas pipe | £50 - £100 | 1-2 hours |
| Buying and installing an open front gas fire | £350 - £600 | 2-3 hours |
| Buying and installing outset living flame gas fire | £400 - £800 | 2-3 hours |
| Buying and installing a glass fronted gas fire | £1,000 - £1,800 | 3-4 hours |
| Buying and installing a flueless gas fire | £650 - £1,500 | 1-2 hours |
| Buying and installing a balanced flue gas fire | £1,000 - £1,600 | 1-2 hours |
| Buying and installing power flue gas fire | £1,100 - £2,000 | 3-4 hours |
Supply Costs
The main supply costs for fitting a gas fire is the actual fireplace itself which is typically bought separately by homeowners prior to installation from a tradesman. Below are the average costs of different types of gas fireplaces when buying separately from a shop:
| TYPE OF FIRE | AVG. COST PER FIREPLACE |
| --- | --- |
| Open front | £200 - £400 |
| Outset living flame | £300 - £700 |
| Glass fronted high efficiency | £700 - £1,000 |
| Flueless | £600 - £1,000 |
| Balanced Flue | £800 - £1,400 |
| Power flue | £900 - £2,000 |
Additional Costs
While you have a gas safe engineer on-site anyway, it may be worth asking them to carry out any checks or regular maintenance at the same time, as there could well be a small discount offered for saving them having to call-out to the property again.
If having an old gas fire removed, be aware that you may need to redecorate afterwards if the fire or the surround was fixed to the wall.
A plasterer may also be required if the plasterwork is damaged during the removal.
Remember also that not all gas fires are suitable for all types of flue or chimney, if you choose a gas fire which is not suitable for the existing flue/chimney, you may need to have the chimney lined and tested.
Before you have any additional work to your chimney, it's best to make sure it's swept and cleaned properly to clear any dangerous obstacles and clean the area.
The cost to have your chimney swept by a professional is around £50, unless your chimney hasn't been swept in over two years, then the price can be hiked up to £120.
If you're looking to get your chimney lined then you can have both of these jobs done together, an average price for a chimney sweep and lining is typically up to £1000.
Cost Breakdown Calculator
Individual costs of installing a new gas fire including extra pipework - Total Cost: £500
Labour Costs and Time Frames
The average heating specialist will usually charge around £150 to £200 per day in labour with the job of fitting a gas fire normally taking around 2-3 hours gas fire fitting cost, unless there are any issues with installation.
However, most installers will inspect the area prior to avoid any potential issues or prolonging factors. Gas fire fitting cost can alter due to the type of fire chosen and the size, as this will affect the length of the installation process for the installers.
Installing a gas line can take up to 1-2 days and costs between £100-£200. The installation process can be prolonged due to inspections.
To combat this, you should ensure that you book in an inspection to comply with building regulations before hiring someone to install your gas fire.
Cost Affecting Factors of Installing a Gas Fire
Although the general gas fire installation cost doesn't break the bank, there are several things that can affect the cost, whether that's making it more expensive or cheaper.
The size of your fire can alter the costs drastically depending on the location of your fireplace, a small living room will require a more compact opening which requires a cheaper smaller fireplace for as little as £250, whereas a large and grand home may want to install a wide-reaching fireplaces which will understandably cost a lot more, up-to £3,000 for some.
There are a variety of different types of gas fires to choose from which are detailed down below in this article, these come in a variety of styles and qualities which will influence the price of your installation.
Different types of gas fires include open front, outset living flame, glass fronted high efficiency, balanced flue, and flueless to name a few. It's best to research each one to make sure you're making the right decision for your home.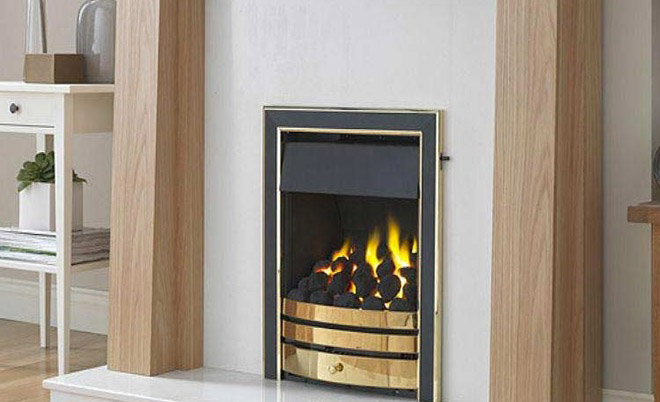 Once your gas fire is fitted, you'll need to install a carbon monoxide detector for the safety of yourself and your home, which can cost between £10–£20. This should be fitted around five feet off the ground for a precise reading.
If extension pipework is needed on your gas line, this can cost between £8-£18 per linear foot, meaning the price will increase depending on the length needed.
What Does Installing a Gas Fire Entail?
The installation process of a gas fire isn't necessarily difficult but involves dangerous elements which can be done efficiently by a tradesman.
It is definitely a good idea to have a gas fire installed by a professional who is Gas Safe registered, this is to ensure that all exposures to carbon monoxide are dealt with safely and done right.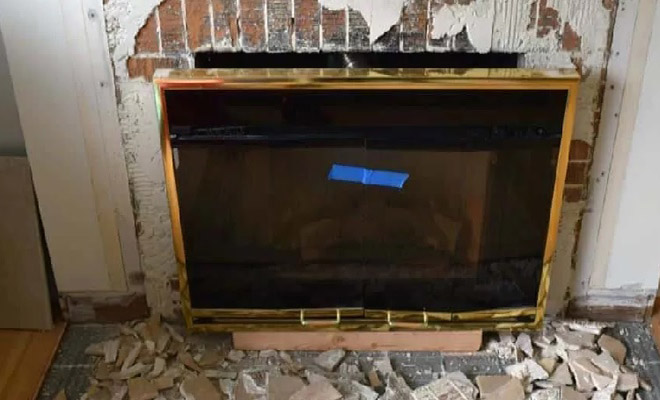 Below is a general idea of what the installation process entails when executed by a professional tradesman.
Preparation and Removal
Prior to installation you should check that you have a flue or if you need to install a flue system before deciding on which fire you want to install.
Your tradesman will come and check out where you want to install your gas fire whether it's a blank spot or you're replacing a previous fire. They will then rip out and remove either part of the wall or your previous fireplace.
Installation Process
Once the chamber is uncovered, the fireplace will be placed and installed into the hole. This will be done with the hearth being set down first, following with the installation of the inset, the fire and surroundings.
The installers will most probably ensure the area is left ready for decorators to finish the job.
Finishing and Decoration
Depending on what your installation service offers, you may have to hire a separate decorator to finish the aesthetic of your fireplace. This can be either, painting, sealing or finishing maintenance.
All waste removal will also be done during the finishing process which should be involved in your quote from the installers. If not, you can hire a skip for up to £100 depending on the amount of waste.
DIY Gas Fire Installation
Trying to fit a gas fire or other appliance yourself, or getting an unqualified handyman to do it, is not only dangerous, it could end up increasing the cost of the job when you have to get a gas safe engineer in to fix your bodge job, then do it properly. You can find gas safe engineers by clicking the "Get Quotes" button!
If you're an avid DIYer and have the help or have the guidance of a professional and want to budget your gas fire cost, there are a few tips to ensure that you're installing your fire as safely and efficiently as possible.
Make sure to collect a certificate from HETAS to comply with Building Regulations, this means you'll need to let your local authorities know before any work takes place, and it can cost up to £150 for an inspection.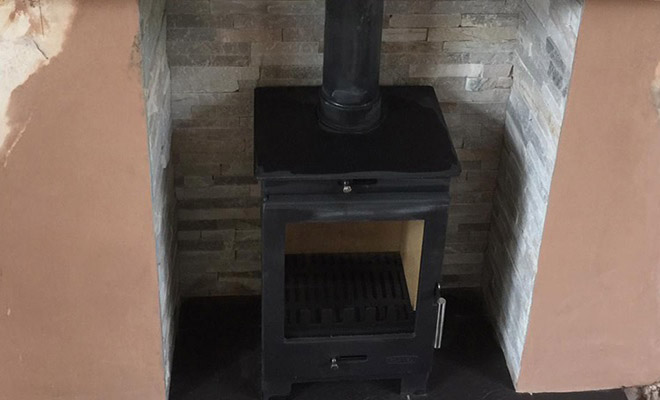 If you have an open fireplace, you'll have to close up the existing hole within the wall and carve in a new hole above your hearth. Your fireplace can then be installed right into the chimney cavity where you'll hook up the gas line.
This process isn't simple, so if you're going to take it on, make sure you're 100% confident with your skills, abilities and preparation. You should also make sure you have all the correct tools and equipment to be able to proceed with the installation which will be the same as a tradesman installation.
Choosing a Gas Fire
Gas fires are a popular choice for houses as they are fairly cheap to run and offer a lovely traditional aesthetic appeal to interior decoration. There are a wide range of gas fires to choose from, each with different appeals and benefits.
Below is a list of popular types of gas fires:
Open Front Gas Fire Cost
Open front gas fires are a traditional choice and supply heat through confected air from underneath the fire itself. They're heated with a heat exchanger and let out through the upper canopy.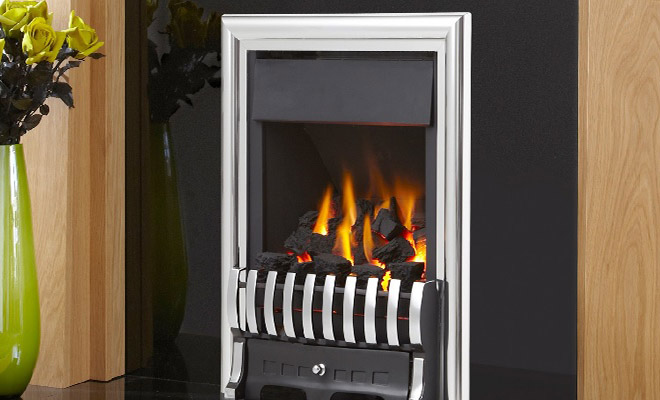 The cost is fairly standard, and you can find lower priced open fronts if you're looking for a cheap gas fire. They will typically cost around £250-£400.
Outset Living Flame Gas Fire Cost
Outset living flame gas fires are another popular choice for gas fires, and they lie on the chimney hearth instead of inside the chimney. They often contain a clear glass cover which amplifies warmth and transforms cold air into heat and can even feature a log effect if desired.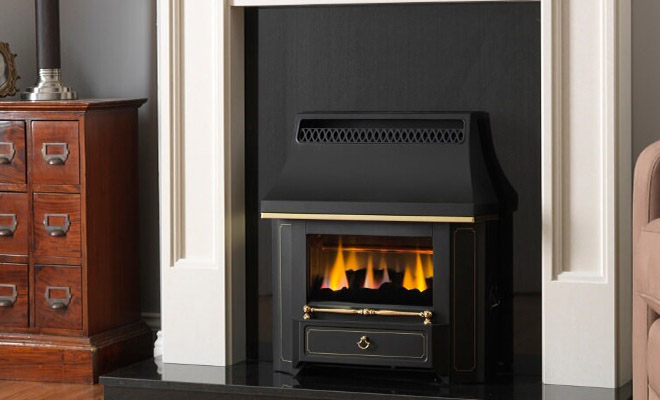 Some even have remote control options which are perfect for elderly people or anyone suffering with bending over. These can cost between £300-£700.
Glass Fronted High Efficiency Gas Fire Cost
Glass fronted high efficiency gas fires are built into the property's wall and force out heat through the glass front. This is an efficient choice as less toxic gases and radiation are lost within the chimney.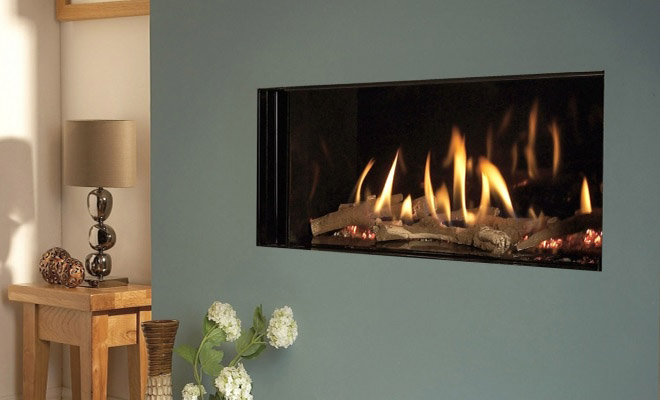 These are slightly pricier and can range between £800-£1,500.
You don't necessarily need to have a chimney to have a gas fire, there are currently three types of gas fires that do not need a chimney or flue which are very effective as gas fires. These types of gas fires are shown below:
Flueless Gas Fire Cost
Flueless gas fires are designed to work without any sort of flue and often use catalytic converters to change the gas combustion products into harmless vapour which can be safely vented into the room.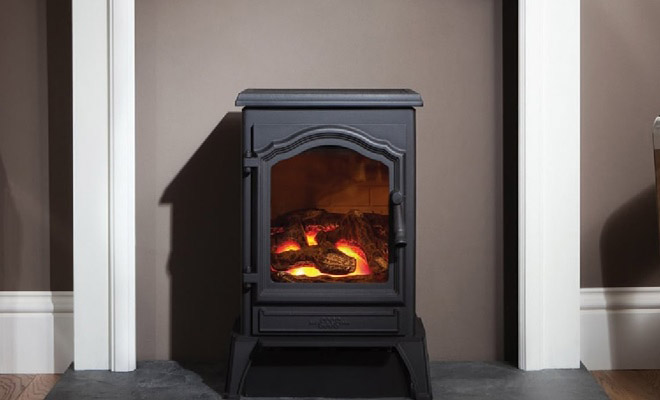 The price can range between £500-£1,000.
Balanced Flue Gas Fire Cost
Balanced flue gas fires evacuate the combustion products and allow in air for combustion through the wall behind the fire.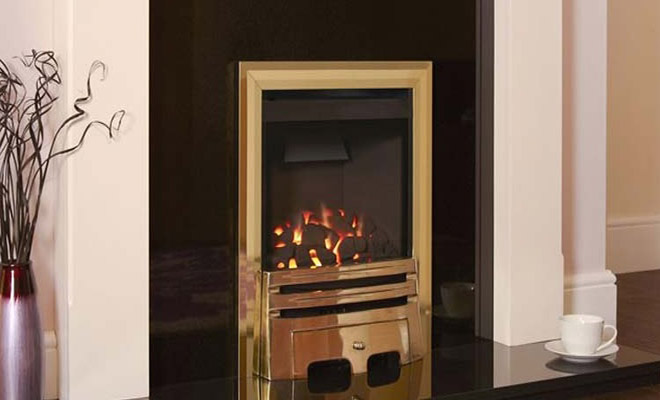 These fires are completely sealed from the room and usually have a glass front through which you can see the flame. These are slightly higher in price, ranging between £800-£1,400.
Power Flue Gas Fire Cost
Power flue gas fires use a fan to move the combustion gases to the outside world and are often used where a conventional chimney or flue is too small.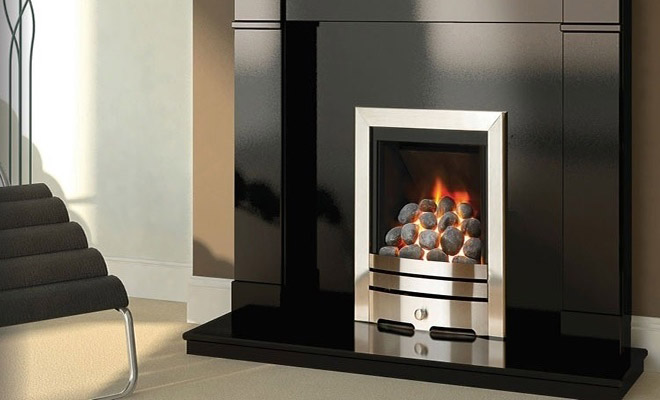 You should check with your gas safe engineer to determine the flue and ventilation requirements. Prices range between £900 - £1800.
Building Regulations for Installing a Gas Fire
Installing a gas fire can be a dangerous job due to various carbon monoxide gases and working with heat and flames.
Any work that alters or changes the dynamic of an existing chimney is classed as building work, meaning you'll need to take a look at the building regulations to ensure you're complying correctly with your council and housing rules.
The easiest way to do this is by accessing The Government Issue which provides advice on how to comply with building regulations which can be found here. In a nutshell, you should:
Have your chimney sweeped and checked prior to any work
Ensure that there is a carbon monoxide alarm
Have the correct flue size
Provide ventilation
Have the installation completed by someone who is HETAS qualified and is on The Gas Safe Register.
However, you'll be happy to hear that there is no planning permission needed for installing a gas fire. This is only applicable if your property is a listed building or close to a conservation area but more often than not, your installation will not require any planning permission.
Gas Fire Maintenance Costs
It's always best to have any maintenance and upkeep done professionally on a gas fire, this is to avoid any exposure to dangerous gases.
However, you can regularly dust and polish your fire when needed to clean up any dust or marks and clean the surroundings with warm soapy water after being used (make sure the fire is turned off and cooled down before doing this).
Once your gas fire is fitted, you'll have to hire a qualified gas safe engineer to service your fire once a year. Annual gas fire servicing can cost up to £100, and will generally involve:
The choice of door may be influenced by your budget but you should also consider how you want your orangery to function and try to choose doors that best compliment this – after all, orangeries are designed to invite the feeling of the outside in, so solid doors with little glazing are generally avoided, and doors offering plenty of natural light and sightlines are favoured.
As rough guide, you can expect to pay the following for doors;
Ensuring your gas fire is installed accurately and correctly within the room
Checking that the gas fire is burning correctly and is operating at the right pressure
Removing any harmful gases and checking ventilation
Test out any alarms and safety precautions
Make sure the flue is clear and clean
Detecting any potential issues for repair
Some engineers will also clean up your fire during the check
It's important to look after your gas fire regularly to ensure you get the most out of your fireplace and that it'll last a long time with minimal wear and tear. Make sure to ask your installer if there are any specific products to avoid for your particular fire, or for products that will enhance your fires potential.
Cost of Removing a Gas Fire
Gas fire removal can be a hazardous job and should nearly always be left to a professional plumber with a gas fitters license.
Reasons for removing your gas fire can range from needing an upgrade or replacement, moisture issues, severe damage to the chimney stack or the fireplace, or even to clear up space within the interior of your home. Gas fire removal cost is typically between £100-£400.
Gas fireplaces emit carbon monoxide meaning they need a chimney to extract the gases safely.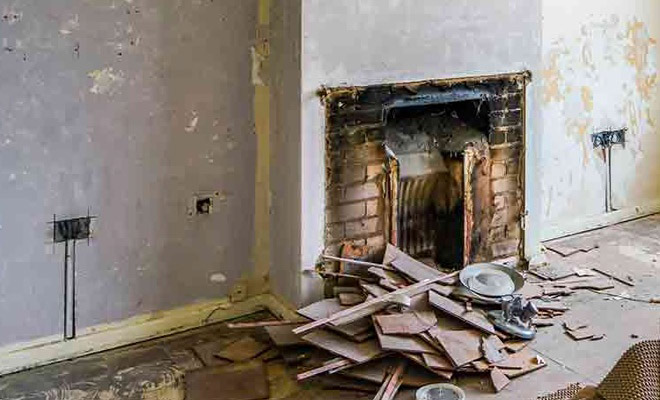 The chimneys gas line will have to be switched off and disassembled before removing the gas fire, this is a dangerous job and should always be completed by a professional which can cost between £80-£150.
The waste removal and finishing will add to the overall price for around £100-£600 for removing tiling and hiring a skip to dispose of waste.
FAQs
How to Find & Hire a Gas Fire Installer
You want to make sure that any work being done within your house is completed by someone who you trust and know will do a good job, this is why it's important to find the right installer for you. It can often feel overwhelming and like you don't know where to start, but thankfully we're here to help.
Below is a list of things to ask and look out for when querying with different tradesmen.
Correct Qualifications or Certifications
ALWAYS check they're on the The Gas Safe Register (make sure to ask for the Gas Safe Register ID card).
Pictures and References
This will give you a feel for how your installation will turn out and give you a chance to view the quality of their work. (If they refuse to show any pictures, it may be best to look elsewhere).
Compare Quotes
The best way to make sure you're being quoted in the right price range is to ask several potential gas engineers for a quote for your job and checking to see if they're all in the same ballpark for the same gas fire service cost.
Likeable
This can often be overlooked when hiring a tradesmen, but it's extremely important that you feel comfortable with your fitter as there may be times where you leave them in your house whilst you nip out, and you don't want the added stress of walking on eggshells around your own house.
Getting to know your installer makes the job easier and more enjoyable for you and them.
Set Up Payment Plan
Once you've agreed on a quote and decided on dates, set up a payment plan which suits both parties, whether that's through cash or direct debit. It's also a good idea to ask for a receipt to avoid any potential future disputes. (This is unlikely but it's better to be safe than sorry).
Sources
https://www.traffordfireplaces.co.uk/how-much-does-it-cost-to-fit-a-gas-fire/
https://www.direct-fireplaces.com/resources/how-much-does-it-cost-to-put-in-a-fireplace/