How Much Does It Cost to Install a Garden Shed?
The average cost of getting a tradesman to build a garden shed is typically around £600 for a 6ft x 4ft shed and should take around 1-2 days to build.
A larger 12ft x 8ft shed on a solid concrete base will take 2-3 days to build and will cost on average around £1200. The cost will vary depending on the material your shed is made from, the design, and your location.
The shed cost is not the only consideration as there is also the shed assembly cost to consider. The time it takes to install a garden shed will depend on the size, type and material of the shed.
Metal and plastic sheds are potentially easier and quicker to put together and hence may cost less in labour.
Garden shed prices form only one part of the cost of this project and it will be necessary to make allowance in your budget for the cost of the concrete base for the shed.
Tradesmen charge around £150-£200 a day and usually have a minimum rate of £100 for a few hours work. Labour rates will often vary depending on where you live, and this will impact the price.
Extra time may be needed if the shed requires a solid foundation to be built, typically a few inches of concrete or a base of paving slabs.
The average cost of a 7ft x 5ft metal shed is £260-£270 and should take less than 2 hours for a team of two to assemble. The total cost therefore should be in the region of £350-£400.
Similarly, a plastic shed installation should take a couple of hours depending on the size of course. An 8ft x 6ft plastic shed will cost in the region of £700-£750 fully installed.
Below are some estimated costs of hiring a tradesman to build different shed sizes including laying a concrete foundation or concrete slabs for wooden sheds.
Garden Shed Prices
| SHED SIZE | AVERAGE COST | MATERIAL | DURATION |
| --- | --- | --- | --- |
| 6ft x 4ft | £600 | Wooden | 1-2 days |
| 8ft x 6ft | £800 | Wooden | 1-2 days |
| 12ft x 8ft | £1100 | Wooden | 1-2 days |
| 7ft x 5ft | £375 | Metal | 2-4 hours |
| 10ft x 8ft | £525 | Metal | ½ day |
| 8ft x 6ft | £725 | Plastic | 2-4 hours |
| 12ft x 8ft | £1200 | Plastic | ½ day |
Supply Costs
The following is the supply only cost of variously sized wooden, metal and plastic sheds.
| SHED TYPE | SIZE | AVERAGE COST |
| --- | --- | --- |
| Wooden | 6 ft X 4 ft | £240-£250 |
| | 8 ft x 6 ft | £350-£360 |
| | 7 ft x 5 ft | £340-£50 |
| | 10 ft x 6 ft | £540-£550 |
| | 12 ft x 8 ft | £800-£810 |
| Metal | 7 ft x 5 ft | £260-£270 |
| | 8 ft x 6 ft | £350-£360 |
| | 10 ft x 6 ft | £380-£390 |
| | 10 ft x 8 ft | £370-£380 |
| Plastic | 6 ft x 4 ft | £320-£330 |
| | 8 ft x 6 ft | £470-£480 |
| | 10 ft x 6 ft | £620-£630 |
| | 12 ft x 8 ft | £1000-£1100 |
Additional Costs
Building a garden shed can form part of a general upgrade to the maintenance and look of the garden.
Having adequate storage for tools and other garden equipment is an important part of maintenance to ensure tools and machinery stay in good condition and are not left out in the elements to deteriorate.
Garden Furniture Costs
The same is true for garden furniture which can degrade or rot if left outside over the winter. Replacing garden furniture may be necessary if this has happened.
There is a wide variety of outdoor furniture available but the most common is a table, chairs and parasol. The cost to replace a garden table and four chairs is anything between £100-£1600 depending on the material, brand and design.
The price range for a parasol is between £20-£500 with a base costing on average £20-£100.
Outdoor Lighting Costs
Upgrading garden lighting can enhance the ambience and functionality of your garden. Having strategic and mood lighting can create a space where people want to spend more than sunny days and of course lighting a path is a good safety feature.
Lighting for decking or embedded in the ground can cost between £10-£110 while post or bollard lights range from £20-£200. Both types are good for marking out a path or border in the garden.
Spotlights can be used to good effect to highlight particular features in the garden and to create a sense of drama.
They range in price between £8-£80 on average.
Outdoor Heating Costs
While outdoor lighting may extend the periods of use for the garden the weather can sometimes be a deterrent.
This is where outdoor heating can come into its own. There are many different types of outdoor heating available. The traditional patio heater comes in a large free-standing gas design and can cost between £240-£520.
There are also electric patio heaters which are either free standing or wall mounted. They cost on average £100-£1500 depending on size, style and brand.
Fire pits have become very popular in recent times and can range from £50-£750.
Garden Maintenance Costs
You may want to ensure that your garden is looking its best all year round by hiring someone to take care of garden maintenance for you.
Most people do not have the time to commit to regular work in the garden and it can soon get out of hand especially in the spring and summer months.
If you wish to hire someone to take care of your garden maintenance such as grass cutting, hedge trimming, weeding and general tidying up it will cost approximately £150 as a one off.
Regular garden maintenance will cost between £15-£50 per hour depending on where you live.
Laying Turf Costs
A new garden shed installation may be part of a bigger project to upgrade your garden and this may include replacing or laying new turf.
This will cost in the region of £700 for a 50 square metre garden but of course the price will change depending on whether your garden is bigger or smaller; it will also depend on the grade of turf that you lay.
Artificial Grass Costs
Of course, a new lawn requires regular mowing so you may decide to have artificial grass instead. Some types are extremely realistic and look really good, others are obviously fake and look so.
However, the better grades mimic a real lawn very well without the need for regular maintenance. The average cost for laying artificial grass is approximately £60 per square metre.
Installing Fences Costs
You may want to install a new fence around your garden and there are many different types and designs of fencing available. The most popular are feather edge wooden panels and the cost to install an average of eight panels will be around £1000.
Cost Breakdown Calculator
Individual costs for fitting an 8ft x 6ft garden shed - Total Cost: £800
Labour Costs and Time Frames
The hourly rate for a tradesman to install even a small garden shed will depend on the area you live in more than anything else.
A rate of £20-£25 per hour is about average. The type of shed or size will not normally impact on the hourly rate but if the shed is large and requires two or more people to install then you will need to budget for extra labour.
So, for a tradesman expect to pay between £150-£200 per day and for a labourer you will need to allow another £80-£100 per day.
Reducing the Costs
It may be possible to reduce the amount you pay to a tradesperson if you do some of the preparation work yourself.
Making sure the site for the new garden shed is clear by cutting back any vegetation and removing any obstacles will ensure there is a safe and clear area for the workers.
It will also be necessary to ensure that the ground that the new shed will be sitting on is solid and level.
This usually means a concrete base and doing this yourself will reduce the amount of work and labour time for your tradesmen.
The concrete base for a shed cost will depend on how large the shed is.
If you need to clear the site for your garden shed installation, then you should allow at least a day to complete this work including removing any rubbish or debris from the area.
There should be a perimeter of at least two feet around the new shed not only to allow work access but also for you to conduct regular maintenance such as applying preservative or repairs.
Timescales
The amount of time that the installation will take will depend on the size of the shed, the type of material it is made from and the amount of labour that you have on site.
A large shed will need two to three people and may take a couple of days to completely install while a small garden shed may be done by one tradesman in one day.
Metal and plastic shed have components which slot together and are assembled relatively quickly while a timber shed may take a bit longer and require some carpentry skills.
Preparation
All sheds will need a solid base, and this usually involves preparing a concrete area that is slightly larger than the footprint of the garden shed and about an inch higher than the surrounding ground.
This makes sure that the shed is protected from rot from water ingress at the base. Even if you purchase a shed with base included, either timber or metal you should still prepare a solid base for the shed to sit on.
If using poured concrete rather than concrete slabs, then the base will need time to cure before the shed can be put on top.
It may also be advisable to have timber bearers for the shed to rest on to allow air to circulate between the floor of the shed and the concrete base.
When building a garden shed it is possible to have wooden or plastic bases to raise it off the ground and keep it free from rot.
A wooden frame can be constructed to support a shed, but it still needs to be placed on level ground to make sure the shed structure does not twist.
The same is true for a plastic grid system which is filled with shingle for a shed to sit on, it too needs to be on solid and level ground to ensure that the frame does not become distorted.
Laying a Concrete Base
While creating a timber frame or installing a plastic base for a shed may be relatively easy, laying a concrete base will be difficult and heavy work.
Therefore, it may not be possible for many people to do this part of a new garden shed installation themselves and it may be necessary to leave it to the professionals.
For a garden shed installation this will mean that the base will need to be laid and then left to dry before the shed can be built.
This will increase the time needed for the completion of the project and the labour cost will be more overall.
Cost Affecting Factors of Installing a Garden Shed
Here are some of the cost affecting factors of installing a garden shed:
Size
The size will be one of the main factors which influences shed prices. A small garden shed made from timber will cost on average £250 while a large shed can cost around £800.
As well as the shed cost a larger shed will require more people to install it as the components will be bigger and heavier.
The cost of a labourer to assist a tradesperson will be between £80-£100 per day.
Type of Material
The type of material you choose for your shed can also affect the overall cost:
Wood
Garden shed prices will be influenced by the type of material that they are constructed from.
Wooden sheds are more common with a wide variety of sizes and designs available from a small garden shed to a large outdoor office.
Timber is always a popular option for building a garden shed as it is a natural material and blends in well to its surroundings.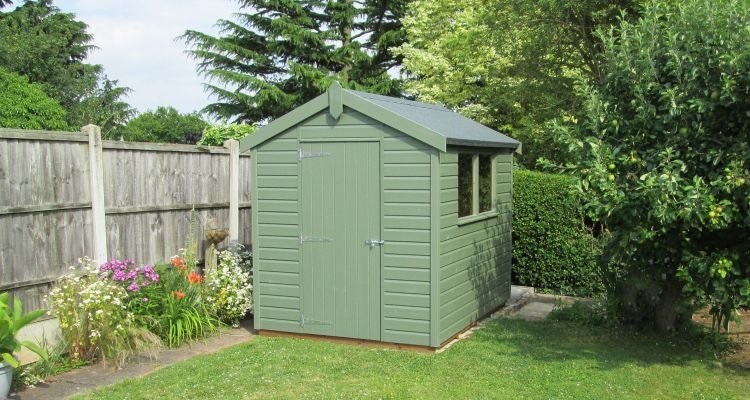 However, the downside to wooden structures is that they require a lot of maintenance and upkeep to maintain them.
Regular treatment with a preservative and insect repellent means that it not only takes up more of your time but costs more to keep in optimum condition.
A 5 litre of timber preservative will cost on average £25-£50 depending on brand.
Of course, a metal shed will not require preservative as it is made from galvanised steel. However, it should be regularly inspected for damage from storms or wind.
The base for metal sheds should be secured to the ground to protect it from high winds. Damage should be attended to as soon as possible to discourage rust forming.
Plastic
Plastic sheds do not require regular maintenance either apart from the same inspection following high winds or storms.
They are constructed from strong polycarbonate panels with steel framing so need little or no maintenance.
However, if left in direct sunlight for long periods some cheaper models can become brittle.
Assembly Cost
Shed assembly cost will need to be added to your budget if you do not intend to do the work yourself.
This cost can either be included in the price of your shed if you have asked for installation as part of a package or will be paid to a tradesperson to install the shed for you.
Potentially one of the more expensive aspects of installing a new garden shed may be the preparation of the site. If there is a lot of overgrown vegetation in the garden this will need to be cleared away prior to any other work being done.
If you are unable to do this yourself, it will be necessary to pay someone to do it for you. This could cost you between £20-£50 an hour depending on your location.
Shed Base Cost
Any shed whether wooden, metal or plastic will need a solid and level base to sit on. To reduce the concrete base cost, you could carry out this work yourself if you are capable.
It will involve digging out the base to a depth of around 150mm and filling halfway with hardcore as a subbase and then topping off with concrete.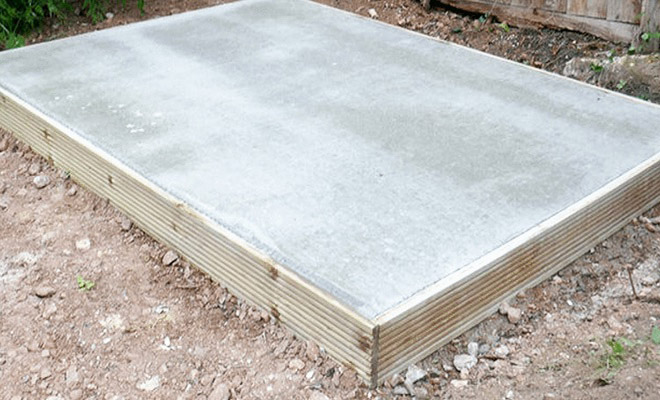 You could also use paving slabs as a base for the shed. In this instance you need to dig out the ground to a depth of approximately 100mm and fill it with a fine aggregate.
This is compacted, by hand is fine and then a layer of dry mix sand and cement is put down and the slabs laid on top.
The joints between the slabs are filled with another dry mix of sand and cement and the base is ready for the shed.
Labour Cost
Of course, if you are unable to do any of this kind of preparation of the base yourself you will need to hire someone to do it for you or include this work in the cost of installing the shed by a tradesperson.
Creating a concrete or paving slab base will normally take a day and the cost of labour will be around £150-£300.
Regional Pricing
Your location within the UK will have an effect on the prices charged by most tradespeople whether they are gardeners, builders or handymen.
Prices are always higher in London and the southeast of the country than in other places for many reasons including cost of living, competition and overheads.
What Does Installing a Garden Shed Entail?
Garden sheds are a great way of keeping your garden equipment and tools safe and secure, but can also serve as a summerhouse, a workshop or even an office.
Garden sheds are practical and useful additions to your garden, helping you to make the most of the way you use your outdoor space.
Usage
In order to choose the right, shed to fit your requirements, you need to consider what size of shed you need, think about what you are going to store in it and how you are going to use it.
It is best to measure the space you have available for a shed in your garden before buying, but if in any doubt, opt for a slightly larger shed, too much space is always better than too little.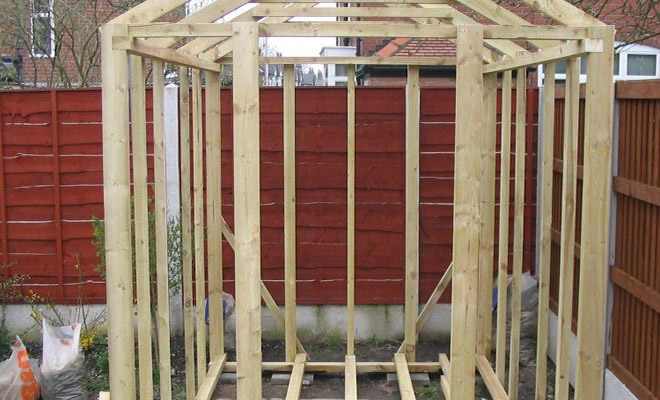 The main reason being that you will find that the garden shed will soon fill up with all the stuff you have and over the years you will no doubt collect more, pretty soon the shed will be full making it difficult to access the tools you need.
Assembly
The majority of sheds require assembly on site, and you will usually need at least two people to build it safely. All sheds require a foundation or base that is sound and level.
Make sure you do not place the shed too close to any fence or walls, leave enough space to paint, treat or stain the timber to prevent rot.
Power Supply
If you plan to use the shed as a workshop or office, you will probably need to have mains power installed, do not simply use a trailing extension lead plugged into a power socket inside the house.
You will require a professional electrician to install safe and weatherproof power.
Location in the Garden
Unlike other garden buildings, a garden shed, or workshop is best placed out of the sun so that it does not get too hot.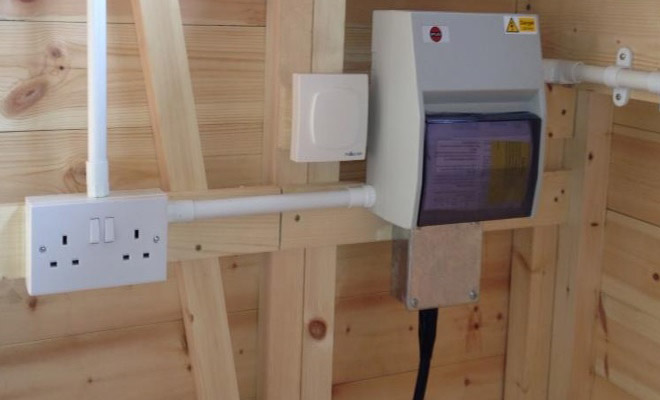 Another tip for good location is to place the door of the shed near the garden path to avoid traipsing mud into the shed during bad weather.
Try to avoid having trees or shrubs overhanging your new shed if possible as this can cause leaks or damp over time.
If this cannot be avoided, then the addition of gutters can help. If possible, always raise the shed up off the ground and allow air to circulate underneath the floor.
Different Types of Shed
Garden sheds are usually wooden, though plastic and metal are becoming more popular. Metal sheds are easy to assemble, more secure, and can come in an array of pre-painted colours.
If correctly installed a metal shed can do the same job as a wooden one, often at a lower cost over the years due to the low maintenance required.
On the other hand, wooden sheds are usually more aesthetically pleasing, cheaper to buy initially and warmer.
Plastic sheds are cheaper and much lighter than wooden and metal sheds, which makes them easy to move around.
On the downside it also makes it much easier for them to blow around in high winds.
Metal and plastic sheds will be put together according to their manufacturer's instructions and installation is often offered as part of the package when you buy these types of sheds.
DIY Garden Shed Installation
Shed assembly is a relatively easy DIY job though it may need more than one pair of hands for all but the smallest of sheds. However, it will allow you to save money on the shed assembly cost charged by some suppliers.
Most garden sheds come in kit form with all the pieces pre-cut to size with the necessary fixings included.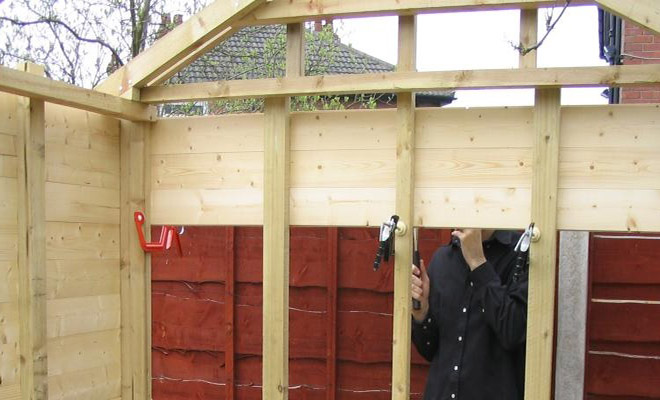 All you need are some basic tools that most DIY enthusiasts will have in their tool kit. For example:
| TOOL | AVG. COST |
| --- | --- |
| Electric drill/screwdriver | £25-£200 |
| Hammer | £10-£100 |
| Spirit level | £10-£20 |
| Tape measure | £5-£30 |
| Stanley knife | £5-£10 |
| Clamps | £5-£90 |
You should also use the following safety protective equipment:
Gloves £2-£5
Safety boots £17-£120
For a metal shed you may need:
| TOOL | AVG. COST |
| --- | --- |
| Hammer | £10-£100 |
| Electric drill/ Screwdriver | £25-£200 |
| Spirit level | £10-£20 |
| Adjustable spanner | £10-£20 |
| Pliers | £5-£65 |
There is no reason if you are a capable DIYer that you cannot install a new garden shed yourself even if it means enlisting the help of family and friends.
However, there are many people who are not in a position to do this and this is where a professional installation service can be used.
Most suppliers of garden sheds will offer the option of paying for installation on top of their shed prices. Be aware that the site must be prepared in advance.
If this is not something that you can do, then you will need to hire someone to prepare the site and lay the base for the shed.
Choosing a Garden Shed
Here is a list of different types of shed so you can choose the right one for you:
Wooden Shed Cost
The most common type of garden shed is made from wood and can be anything from 6ft x 4ft to 12ft x 8ft.
It is worth checking before purchase if what you are buying is a shed with base or without, it may sometimes explain a lower price but leave you with the added work and expense of supplying a base yourself.
There are different variations on the components that make up the sheds and this can add to the price. This is usually in the shape or profile of the timber that make up the cladding of the shed.
The cheapest option is called overlap where one board simply overlaps the one below it. The point of this layout is to allow water to drip off the edge of the boards and not sit on the timber to be absorbed.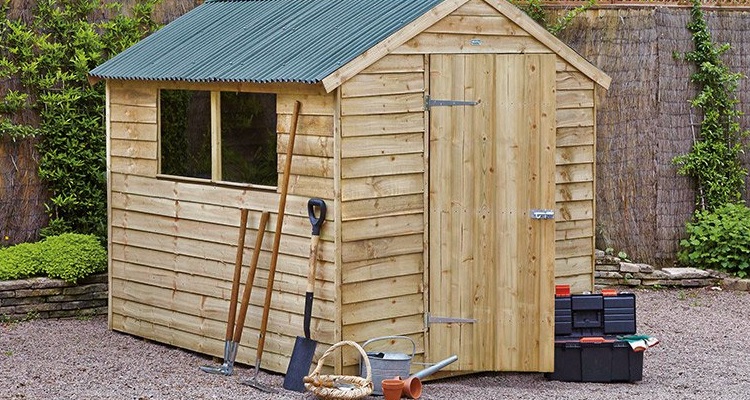 The second variation is called tongue and groove, and this fits together by slotting the tongue or protrusion of one board into the groove of the next. This achieves a smooth and neat finish on the exterior of the shed.
The tightness of the joint should deter water collection from rain and the boards in tongue and groove sheds are usually thicker than overlap cladding.
Finally, there is shiplap which is similar to tongue and groove but with an added lip on the edge of the cladding boards.
This has the benefits of both with the tight joint of tongue and groove and the overlapping lip to allow rainwater to drip off the edges of the boards.
Pros of timber garden sheds:
✔ Wide range of sizes and styles available.
✔ Cheapest option for material choice.
✔ Blends in better to the garden as it is a natural material.
Cons of a timber garden shed:
✖ Needs regular maintenance with preservative or paint to keep it in good condition.
✖ Will not last as long as a metal alternative even with regular maintenance.
✖ Higher quality wooden sheds can be very expensive.
Average prices for wooden garden sheds range from £250-£800 depending on size and design but you need to allow for the concrete base cost also.
The majority of metal sheds are constructed from galvanized steel which is both light and extremely durable.
As a garden shed used for storage it offers many advantages with little need for attention and maintenance.
However, if your garden shed is intended to be a haven there are downsides.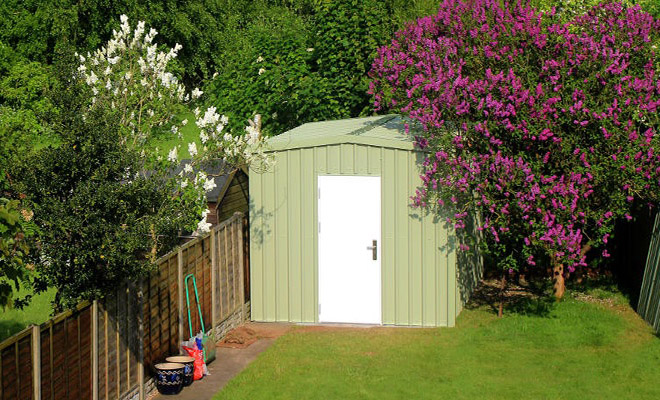 In hot weather the environment inside could be unpleasant and while rain on a metal roof can be soothing it can also be loud and distracting.
Do not forget that the base for metal sheds should be anchored into the ground for stability and safety.
Pros of metal garden sheds:
✔ Very durable and most come with a 25-30 year guarantee.
✔ They are virtually maintenance free.
✔ The structure is unaffected by variations in the weather.
Cons of metal garden sheds:
✖ Look very industrial and do not blend in as well as timber sheds to the garden.
✖ Being lightweight they need to be properly anchored to prevent collapse in high winds.
✖ Most metal sheds do not come with a floor included and you need to do this yourself.
Metal garden sheds range in price from £200-£450 for an average sized model.
Plastic Shed Cost
Plastic sheds are mostly constructed from polycarbonate cladding on an aluminium frame. They are very functional in their appearance but require little aftercare following installation. As a purely utilitarian part of your garden they are hard to beat in terms of durability.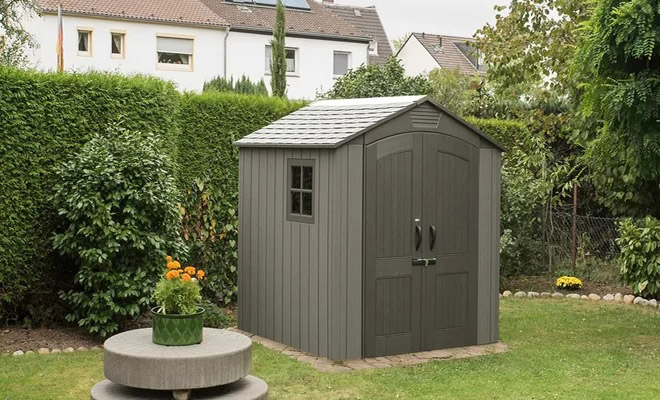 Pros of a plastic shed:
✔ They are durable and require little or no maintenance.
✔ Lightweight but sturdy.
✔ They are not affected by rot or insect attack.
Cons of a plastic garden shed:
✖ Cannot be easily adapted or customized.
✖ Over time exposure to sunlight may make some cheaper models brittle and prone to damage.
✖ Not particularly attractive as part of a garden design.
Plastic garden sheds can cost anything from £300 to over £1000 for a large outbuilding.
Garden Shed Maintenance Cost
Keeping your shed in good condition will prolong its life and make the most of your investment.
As well as maintaining the shed you will be protecting the contents which may be expensive electrical equipment or tools.
Wooden Shed Maintenance Costs
Timber sheds need the most attention when it comes to maintenance. While wood is a natural element and comes from the outdoors it is ironically the material that is most affected by the weather.
If wood is not treated with a preservative it will absorb water and over time will being to rot and decay. Most timber treatments contain an insecticide to repel wood boring insects and a biocide which deters mould and fungus growth.
Many are solvent based although the trend is now towards more environmentally safe water-based preservatives.
These treatments can be either painted on with a brush or roller or sprayed on with a paint sprayer. These are not interchangeable however and you should check that you are purchasing the right product for your chosen method of application.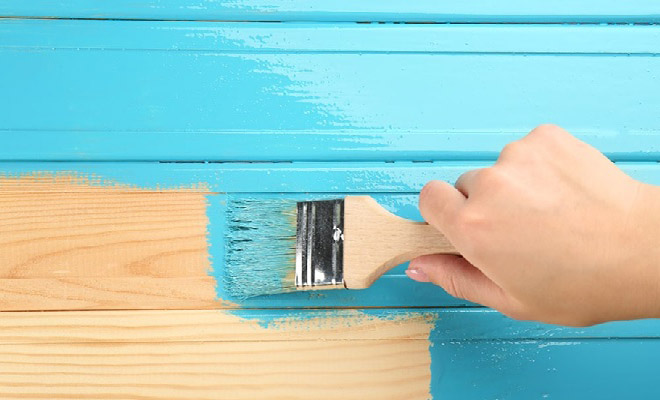 Painting or rolling the product on can be time consuming but will allow a greater degree of control over the process. Spraying is time saving but will require a calm still day so that the preservative goes on your shed and not on everything else.
Some preservatives contain a small amount of wax which can repel rainwater to a certain degree but for greater protection and to prolong the effect of the preservative it is advisable to seal the wood following treatment with a varnish or wood paint.
Other wood treatments offer some UV radiation resistance to delay the fading of the colour in wood stain and paint. A typical 5 litre of wood preservative costs on average £25-£50.
As well as the application of preservative on a regular basis to maintain the timber structure of the shed it is also important to maintain the roof and that usually means the roofing felt.
It should be periodically checked for damage or holes and repaired as soon as possible to prevent further deterioration.
Any metal fastenings such as those on the shed door will need to be maintained for security purposes and if they show signs of rust or damage should be replaced.
Metal Shed Maintenance Costs
Metal sheds are not immune to damage from the weather and need to be inspected on occasion to check for damage or signs of rust.
Dents or holes can quickly deteriorate, and rust should be treated with a primer and topcoat to prevent it worsening.
Rust primer costs approximately £12 for a 750ml tin. Any gaps or voids can be sealed with a waterproof silicone sealant to stop any rainwater penetrating into the shed.
An external waterproof silicone sealant costs on average between £5-£10.
Checks should be done particularly after storms or strong winds to detect any damage or movement of the metal garden shed.
Plastic Shed Maintenance Costs
Plastic sheds require little maintenance except a washing down with soapy water and a brush to remove any dirt. A pressure washer can also be used but care should be taken not to use too high a pressure as it could potentially cause damage.
A pressure washer can be purchased for between £80-£500 or you can hire one for around £25-£50 per day. You should also regularly clear away any debris from the roof or around the perimeter of the shed and check for any signs of damage or movement particularly following periods of bad weather.
Cost of Removing a Garden Shed
If you're considering removing a garden shed, here's what you need to know:
Why Remove Your Garden Shed?
There are a few reasons why you may need to remove a garden shed.
You may be replacing it with something new or bigger or perhaps you feel that you no longer need a garden shed.
It may be that the shed has become dangerously dilapidated and needs to be taken down before it falls down or it may be removed to make way for a home extension.
For most people taking something down is much easier than putting something up especially if it is not necessary to retain any of the parts.
However just taking a hammer or nail bar to a shed is inadvisable and care should be taken when demolishing or dismantling a shed. A systematic and careful approach will get the job done safely.
How to Remove a Garden Shed
To dismantle a shed as a DIY project the following steps should ensure it is done without injury:
First take off all the trims from the corners, between the side panels and above the door.
Then unscrew the hinges of the door and remove it.
If there are windows in the shed remove the frame carefully and take out the glass.
Untack the roofing felt and slide off the roof on both sides.
Remove the screws from the roofing panels and take them off, you may need help with this as the panels are quite large and could slide off as you are undoing the screws.
The ridge bars that the roofing panels were attached to can now be taken down.
Unscrew the wall panels from the floor and remove them one at a time starting with the front gable.
The only thing remaining now should be the floor which may need to be unanchored from a concrete base.
Ensure you clean up any loose screws or debris from the area.
You should wear gloves, safety boots, goggles and if the shed is in a particularly bad condition a dust mask as well.
If the structure of the shed is badly rotted or decayed, then it may not be possible to dismantle it in this way. It may be easier to demolish it, but this should be done carefully and in order of top to bottom to avoid injury.
Hiring Someone to Remove a Garden Shed
Of course, there are people who do not want to tackle this kind of job and prefer to leave it to the professionals.
There are rubbish removal companies that include sheds and their contents as part of their removal service, and this could be one option for you.
It would be necessary to contact them and get a quotation for your specific shed removal. The average cost for this service is between £150-£350 but will obviously depend on the size of the shed and if is wired or full of clutter.
Alternatively, you could hire a handy man or local builder to remove the shed for you. The cost for this will depend on your location and the size and condition of the shed.
A daily rate of £150-£200 for a tradesperson will be an average cost for this.
Disposing of a Garden Shed
Most local recycling centres will take waste timber and if it is broken down into manageable pieces there should be no reason why you cannot dispose of your old shed in this way.
If you hire a company to remove the shed, then the disposal of it should be included in the price that you pay.
Hiring a handy man or builder will leave you with the option of disposing of the shed yourself once it is dismantled or paying them extra to dispose of it for you.
Perhaps the removal of your shed is part of a bigger project such as a ground floor extension or a full garden makeover. In this instance you will most likely have a skip on site and the old garden shed can be disposed of in the skip.
A weekly cost to hire a skip is in the region of £200-£300.
FAQs
How to Find & Hire a Garden Shed Installer
Some people will be unable to install their own garden shed for various reasons such as age, health or physical restrictions and some people just do not have the time or capability.
Therefore, it will be necessary for them to hire a tradesperson to install their new garden shed.
Who Can Install a Garden Shed?
A lot of garden shed suppliers also offer an installation service as an extra and some people may prefer this option as it is simpler and more straightforward than trying to find someone to install it.
This convenience makes sense if you are ordering straight from a supplier but if you are buying your garden shed from a garden centre this option is not usually available.
Some larger DIY stores that sell garden sheds do have a notice board that tradespeople advertise on and you could consult this to find someone local.
Recommendation from friends or family is always a good option or you could consult reputable trade websites which give ratings for services.
Cost to Hire a Garden Shed Installer
The cost to hire a contractor to install your shed for you will depend on your location, the size of the shed and any extras which may need to be done such as putting down a concrete base.
A daily rate of £150-£200 for a tradesman and £80-£100 for a labourer on top of the cost of the shed should give you an idea of how much it will cost.
Qualifications and Experience
Any tradesperson working in or around your property should have the necessary qualifications and experience to do the work that you have hired them to do. They should also have adequate insurance in the event of an accident or damage.
These are things that you should check and ask to see proof of before you allow any work to be done.
It takes years to train as an electrician or plumber with regular updating of skills so be wary of anyone who says they do a bit of everything as this is likely to mean they are qualified to do few or any of those things.
If you need to hire one person to install your shed and another to install the electricity you want in there, then this is preferable to having one unqualified person do an unsafe or illegal fitting.
You should talk through the process of installing your garden shed with the contractor beforehand and ensure that you are happy with everything in advance.
This especially applies to where the shed is to be located as once work is started it may be difficult to change your mind without cost to you.
A good tradesperson will always be happy to talk through the process with their client prior to commencing work and make sure that the client's requirements and wishes are thoroughly understood.
Sources
https://www.shiftitwaste.co.uk/2020/04/14/how-to-conduct-a-removal-of-the-storage-shed-affordably/
https://www.secrets-of-shed-building.com/dismantling-a-shed.html