How Much Does It Cost to Move a Fireplace?
The cost to move a fireplace depends on what type you're hoping to move. If it's a modern electric feature fireplace, then this is a relatively simple job. If you need help from a specialist or electrician to move it, then it should cost between £100 and £200. Although this can increase if there is a lot of redecoration work to do afterwards.
Moving a gas fire is a slightly bigger job as it requires the skills of a Gas Safe Registered engineer. However, if your gas fire is flueless or is being moved to a wall with a chimney or flue, it's still a relatively simple job to do. The average cost to move a gas fireplace is £150 to £250. However, if moving a gas fire needs extra work such as creating a flue, this can raise the cost. So, you could pay up to £600 for the work.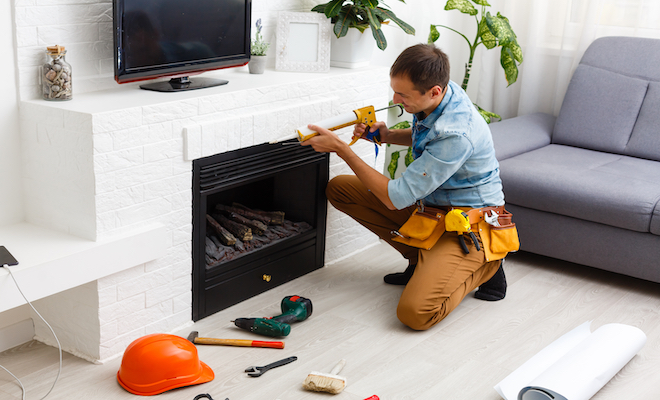 Some fireplaces are purely decorative rather than functional, such as traditionally styled cast iron, marble or wooden surrounds and mantlepieces. These are commonly moved between rooms to fit in with redecoration or moved with you when you buy a new home. Although different styles can change the amount of work involved, it's usually not too difficult to move this type of fireplace. Dismantling and moving of the fireplace is likely to cost between £100 and £300, depending on size, materials and location.
By far the costliest job is moving a fireplace made from brick or stone. Especially if the fireplace is part of the chimney breast. Chimney breasts are a structural part of the home, so it requires a lot of planning, skill and money to do. Therefore, it's not a job that many people undertake. However, there are times when it's worthwhile doing. For example, if you want to reclaim a fireplace from an old building to add character to a new extension or barn conversion.
So, if you're thinking of having this type of fireplace moved, then this substantial job could cost anywhere from £2,000 to £5,000. Again, size and materials will affect this cost, especially dismantling and transporting bulky stone and brick to a new location. You will also have costs such as hiring a structural engineer to consider.
Moving a Fireplace Prices
Here's the average cost of different fireplace moving jobs:
| Type of Job | Average cost |
| --- | --- |
| Moving an electric fireplace | £100 - £200 |
| Moving a gas fireplace | £150 - £600 |
| Moving a working solid fuel fireplace | £8,000 - £12,000 |
| Moving a decorative fireplace surround | £100 - £300 |
| Removing a chimney breast | £2,000 - £5,000 |
Additional Costs
Moving the location of a fireplace can create extra jobs you haven't considered. Here are some additional costs you may need to think about:
Redecoration of the Room
Moving a fireplace can leave an unsightly area where it once sat. Especially if you have a large surround or mantlepiece that's been moved. This often needs rectifying with a skim of plaster and a coat of paint.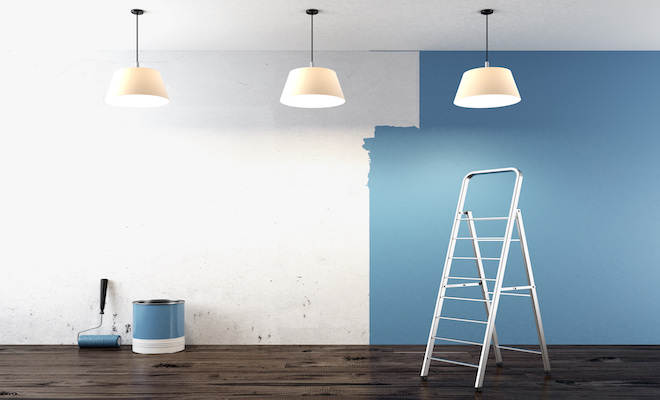 A small amount of plastering will cost around £100 and a new coat of paint to one wall should cost between £75 and £150. If you had a hearth removed too, you may also need to think about recovering the floor.
Moving an Electric Socket
If you're moving an electric fireplace, the new location will need a plug socket for you to power it. Some gas fires also require an electric socket too, to power feature lighting. So, the cost of adding or moving a socket is something to consider on top of your other costs. The average cost of adding a new electrical socket is £100.
Gas Fire Servicing
If you decide to move a gas fire, you will need a qualified gas heating engineer to move it. But it's also important to make sure that fire is in good working order before you start. This will ensure it's worth the cost of moving and is safe to use. Servicing a gas fire isn't expensive and you're likely to pay about £60. Of course, to keep your gas fire safe and well-maintained, you should have this done every year.
Installing a Wood Burner
Wood burning stoves are very popular. And if you're moving a fireplace to get more use out of it, you may be tempted to install a wood burner. These can sit on a hearth or in the firebox of your open fireplace.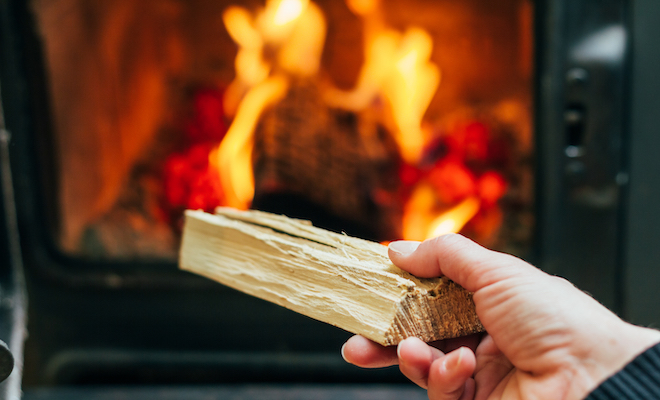 Installing a wood burning stove may require a few changes to your fireplace, such as a new hearth and a chimney liner. Plus, you'll need to hire a specialist to make sure it's fitted correctly. This is likely to cost between £1,500 and £2,000 to complete, although this can increase if extra work to your chimney is required.
Maintaining a Working Fireplace
Solid fuel or open fireplaces are a lovely feature to have, especially in autumn and winter. But they do need a bit of maintenance to keep them working properly and to help prevent accidental fires. So, if you're planning to use an open fire, it's a good idea to factor in the cost of a chimney sweep to carry out regular cleaning. This will cost £60 to £150 per visit, depending on whether your chimney is lined or not.
Cost Breakdown Calculator
Cost to disconnect, move and reinstall a gas fireplace - Total Cost: £375
Labour Costs and Time Frames
How long it takes to move a fireplace is very dependent on the size of the job and type of fireplace that needs moving.
Most modern electric fireplaces simply plug into a socket and are ready to go. So, to move a simple electric feature fireplace is usually quick and easy. However, you may need the help of an electrician, especially if there's no socket where you want it moving to. On average an electrician should cost between £30 and £70 per hour, and in most cases moving the fireplace will take only a few hours. If there's an issue putting in a new electrical socket or if the fireplace needs dismantling and re-assembling, this could add to the time taken.
Of course, some fireplaces are a bit more time consuming to move and require more specialist help. A gas fireplace is, in theory, quite easy to move. However, you will need to hire a heating engineer or plumber who is Gas Safe Registered to disconnect and reconnect your fire to the gas supply. This costs between £100 and £250 per day. And the type of gas fire you have can affect time and labour costs. Some gas fires require a chimney or flue to operate safely. Gas fires that need a flue are likely require more work from your heating engineer to move it and make sure it's correctly fitted, however flueless fires also require some ventilation to be installed.
The time it takes to move a purely decorative fireplace is usually a simple task. However, this does depend on what type of fireplace it is. The size and materials it's made of could affect the time it takes to move and how much help you need. If you're trying to move an old cast iron or marble surround this may be heavy and delicate in places.
So, although it won't require much in the way of dismantling and reassembling, it will be too heavy for one person to move. Similarly, if there are fixed parts to the fireplace such as a hearth or insert that need to be removed, this can be tricky to do without causing damage. Moving a decorative fireplace can take between a few hours and a few days. If you require the help of a builder or handyman this will cost between £25 and £40 per hour.
The most time consuming and labour-intensive fireplaces to move are those that are those that are built from materials such as brick and stone. Often, they form part of the chimney breast and are therefore structural. So, removing them requires skill to replace them with proper structural support. This type of job can take a few days to a week to complete. It's likely you'll need a structural engineer and a builder to help with the work. A structural engineer will cost £90 to £100 per hour and a builder £30 to £40 per hour. 
Cost Affecting Factors of Moving a Fireplace
There are several factors that determine the cost of moving a fireplace. Here's the four main things to think about:
Type of Fireplace
There are many different types of fireplaces and what type you have plays a big part in the moving costs. A fireplace that's purely decorative and not functional, that has a wooden or metal surround attached to the wall is reasonably simple to move. Often there's just a few fixings holding it in place. And many electric fireplaces are simply hung on brackets or come with an insert. Moving an electric fireplace insert or wall-mounted electric fire may only require a few DIY skills.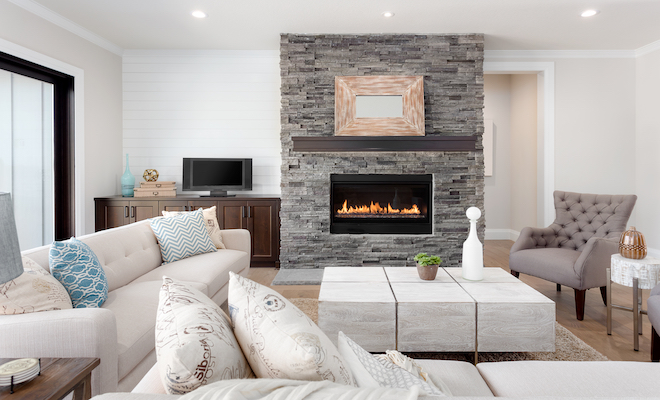 However, anything that is solidly constructed or integral to the structure of the house such as a stone or brick fireplace, is going to cost a lot more in time, labour and materials to move.
Specialist Trades Needed
If you need to employ specialist trades, this is going to increase the costs of moving your fireplace. In most cases it isn't a choice whether you hire them or not. For example, a gas fire can't be moved without a heating engineer or plumber who is Gas Safe Registered. And anything that is a structural part of your home, such as the chimney breast and stack, is certainly going to need the expertise of a structural engineer. Any electrical work will also need to be carried out by a qualified electrician, so the work is safe and certified.
Chimneys and Flues
Whether you need a chimney or flue for your fireplace is a big factor in the cost to move a fireplace. Electric fires and fireplaces that are purely decorative, won't need a flue, so they can be placed on any wall. That makes moving the location of a fireplace easier and a lot less costly.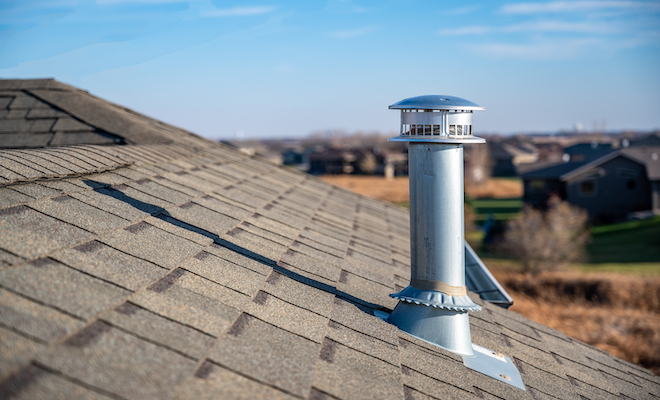 The price of moving a fireplace increases when a flue or chimney is needed to operate them. Open fires, solid fuel stoves and many gas fires do need a chimney or flue to safely remove smoke and fumes from your home. It may be that you need to open up an old fireplace in a chimney breast when relocating your gas fire or you may need to install a new flue.
Style of House
The style of house you're moving a fireplace to, can also affect the costs. Firstly, any house that is listed or in a conservation area may have restrictions on altering or adding fireplaces, chimneys and flues.
Also, the age of your home can often affect the practicalities of moving a fireplace. For example, older homes tend to have fewer sockets on the walls, which can affect where you locate your electric fireplace. Similarly, if your feature fireplace is attached to a wall with old lime plaster, this could easily crumble as you remove it. Although cosmetic these factors will have a cost implication.
Finally, if you're planning to take a feature fireplace from your old home to a new one, you may not have the required ventilation or openings. Newer homes don't tend to have a chimney stack, so you may need to add a flue to an exterior wall to use a gas fire or wood burning stove.
What Does Moving a Fireplace Entail?
Every type of fireplace requires a different method to move it. Some are so tricky that they're rarely done. So, here we'll take a step-by-step look at moving a gas fireplace. This is a job that many people consider when either moving house or renovating their home. The work should be carried out by a Gas Safe Registered engineer, with perhaps some help from a builder.
Taking Out Your Fireplace
The first step, before any work begins is to test the fireplace. This is so you know it's in good working order and safe to move. Then, the gas supply for the fire will be turned off. If the gas supply is no longer needed, the supply will be capped off. If the fire is also connected to the electricity supply to power a fan or other component, then this will need disconnecting too.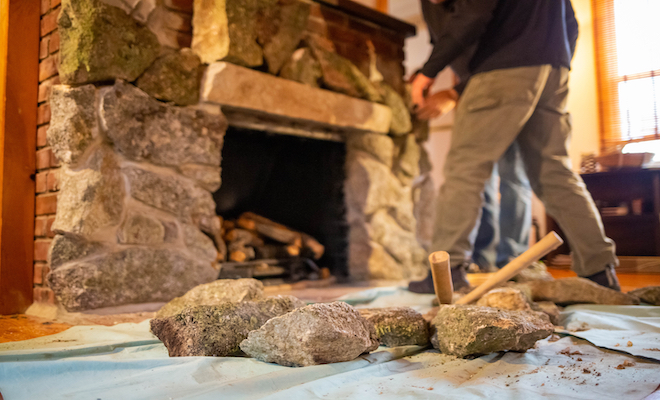 Once this is done, the fireplace can be dismantled carefully from its position. Most Gas fireplaces either sit on a hearth, in a wall insert or are simply mounted on the wall. So how the fireplace is dismantled will vary depending on what style of fire you have.
Older gas fires will come with a register plate at the back and sometimes have a precast flue. This type of gas fire may not be suitable to relocate, but your engineer will be able to advise you before the work begins.
Now, there may need to be some decoration of the area where the fireplace has been removed from. This may be some remedial plastering or repainting. If a hearth has been removed, then some new flooring coverings could be needed.
Preparing the Wall
You will of course, need to prepare the space where you're moving the fireplace to. Again, before any work begins, your engineer will tell you whether the location is suitable. A gas fire needs some form of ventilation, even flueless styles.
Most gas fires need a flue or chimney. So, you will need to choose a space that either has this in place already or where one can be installed. Flueless gas fires still require an air vent nearby, plus the room needs another source of heating and an openable window. However, for this guide, we'll assume that you've picked a location for your fire that has the required flue, chimney or ventilation.
Firstly, a carbon monoxide detector should be fitted in the room for safety. This can be mounted on the wall or ceiling and can be wired or battery powered. If you choose a wired alarm, an electrician should install this for you.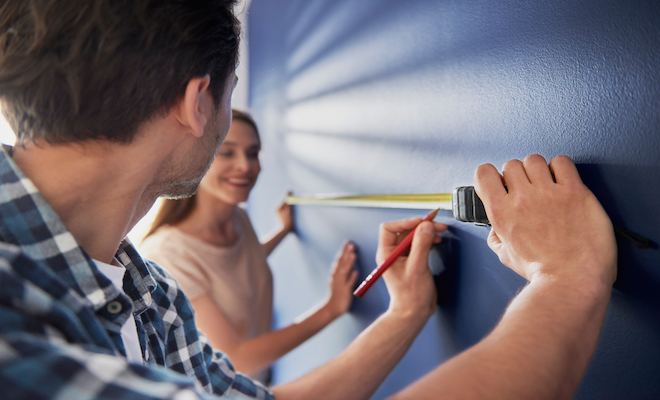 Next, the wall can be prepared to fit your fire. Gas fires can be wall-mounted, built-in or stove style, but whatever type you have, there will be manufacturers guidelines as to how they should be installed. These will need to be followed in the same way as a new fire, to make sure it's safe to use. So, your heating engineer will need a copy of the manufacturers installation guide to follow.
Preparing your wall could involve knocking out some of the brickwork in the wall or installing a hearth. This part may be done by your heating specialist or by a builder. Any work such as bricklaying, laying hearths or plastering will need time to dry or set before the next stage can take place.
Your engineer will carry out checks on the chimney or flue to make sure it is functioning correctly before the fire is installed.
Fitting the Gas Fire
Fitting your gas fire in its new location will require a gas supply. Again, this will be done by your Gas Safe engineer. The pipework for the gas is usually fitted in or on the wall, behind where the fire will sit. This will then be tested. If an electric socket needs installing too, then an electrician will be required at this stage.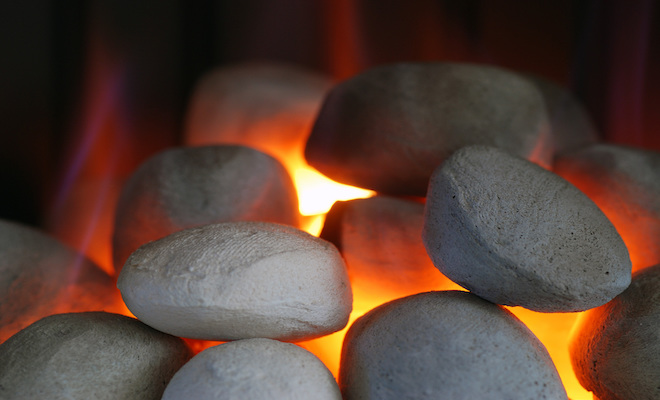 Once the gas pipework is ready, the fire can be fixed in place. The fire will be inserted, placed or hung in the prepared space and connected to the gas supply. There may be a metal framework to go in first, followed by the fire itself. A fireplace screen, usually made of glass may go on last. If there is a glass screen, this must be fitted securely to allow the fire to function correctly. Tests will then be carried out to make sure that it is working correctly and safely. You should be given a certificate for this work.
Finally, any redecoration work such as painting or wallpapering can be done. This may be carried out by you or by a decorator.
DIY Moving a Fireplace
Many fireplace moving jobs, such as disconnecting or reconnecting gas appliances, you can't legally do as a DIY job. So, here we'll focus on the jobs that can be done safely as a DIY project. And there are several fireplaces that are simple enough for you to move or work on yourself.
Firstly, moving a simple plug-in electric fireplace can be done as a DIY project. As long as you don't need to add or move an electric socket, of course. However, you will need to think carefully about location and ventilation. The fire shouldn't be placed directly above an electrical socket.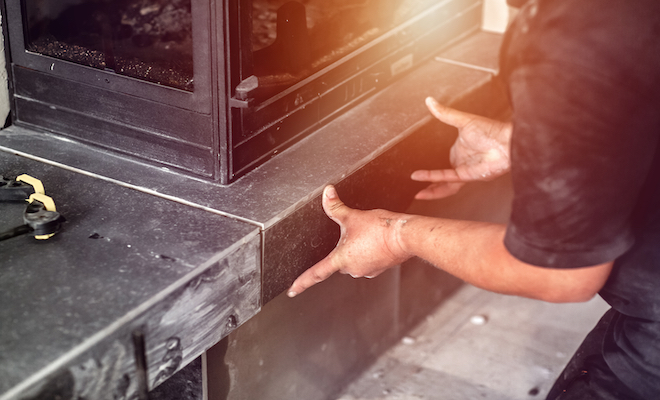 And you'll need to follow the installation instructions to make sure it's fitted at the right height from the wall and ground. Wall-mounted fireplaces are usually hung on brackets. To relocate this type of fire, you'll need a multi-detector to check you're not drilling holes where there are electric wires or pipes. You may also need a drill for creating pilot holes and an electric screwdriver to secure the fixings.
Many fireplace surrounds and inserts are purely for decorative use, rather than for heating. These are simple enough to move too, although you may find that removing them from the wall creates holes in the plasterwork. You may be able to fill these yourself with a ready-mixed filler or you may choose to hire a plasterer. Moving a fireplace insert may also create some mess, so be sure to put down some protective sheeting first.
Building Regulations for Moving a Fireplace
Gas and electric installations require the relevant trades to do the work. This is so the work can be certified to meet current Building Regulations. So, a qualified electrician or gas engineer will need to carry out this work. You can find a list of engineers on the Gas Safe Register. Electricians carrying out installations need to comply with Part P of the regulations and should be registered with a professional body such as NAPIT or NICEIC.
For any structural work such as removing a chimney breast, you should notify your local authority. Plus, you'll need to hire a structural engineer to make sure the building or remaining chimney stack is properly supported.
Planning Permission for Moving a Fireplace
Most fireplace moving jobs usually fall under permitted development, therefore you're unlikely to need to apply for planning permission. However, if your building is listed, you should check what consent you require before making any changes. You can check this with your local authority. And if you're installing a solid fuel appliance or fireplace, you should notify your local authority or use a HETAS registered installer.
How to Find & Hire a Fireplace Installation Specialist
Depending on what fireplace you're dealing with, there are different requirements you need to check for before hiring a specialist.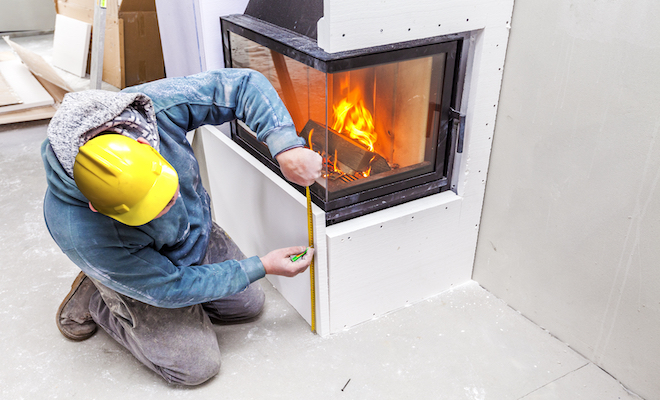 Moving a gas fire will need the expertise of a Gas Safe Registered engineer. Any electrical installation work should be carried out by a qualified electrician. They should be registered with a professional trade body such as NAPIT and NICEIC. And if you're moving an open fire or wood burning stove, it's a good idea to use a HETAS registered specialist.
FAQs
Sources
https://www.inspirationalfires.co.uk/blog/can-you-take-your-fireplace-with-you-if-you-move-house/
https://www.elbfireplaces.co.uk/can-i-take-woodburning-stove-i-move-house/
https://yorkfireplaces.co.uk/moving-home-and-your-fireplace/
https://www.planningportal.co.uk/info/200130/common_projects/22/flue_chimney_or_soil_and_vent_pipe
https://www.diy.com/ideas-advice/fires-surrounds-buying-guide/CC_npcart_4500005.art
https://www.direct-fireplaces.com/resources/what-qualifications-should-a-fireplace-installer-have/
https://www.plumbingforce.co.uk/gas-fire-installation-the-whats-and-the-hows/
https://www.fireplaceworld.co.uk/info/659/know-your-flue
https://www.hetas.co.uk/consumer/
https://energysavingtrust.org.uk/how-draught-proof-your-chimney/